05 Feb

Most Famous and Long Running KTV Bars in Cagayan de Oro

Filipinos love to sing! There's no doubt about that and you can hear Pinoys belting out songs in different "self-made keys" at party sing-alongs, at home with a DVD-KTV player, and of course, around the city's popular KTV bars. In truth, it is an accepted fact that Filipinos don't sing at KTV's to display their good voice but rather do it as a sort of stress release. This is why everyone is encouraged to sing and it doesn't matter if you have a voice worse than Ann Curtis so long as you can belt out your stress and sorrows.

A little KTV historical fun

Literally, KTV means Karaoke Television. Originally, karaoke was the more common term before it became digitalized. Karaoke is a play on two Japanese words, "kara" (empty), and "okesutora" (orchestra), literally, "empty orchestra." When Daisuke Inoue invented the first coin-operated song playing machine in the 1970's, he only recorded the instrumental music minus the vocals. He then leased these machines to hotels, restaurants, and other entertainment centers. The Karaoke name came from the fact that when some Japanese singers used Inoue's machine to sing at live performances, many technicians commented that the orchestra box where the band should be was empty ("kara-okesutora"). Contrary to popular belief, a Filipino did not invent the Karaoke machine.

In Cagayan de Oro, early karaoke bars in the 1980's used "minus-one" cassette tapes while the lyrics where shown on white projector screens from a projector. Minus one denotes that the orchestral music is from an original score but with the vocal renditions removed, hence people could sing along with it. From 2-3 original "sing-along" bars, the business grew out into some 20-plus sing-along bars all over town. By the late 1990's however, all of these bars closed down with the entry of the KTV machine. Sometimes called "videoke," KTV bars soon began springing up all around town. Smaller KTV bars use coin-operated machines while the longer-running, classier, and more popular KTV bars use "family-rooms or singing rooms" that can accommodate from 5 to as much as 20 persons.

Watever! Family KTV

This is probably one of the city's most popular singing getaway, and it's no surprise that sometimes the place can be booked full a couple of months in advance. It also happens to be located smack in the middle of the city's busiest entertainment street so far, Corrales Avenue.

Flanked by classy restaurants, hotels, and other entertainment hubs, it's a great singing venue for small group parties and get-togethers. But as we mentioned earlier, you need to check first if you need to book early. Rooms are based on hourly-rates.

Song Hits! Family KTV

This KTV bar is located at the Great Spot Arcade along J.R. Borja Extension Highway (on top of Lefty's).

Their rooms can accommodate from 6 up to 30 persons and they even have party and drinking packages available.

For those who would rather play or dance, they even have Xbox rooms and Dance Central rooms. Like Watever, the karaoke experience and service is high-end but at affordable rates.

Willsbar KTV

Not to be confused with Will's Place in case you search online, Willsbar is located at the corner of Pabayo and R.N. Abejuela Streets in Divisoria (beside Greenwich). It's one of the few places with a cool home theater and laser/led light systems. It even has free internet, chat, and online computer game rooms for those who don't feel like belting out their voices. Being in Divisoria always sees this place filled up almost every night. You'll need early reservations if you want to celebrate in this KTV bar.

Galam Music Lounge

One of the first and oldest family KTV bars in the city, this KTV place is located at the corner of Seriña and Villarin Streets in Carmen (just across the Mt. Carmel Church).

Aside from its up-to-date HD-KTV systems and rooms, they also have movie rooms that can show 3D movies and gaming rooms for the kids (and kids at heart).

Their Wi-Fi is free. During the weekends they have DJ's that play lounge and dance music for those who would rather sit around and drink or dance the night away.

Loreto's

Loreto's has come a long way to become a popular KTV lounge bar. One of the oldest business establishments in the city located at the corner of Tomas Saco and 6th Streets in Nazareth, the business started out as a billiards place and live band rehearsal/recording venue. Later on they opened the restaurant on the second floor with billiard rooms below.

Today, it is one of the oldest and most popular KTV getaways with rooms that can accommodate from 6 to 20 persons. They also have function rooms that can be equipped with KTV's for a singing party. At the restaurant you can enjoy the good food while listening to the live band. A few of their rooms are even equipped with both KTV and a billiards table so everyone can have fun.

LED KTV and Bar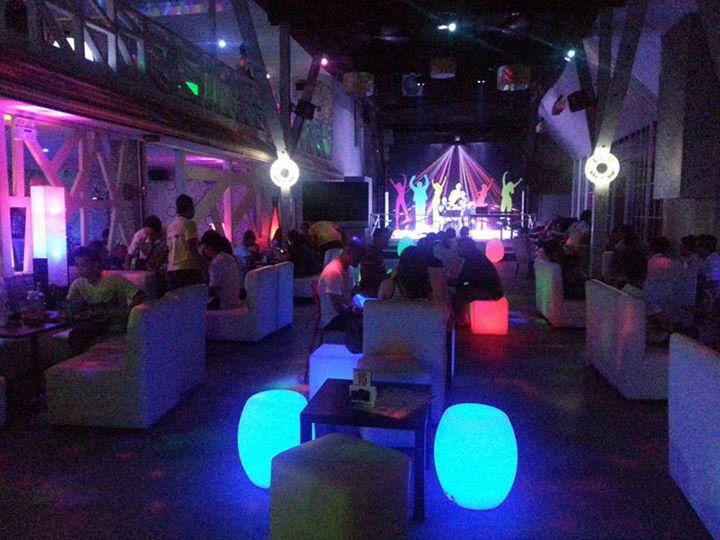 Located along Corrales Avenue near the busiest section of the street, this KTV place is also one of the city's more popular singing venues because of its affordable rates. Aside from special occasions, the venue has become a popular singing hangout among friends and officemates looking to unwind after a busy day or a busy week. However, there are three rooms only, one being the VIP, so you need to either go early or reserve in advance. For those who don't want to sing, they have the Glow Club beside the KTV bar for some DJ dance music or live bands.
Microphone Hero
One of the newest additions to the KTV scene, Microphone Hero is located inside the Lifestyle District along Corrales Avenue (in front of Capitol University).
Its catchy named themed rooms became an instant hit and their room design is a little bit different from the usual KTV bar rooms that you find.
You can sing on a stage and the LED TV viewing can be seen through the whole room, making sing-alongs easier. The prices are even surprisingly affordable for such a high end KTV place.
The Voice Republic
This is the newest KTV bar to open at the Consortium Building on the 3rd floor, along Corrales Avenue. This KTV place is becoming a growing popular hangout for even the younger generation as well as millennials and the older generation. Aside from having KTV rooms and a movie room, it also features a live band every weekend with an entrance fee of PhP100 with a free bottle of beer. They also have a daily Happy Hour from 12:00 noon to 5:00 p.m. with an entrance fee of PhP100.
Feeling a need to scream? Why not belt out your stress at any of the popular KTV bars listed above. Not only do they all have great air-conditioned rooms and great karaoke systems, but their services are top notch with some good food and amenities to boot. Going alone is not an option; going with friends or family is a definite requirement, and more fun.