09 Aug

"Kulas" Tapped As Philippine Tourism Ambassador By Tourism Promotions Board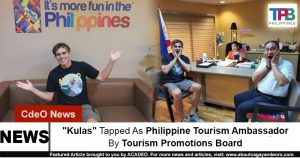 Mga higala! Kyle "KULAS" Jennermann of BecomingFilipino, a famous Canadian vlogger based in Cagayan de Oro City, whom we all love, has been tapped by the Tourism Promotions Board (TPB) to help promote our country!
Kulas recently visited the TPB main office in Manila to finalize this (in his own words) "amazing partnership."
According to Kulas, the TPB wants him "to give talks at national and regional tourism conferences in the Philippines", promote tourism advocacies, help assess sustainable community-based tourism practices, and more!
Check out his post below: