01 Feb

Kung Hei Fat Choi, Higala! Palihi Tas CNY 2022 Ta!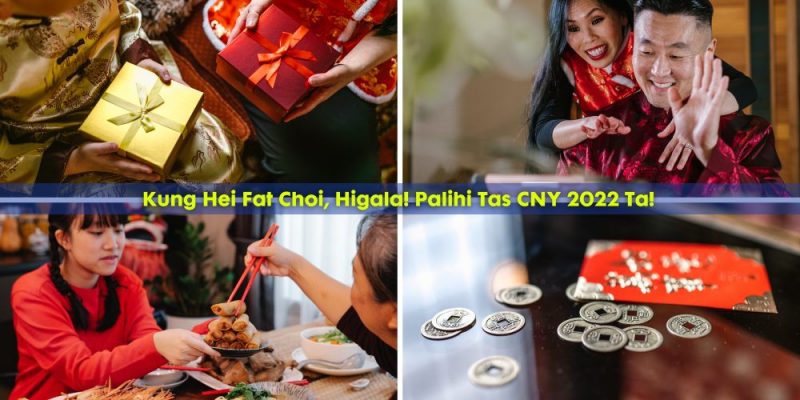 Long before Ferdinand Magellan claimed the Philippines in the name of Spain in 1521, the natives had already protracted business relationships with Chinese traders. With these interactions and rather more "intimate" ones, the emergence of Tsinoys or Chinese-Filipinos began.
Although the Tsinoys do not comprise the majority of the Philippine population, they have heavily permeated the local culture. In fact, in 2012, as a manifestation of solidarity with them, the country declared Chinese New Year (Lunar New Year or Spring Festival) as a non-working holiday.
ICYDK, this important event's date depends on the traditional lunisolar and solar Chinese calendar. This 2022, it falls on February 1 and will be represented by the Water Tiger which will roar away 2021's Metal Ox.
Whether you are a Tsinoy or not, you're probably looking forward to the practices and traditions associated with CNY, especially those that promise abundance and prosperity. 
However, with the threat of the highly transmissible Omicron variant this year, physical aspects of these practices and traditions are discouraged and the Department of Health (DOH) has issued some safety guidelines that will help protect you and your loved ones while commemorating this event:
Nibble on Tikoy within the safety of your home.
"Tikoy" is the Filipino name for the sticky rice cake dessert partaken on CNY. It is eaten or given as a present to typify good luck, happiness, and togetherness.
Give away Angpao digitally.
"Angpao" is a gift of money packed in a red envelope. The Chinese traditionally hand them as tokens of good wishes during special occasions such as CNY and weddings.
BTW, red is a symbol of luck, life, and happiness. 
Giving them digitally as suggested by DOH means transferring the money to the recipient's account through banking apps or e-wallets like GCash and PayMaya, or via other online tools that conduct fund transfers.
Send food to relatives instead of gathering.
To uphold people's well-being, DOH recommended for food to be sent to relatives via delivery services, as an alternative to assembling and feasting in one venue.
Since dishes arranged for CNY's eve have special meaning, you can serve or send:
A preparation with duck in the ingredient list as this bird connotes a happy, healthy, and prosperous year to the Chinese.

Chicken dish with the fowl presented in its entirety, head and tail attached, as it stands for completeness.

Noodles, to attract long life. Slurp up the lengthy strings without breaking them—doing otherwise is inauspicious.

A pair of whole fish. Save one for the next day ( which is already New Year's day  ) to symbolize surplus.

Round fruits like Kiat-Kiat because their circular shape stands for gold and wealth. 
Watch firework display from home.
No CNY festivity would ever be consummated without fireworks and firecrackers because the Chinese are of the belief that the sound of the explosions scares away misfortunes and evil spirits. 
To fulfill this while being protected from Covid-19, DOH advised that families witness community-sponsored pyrotechnics inside their abode as opposed to going out and being up close to the revelry.
Binge-watch TV shows or home movies.
In China, it's part of the CNY's eve tradition for every member of the family to gather and sit in front of the TV and watch a show called The Spring Festival Gala. They do this after their reunion dinner until midnight to celebrate the turn of the Lunar New Year.
Conduct virtual reunions.
DOH encouraged families to make use of Zoom, Facebook Messenger, and other teleconferencing platforms to enjoy virtual get-togethers.
The reason why all members of a Chinese family are supposed to gather and stay up all night after sharing a lavish CNY's eve reunion dinner is that it's believed to slow down the aging process of elderly family members.
So, higala, try coaxing the odds to your favor with those DOH-approved Chinese practices and Feng Shui rituals for the Chinese New Year this 2022!
If you want to magnify the positive things that happened in 2021 and manifest bountiful blessings for 2022, read: 
Author: Amar