11 Oct

Lagoon Beach Resort: Misamis Oriental's Newest Refreshing Treat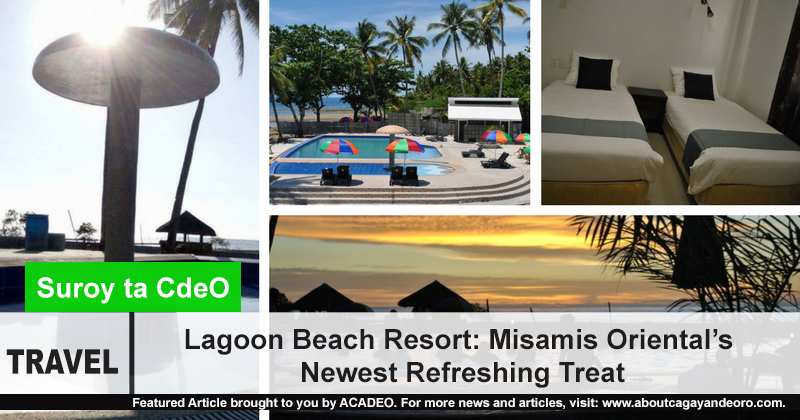 There could be endless possibilities to how many beaches Misamis Oriental can really accommodate. Opened April of this year at Pangayawan, Gitagum, Misamis Oriental, Lagoon Beach Resort is your newest place to go to for a nice and refreshing getaway with your family and friends.
The resort is situated where the sunset and the clear blue sky can be both seen from afar while you are one of its large infinity pool or even at its kiddie pool buying some time off from your busy life. At that, bringing your own camera or phone with good camera features is also a must when going to the resort so that you will be able to capture moments that are both instagrammable and Facebook-worthy.
Their swimming pools come with varying prices:
Monday – Thursday Php 150
Friday – Sunday Php 200
Children below 12 years old Php 75
Children below 2 years old are free of charge
They also have cottages around their pools for visitors who are into outdoor meals and those cannot tolerate the heat of the sun:
7AM – 5PM Php 1000
5 PM – 10 PM Php 750
Table with 4 chairs Php 200
Aside from its pools, the 1.4-hectare beach resort also boasts of quality room accommodations. If you plan to stay overnight, there are apartments available for P4,500 (With the view of the swimming pool) and P5,000 ( With a balcony and swimming pool view) for a maximum of two extra persons each. Additional payment will be charged based on the age of an additional person.
If your starting point is in Cagayan de Oro City, you can take a ride by taxi anywhere in the city heading towards Laguindingan Airport. From there, you need to travel by any of the vehicles around the area for 15 minutes to Pangayawan Elementary School. The school serves as a landmark which leads to the resort.
As of the moment, the restaurant of the resort and a reception building with 9 apartments are still undergoing fine touches which will be set to grace resort-goers in December of this year.
For more information regarding the resort's room accommodations and other queries, you can message them on their Facebook Page, email address ( info@lagoonbeachresort.com ), and phone numbers 09276400728/ 09478383086.
Source: