22 Apr

Wash The Stress Away: Laundry Services in CDO to Get Rid of Your Dirty Laundry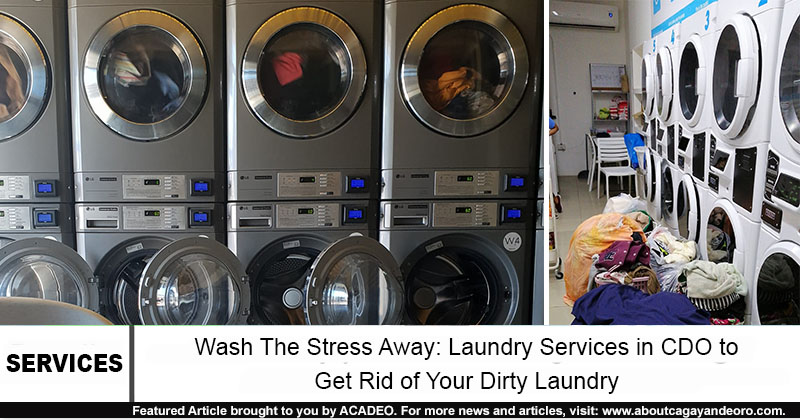 Got stressed from the whole week's work that you no longer have the energy to do other things like buying your weekly groceries, general house cleaning, and even going out with your family or friends?
Speaking of house cleaning, the laundry is the most tiring one to do. It involves separating your shirts, pants, shorts, and undergarments, washing, and then drying. Thinking about starting is already draining.
Why not have your dirty laundry get washed by local laundry services in CDO? 
Wash Bar Laundromat
Locations:
Kausagan Branch:

Unit 6, Tuscania Commercial, St, Ignatius St, Kauswagan (beside Kong Hua school Annex Building) Cagayan de Oro

Bugo Branch: 

Door 1 & 2 JBS bldg, Kalye Apiki Corner St., (near Zion Assembly of God), Bugo, Cagayan de Oro

Cugman Branch:

Door 2 Beside San Vicente Ferrer Parish, Cugman Highway, Cagayan de Oro
Eat and relax while your laundry is being washed at Wash Bar Laundromat. Definitely a convenient way.
Their laundry services include washing, drying, and folding available for pickup and delivery.
Laundry Room – Pickup & Delivery Service
Location: L-W24 Hummingbird Street, Southview Homes Subdivision, Buena Oro, Upper Macasandig, Cagayan de Oro
Doing your laundry has never been this easy. With Laundry Room – Pickup & Delivery Service, you can have your laundries cleaned, folded, and delivered right at your doors.
Laundry Day Laundromat
Locations:
Iponan Branch: Capt. E Jabulin St., Iponan, Cagayan de Oro
Kauswagan Branch: R&M Building, R.N. Pelaez Blvd., Kauswagan, Cagayan de Oro
Macasandig Branch: Paladio Apartment, Tomas Saco St., Macasandig, Cagayan de Oro
When is your laundry day? Whenever it is, let Laundry Day Laundromat help you.
They accommodate walk-ins but also offer same-day pick up and delivery services.
Washanina Laundry Shop
Location: Vamenta Blvd, Carmen, Cagayan de Oro (beside Cagayan Dog & Cat Clinic)
If you're within or somewhere near Carmen, Washanina Laundry Shop can be your laundry buddy!
You can quickly drop off your laundry and then get notified once it's ready. If you worry about parking spaces, they have available space for your parking needs.
Stop stressing yourself! Let these local businesses do the laundry for you. And then let us know your experience in the comments below.
To learn more about these businesses, go to our CDO Listing. Want to be added? Contact us!