01 Feb

Let's Manifest Abundance For 2022, Higala!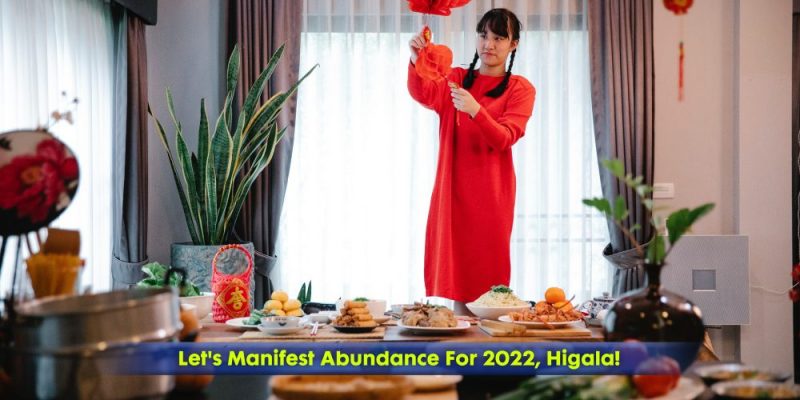 Mga higala! 2021 may have come to an end, but—good grief!—did it end tragically for us, Filipinos!
Typhoon Odette ravaged our southern islands, hurt our kababayans, and tore down their premier tourist destinations.
Recovery had barely started, and yet—OMG!—Omicron came sashaying its way into our already-stressful lives and plunged us into panic mode for the nth time; not only because of its additional risks but also because of the pandemic-related restrictions that followed.
Wa gyud nagpa-kabog sa pag-kundat si Omicron kang Odette. Aryat pud siyag iya.
Now, here we are in the first month of 2022, and while most of us are still reeling from the challenges that we faced—lo and behold!—our woes seem to continue: the COVID‑19 pandemic, the amplifying political discord, the widening economic disparity, the struggle for food security and… celebrity break-ups!!
Yes, celebrity hiwalayan!! Remember it was January of last year when the news broke out that Kim and Kanye were separating? And this year, it's Kris and Mel's turn to call it quits.
No, no, no, my fellow Marites! Dili si Kris Jenner nga mama ni Kim Kardashian—si Kris Aquino og ang iyang fiancé nga si Mel Sarmiento ang nag-hiwalaaay!
Bitaw, seriously, higala. I purposely segued to the lighter side of things just to crack us up (bahalag corny) because after scribbling "the struggle for food security," I was to mention another batch of (depressing) problems: like the lack of access to sufficient medical care and more. Hay!! What wanton chaos—so, I decided to ditch that part.
See, if we go by the words of best-selling author, millionaire motivational coach, T. Harv Eker, in his hit book Secrets of the Millionaire Mind:
"Where your attention goes, energy flows and results show."
And, if we borrow from the motivational narrative of another high-net-worth individual, Tom Bilyeu, in his YouTube presentations:
"Where you put your attention and energy, becomes real in your life and monopolizes your mind."
These mean that we should focus on what we want to happen in our lives in order for our goals to materialize. If we focus on the negative, that's what we'll get. If we focus on the positive, that's what we'll start seeing or creating as well. Negativity breeds negativity. And, positivity does the same.
So, basically, whatever we put our attention into, can come into being and gain power. It may sound overly simplistic, but what do we have to lose if we try, djevah?
Well, why don't we take a stab at it right now while we're prepping for our Kung Hei Fat Choy this February 1? Let's magnify the positive things that happened in 2021 and envision positivity for the rest of 2022.
I'll get the ball rolling with:
In 2021, we captured our first-ever gold at the Olympics. This is courtesy of brawny weightlifter Hidilyn Diaz who made history by becoming the first Filipino athlete to clinch it for us. That, plus the Philippines' 3-medal haul in the boxing arena, is our country's best output in Olympic history, so far. 2 silvers from Carlo Paalam and his teammate, Nesthy Petecio, and 1 bronze won by Eumir Marcial.
For 2022, I'll visualize positivity for the rest of the year by reading Edgar A. Guest's poem, Don't Quit. Try Googling it, it's essentially telling us that there are opportunities for success in every failure, that's why we mustn't give up.
Ecclesiastes 3:1-8 is probably one of the well-known passages in the Bible. It is in this chapter and its verses that King Solomon described the nature of life as it is: balanced, has predetermined cycles or seasons, and has a proper time for everything.
King Solomon reflected that it was God who established life the way it is: a mixture of happiness and grief, pleasure and affliction, harmony and struggle, and life and death.
And so, at any given time, if we find some seasons impossibly difficult, all we have to do is submit to God's plans, and trust that He is carrying out his good purposes.
For after all, each season has its appropriate time in the cycle of life, and so nothing stays the same.
It's your turn, higala! Name one favorable situation in 2021 that happened in our country or your own life and manifest bountiful blessings for 2022.
Remember, we can be our own hero—if we only keep our faith instead of groveling in fear. God is in control.
Life is like bola sa basketball—lingin and gatuyok. Sometimes we're up, sometimes we're down. We win some, we lose some. That's just the ebbs and flows of our fleeting lives.
So, kalma lang ta ha? Dili lang ta pataranta sa problema. Kay, kung sa basketball pa—labaw pa tag half shot!
Author: Amar