04 Jul

Libreng Gamot para sa Masa (Lingap sa Masa) Program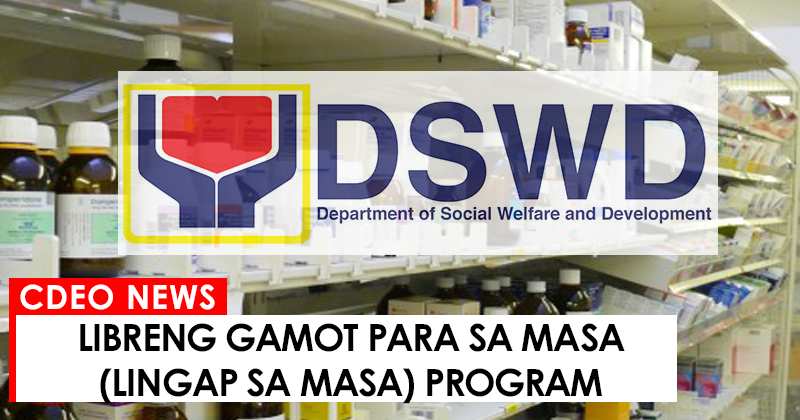 In line with President Rodrigo Duterte's decree to provide free medicines to indigents and to needy government workers, Lingap Para sa Masa Program was launched having a budget of P1 billion pesos to be sourced from the Socio-Civic Projects Fund of the Office of the President.
According to the memo released by the Department of Social Welfare and Development which is tasked to be the implementing agency of the launched program, Lingap sa Masa will be implemented at identified hospitals where patient needing prescription medicines will be assessed and provided assistance via the issuance of guarantee letters for the purchase of medicine from hospital pharmacies or from partnered drug stores.
Lingap sa Masa is a program distinct and separate from the Assistance to Individuals in Crisis Situation (AICS). Thus, any patient who has received medical assistance for the same purpose under AICS will not be eligible under Lingap para sa Masa Program, and vice-versa.
Who can avail this program?
patients who are currently confined or currently receiving treatment or rehabilitation after consultation or checkup from identified hospitals or doctors of the identifies hospitals

indigent patients
What do you need to avail the program?
thru representative: valid ID of the representative and authorization letter w/ signature of the patient
prescription from the Doctor; 

with date, name of the patient and signature form the doctor
proof of indigency; 

barangay certificate of indigency or certification issued by the medical social service of identified hospital
Term of the program?
once in three (3) months, unless supported by justification based on need, urgency and other factors
Identified Hospital under Lingap sa Masa Program:
University of the Philippines – Philippine General Hospital in Manila

Jose B. Lingad Memorial Hospital in San Fernando City, Pampanga

Western Visayas Medical Center in Iloilo City

Vicente Sotto Memorial Medical Center (VSMMC) in Cebu City

Southern Philippines Medical Center (SPMC) in Davao City

Davao Regional Hospital (DRH) in Tagum City
DSWD Social Workers are assigned to the identified hospitals shall provide assistance eight (8) hours a day, five (5) days a week.