14 Aug

Liceo Dragonoids win in 2nd Kagayhaan Gold Cup Dragon Boat Competition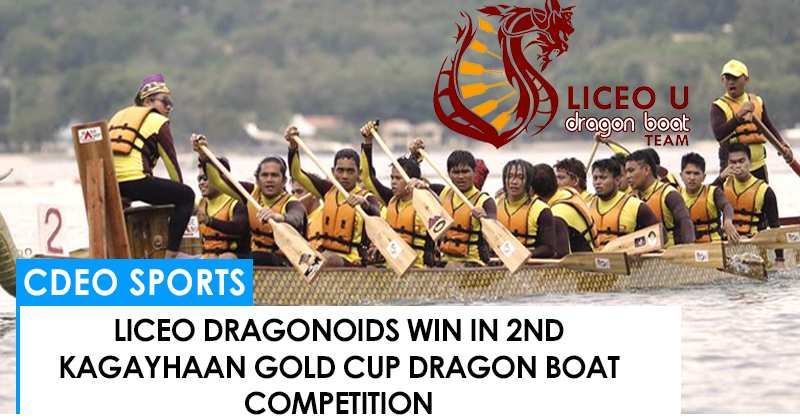 CdeO's own Liceo Dragonoids dragon boat team emerged as overall champion in the 2nd Kagayhaan Gold Cup Dragon Boat Competition yesterday, August 13.
In the official tabulation from the Kagayhaan Gold Cup 2017, Liceo Dragonoids leads with 2:22.93 time against Speed Devilz (2:23.98) and PADS (2:27.75) in the 500-meter Standard Mixed Crew Category.
Liceo Dragonoids A landed on 1st place in the 500-meter Women's Crew 10's with 2:59.30 leading ahead of Gruppo Habagat S.M.D with 3:01.66 (2nd place)  and Liceo Dragonoids B with 3:06.54( 3rd place).
During the 200-meter 10's Women's Category, Dragonoids Team B lagged with 1:07.97 behind Gruppo Habagat's 1:05.84 winning time, placing the team in 2nd place while besting Speed Devilz's 1:09.96 on the third place.
In the 200-meter Standard Mixed Crew, however, the Liceo Dragonoids (00:51.66)  picked up where they lose track and rowed back to be the leading team in a close fight with Speed Devilz (00.53.28 and Bugsay Marajao-B (00:53.55).
Here is one of the highlights of the 2nd Kagayhaan Gold Cup Dragon Boat Competition: