27 Jan

LICEO U HOSTS NORTHERN MINDANAO FILM FESTIVAL 2021 WITH 20 SHORT FILMS

As film festivals go, the Northern Mindanao Film Festival is one of the longest-running in Mindanao. It was established in 2009 as CINEMAGIS (an independent regional digital short film festival in Northern Mindanao) under the direction of its founder and executive director Hobart P Savior.

The festival has always been firm about its mission of developing, promoting, and appreciating the regional independent films that depict regional realities, issues, lore, and sentiments. This year is the thirteenth year of harvesting the stories of Mindanao as told by our local filmmakers. The Festival opens on the evening of January 26 with TANGLAW: A Film Feature of Arbi Barabarona's Kaaway Sa Sulod. The Closing Program is on January 29 at 6:00 pm with another TANGLAW Film Feature: Chasing Fireflies by Sheron Dayoc.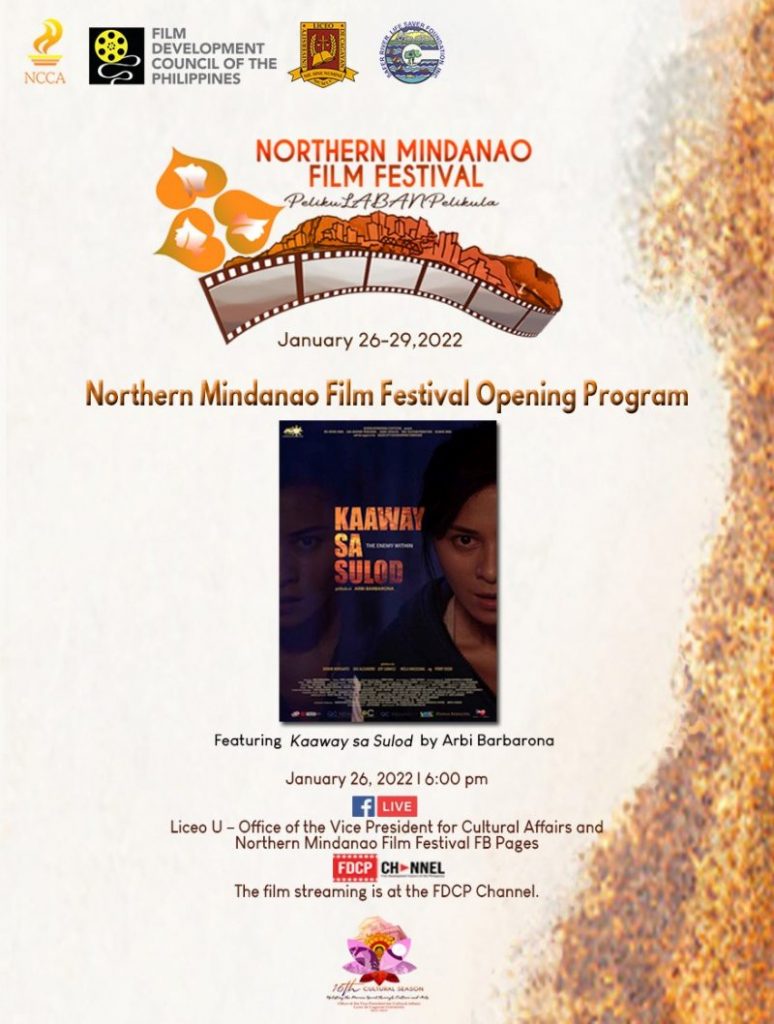 Kaaway sa Sulod (The Enemy Within) by award-winning cinematographer, sound editor, and director Arbi Barbarona is a 2019 action drama about two women on opposing sides of a conflict who unexpectedly find that they are mirror images of each other. It leads them to discover a past to unite them. It is written by Arnel Barbarona and features Dionne Monsanto, Dax Alejandro, and Jeff Sabayle.
Chasing Fireflies by award-winning director, producer, and filmmaker Sheron Dayoc is a 2012 documentary about human trafficking in Zamboanga. When it garnered the special mention award in the second Sineng Pambansa, juror's praised the film for its "creative interplay of cinematic elements." Sheron Dayoc writes and directs while Dexter Dela Pena is the cinematographer.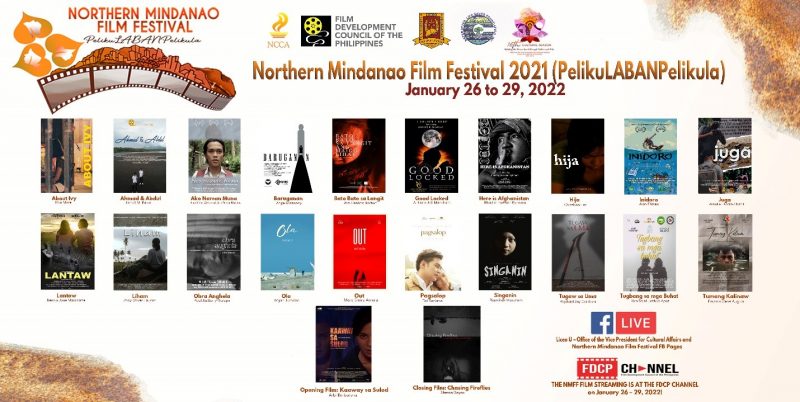 The nineteen short films show us the following images and narratives:
About Ivy (Runtime 10:44 min)
A Cine de Oro and Film Development Council of The Philippines short film produced under the Inday Film Workshop with Rose Mae Bagat as Ivy Besma. The young scholar listlessly struggles with life's problems throughout the film. In the end we are happy to see her take steps to improve herself, although it is not the conventional route that everyone expects.
Ahmad and Abdul (Runtime 22:52 min)
A 2021 BigBang Production. It delves into the difficult topic of rido, explained as a state of recurring hostilities between families and kinship groups. The first scene of the film takes us to an idyllic landscape where two good friends Ahmad and Abdul share their hopes for peace amidst a world in conflict. We are then taken for an emotional rollercoaster ride as the story unfolds. It ends with the same beach in the first scene.
Ako Naman Muna (Runtime 15:11 min)
A 2021 film by Garbo Production and Jhay Oliver Films dealing with the intersection between mental health and LGBTQ issues. We cannot help but watch sympathetically as Joshua Paz plays the role of Kado, who copes with declining mental health stemming from experiences of gender discrimination. He endures these experiences as he yearns for acceptance and finally finds hope.
Baruganan (Runtime 10:37 min)
A 2019 work by Gardo Films and created under the Ngilngig Filmmakers Development Program. It shows difficult scenes of underage rape and incest with allusions to a church setting. This disturbing film uses sound and camera angles as atmospheric devices to show the inner perspective of the young protagonist, who only has two lines throughout the film but conveys her distress throughout the whole 10 minutes nonetheless. The cast includes Lara Ebcas as Daisy, Reyche Ann Ayuban as Norma, and Nicolas Aca as Arman.
Bato Bato sa Langit (Runtime 5:09 min)
Made under the Oroquieta Film Festival by TBD Films and 7207 Production, is the shortest film this year. It opens with a crime scene under a coconut grove. The film effectively uses flashback and juxtaposition as a device to unfold a story of domestic abuse. The cast includes Mel Rose Bulawin as Inday, Dendu Duhaylungsod as Officer 1, Owen Salvacion as Inday's Husband.
Good Locked (Runtime 6:30 min)
A New Generation Production film from 2021. Fairouz Dipatuan is Aisah, a girl with a secret. As she looks out the window at children playing, we are shown disjointed scenes that might be flashbacks, sad thoughts, and imaginings. The film ends with an appeal for understanding of people struggling with mental health issues.
Hija (Runtime 13:50 min)
A 2021 Chavacano short film. It shows sensitive material regarding a young woman's experiences with harassment at work, in public, and on the streets. We are the invisible witnesses to her day as she endures these without finding support from those around her. Astin Eustaquio is the ever-suffering Bella in this biting critique of a gender insensitive society.
Inidoro "Catch Basin" (Runtime 19:04 min)
A documentary about the state of the coastal environment in General Santos City. It is produced by Filcor Multimedia Studio with the LGU of General Santos City, Protected Area Management Board of Sarangani Bay Protected Seascape (SBPS PAMB), and City Environment and Natural Resources Office (City ENRO). The film takes us through interviews of local surfer Marlon Binarao and government officials as it intersperses beautiful and heartbreaking scenes of the sea to form a convincing argument for protecting our oceans.
Juga (Runtime 10:02 min)
Made by Western Mindanao State University Office of Culture, Theater and the Arts and the University Theater Guild. Juga in Zamboanga means "play." In this film we see Julius Gregorio as the lead actor go about his day. He then shares his realizations after witnessing children at play. This introspective film has you guessing until the end when the actor sits down to write about his experience.
Lantaw (Runtime 16:52 min)
Set in the municipality of Nasipit in the province of Agusan del Norte in the Caraga region. It is a somewhat humorous take on a man's dream to get the woman he loves. After many shenanigans and a few scenes later, Agrecio C Basul Jr as Ador seems to have his dream come true as he wakes to Jesheillyn M Calinawan as the nurse Mutya tending him in an ambulance. The use of a repeating melodic sequence works well in this film.
Liham (Runtime 13:53 min)
Produced by Garbo Productions in collaboration with Jhay Oliver Films and Sine Kabataan Shortfilms Agusan del Norte. Pastoral scenes in a farming community are interspersed with hints of all not being well in the world when a farmer unearths a letter in a bottle. Thereafter, we hear the voice-over of the mysterious letter writer throughout the rest of the film. All in all, it is a hopeful film even though it shows hints of the farmer's struggle.
Obra Anghela (Runtime 14:19 min)
A work of Paul Galupo Films. A domestic scene between siblings introduces questions about the titular character and her relationship with her sister. The questions are answered in a surprising way at the end of the film. All is not as expected. The cast includes Jessica Hernandez, Hazel Villones, Jaina Binasing, Mariah Loresca, and Maria Sayson.
Ola (Runtime 19:59 min)
A visually compelling film about the grief of a mother for a lost child. In surrealist fashion with elements of the film rife with meaning, the stages of acceptance and letting go are experienced by the audience. Italia Congayo plays Ola. Sheeny Gener plays June. Neil Carandang and Shamir Jarred Parungao make short appearances as the father and the son.
Out (Runtime 15:55 min)
A film by Cine de Oro, Film Development Council of the Philippines, and Kwentong Maria Productions. Set in 2030, it introduces the premise that in the near future there is a virus that keeps survivors indoors at all times. It is riveting to watch familiar details of a possible future reality played out by Esela Daniel as the responsible older sister Esela and Vivian Bas as the young Luna in this stark film of an extended quarantine.
Pagsalop (Runtime 24:55 min)
A dialogue-heavy film by Tat Soriano Films, Fourth Wall Events/Productions, and Marco Villanueva Photography. This film is theatrical in its treatment as we witness the story unfold on a park bench. Nicole Ramos and Christian Tedlos play the young lovers Tom and Anne.
Singanin (Runtime 15:49 min)
A 2021 film by Sinagtala Productions and Bigbang Production with Norjehan Ampuan as Rabiya pretending to be something she is not to her parents as she hides her relationship with her sweetheart Kiflie, played by Moctar Abo. Harrowing scenes conclude with a more positive conclusion as the characters end their conflict in dialogue. Norlainie Abdulsamad plays the mother, Hassan Nor Abdullah plays the father, Najeb plays Ustadh, and Esnaisa Tabon plays the friend Raica.
Tugaw sa Uma (Runtime 14:55 min)
By Dilaab Productions Film with Mindanao State University-Iligan Institute of Technology College of Engineering and Technology tackles pressing social issues as we witness a young farmer and his family deal with problems of poverty brought about by the very real problem of rice deregulation. Jesam John Aninon is Juan. Cesario Jaypee S Caplis II is Drigo, Alexander Pama Jr is Carlito, Silvino Balorio is the father, Merry Joy Ronulo is Langga.
Tugbang sa mga Buhat (Runtime 18:52 min)
A 2021 Nabifilmex Official Selection and a Buntod Film Production with LGU Nabunturan, Roberto Acusar, Jr and SK Polacion. Set in the idyllic countryside, it is the tragic story of Abby Gale Bantayan as the pregnant Susan and Louie Logronio as Dodong, a couple living in a hut who earn their income as traditional birthers but also abortionists.
Tumang Kalinaw (Runtime 15:00 min)
A Tortelyas Production Film with Ralph Richard Paredes as Kaloy, a young poet who is forced by circumstance to become the breadwinner of his family. This heartbreaking story of a young man delves on mental health issues brought about by social ills. It is an official film entry for SK Agusan del Norte Virtualympics 2.0 Sine Kabataan Short Film Competition 2021.
The NMFF programs, lectures and talks are virtually implemented on the FB Pages of Northern Mindanao Film Festival and Liceo U- Office of the Vice President for Cultural Affairs, and all films are streamed on the FDCP Channel.
Here is how to watch: