08 May

Liceo U, MOGCHS to have musical collaboration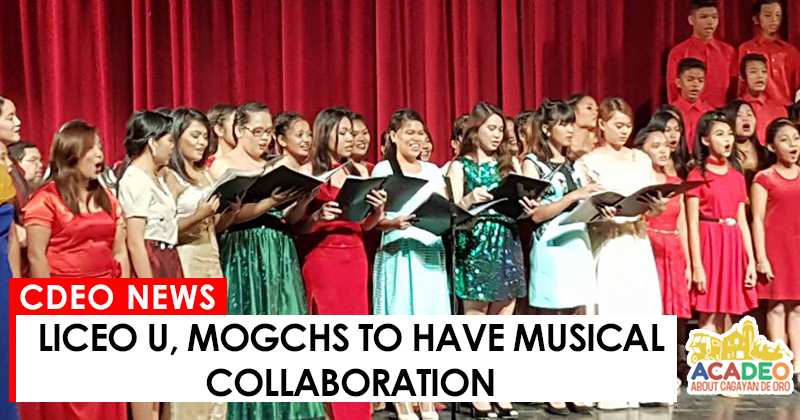 Linked by the officials of Paterno Velez Foundation, the Liceo de Cagayan University's Conservatory of Music is considering to have a collaboration with Misamis Oriental General Comprehensive High School (MOGCHS) in a goal to upgrade the quality of music learning and appreciation among its students and the greater public.
In an article posted by Kagay-an.com, The collaboration originated when Marinela "Girlie" Neri Velez, President of Paterno Velez Foundation and Founder of the Marinela Neri Velez Strings Program met with the Director of the Liceo Music Conservatory, Horst-Hans Backer, and the Principal Professor of Violin and Chamber Music at the Liceo Conservatory, Tullio Umberto Vidmar to look at the possibilities of extending their music expertise to MOGCHS.
Velez shared that the program was originally for another school in the city but that school did not pursue with the program. As a result, the Marinela Neri Velez Strings Program was moved to MOGCHS as the new host school.
On the other hand, Backer proposed that the program is linked through a memorandum of agreement with the Liceo Music Conservatory with the ultimate goal of "expanding the base at the grassroots of classically trained musicians" from which the three institutions will be picking the best musicians to establish a new Kagay-anon Community Orchestra.
Should the link between MOGCHS and Liceo Music Conservatory be pushed through, it would hopefully encourage a lot of students to become musically-inclined who would eventually pursue a music career at Liceo. The establishment of the community orchestra will also help the Liceo Music Conservatory in forming another orchestral group where the talents of the students are honed to international standards.
The Kagay-anon Community Orchestra is seen to be performing with other musical groups in  the city such as the Xavier University Glee Club, CU Glee Club, The Tanggu Drum Band of Oro Christian Grade School, indigenous music ensembles like the Waway Linsahay Saway and the Talaandig Republic, and other school and community-based dance troupes like the Kagayan Performing Arts.
Source: http://www.kagay-an.com