30 Sep

Limketkai Luxe Hotel: Elegance, Style, World Class Accommodations and Service in 5 Star Eloquence has Finally Come to CDO

Limketkai Luxe Hotel is a name now synonymous with providing 5-star accommodations, convenience, comfort, and lifestyle for all types of travelers.

Luxe Hotel has been conceptualized to provide world-class service because it is a world-class hotel that has given Cagayan de Oro its first in the 5-star class category as accredited by the Department of Tourism.

Luxe is a name and a testament that proves now and always that Cagayan de Oro is able to produce world-class concepts and lifestyle providers, being the city and gateway for Northern Mindanao and its tourism industry.
Impressive Luxury Hotel Rooms with World Class Facilities
When you lay down on any bed in the Limketkai Luxe, you will experience 5-star lavishness in the form of 300-thread count linen and goose down feather pillows, the only hotel in CDO to use such. The Luxe has a total of 218 rooms and classifies its rooms into the following:
Deluxe Room – this 30-square meter customized room is made for separate single beds along with 48-inch LED TV with cable channels, coffee or tea making facilities, mini-bar, toilet and bath, iron and ironing board, hair dryer, desk phone, and an electronic safety deposit box.
Superior Deluxe Room – these guest rooms can either be for single or twin sharing because of the queen sized bed while enjoying other amenities like the 48-inch LED TV with cable channels, coffee or tea making facilities, mini-bar, toilet and bath with tub, iron and ironing board, hair dryer, desk phone, and an electronic safety deposit box.
Executive Suite – situated on the top floors of the Luxe, it gives a great view of the city below, especially at night. This large 40-square meter room has all the conveniences of a queen sized bed and its own ante room. It also has a 48-inch LED TV with cable channels, coffee or tea making facilities, mini-bar, toilet and bath with tub, iron and ironing board, hair dryer, desk phone, and an electronic safety deposit box.
All rooms and accommodations at the Luxe also come with room service, laundry service, airport transfers and car rental, airline and tour reservations, hotel clinic, 24-hour reception, concierge service, valet parking service, a business center, round-the-clock security, and high speed internet access.
Majestic Venues for Business Meetings, Gatherings, Shows and Exhibits
Whether you need a first class meeting room with all the amenities or a venue for a large corporate conference, the Luxe provides an impressive lineup of ballrooms, function rooms, and boardrooms.
These are categorized as:
Ballroom – capable for 700 – 800 persons for banquets or conferences, 1,200 persons for theater style.
Emerald 1 – capable for 250 – 300 persons for banquets or conferences, 500 persons for theater style.
Emerald 3 – capable for 150 – 200 persons for banquets or conferences, 350 persons for theater style.
Function Rooms –

Amethyst – capable for 50 – 60 persons for banquets or conferences, 80 persons for theater style.
Ruby – capable for 20 – 40 persons for banquets or conferences, 60 persons for theater style.
Sapphire – capable for 20 – 40 persons for banquets or conferences, 60 persons for theater style.
Topaz – capable for 25 – 35 persons for banquets or conferences, 40 persons for theater style.

Boardrooms –

Jade – capable for 10 – 15 persons.
Opal – capable for 10 – 15 persons or 20 persons for theater style.
All boardroom, function room, and ballroom packages include full technical support, convention and technical equipment that includes internet connection, LED monitor, LCD projector, LCD screen, DVD player, P/A sound system, lapel and wireless microphones, basic spotlight and lighting system, special lighting system, rostrum, and white boards.
For any special technical equipment provided by the hotel or brought from the outside comes with its corresponding charges.
Appetizing International Cuisines and Fine Dining at Its Best
The KaVe (pronounced Ka-Ve, not cave) Restaurant and Bar on the ground floor surprisingly provides fine dining at affordable prices.
This is because the restaurant welcomes non-hotel guests as well as its own hotel guests to dine in its elegant surroundings and to savor its superb menu lineup.
Its bestsellers include its seafood stew from Marseilles, France, called the Bouillabaisse, Sicilian Lamb Chops with provencale ratatouille and polenta with parmesan cheese, the hotel's signature Luxe Gold cocktail, Mixed Green Salad, Saumon au poivre Norwegian salmon, and its Tiramisu coffee flavored dessert.
Breathtaking Infinity Pool and Other First-rate Relaxation & Wellness Facilities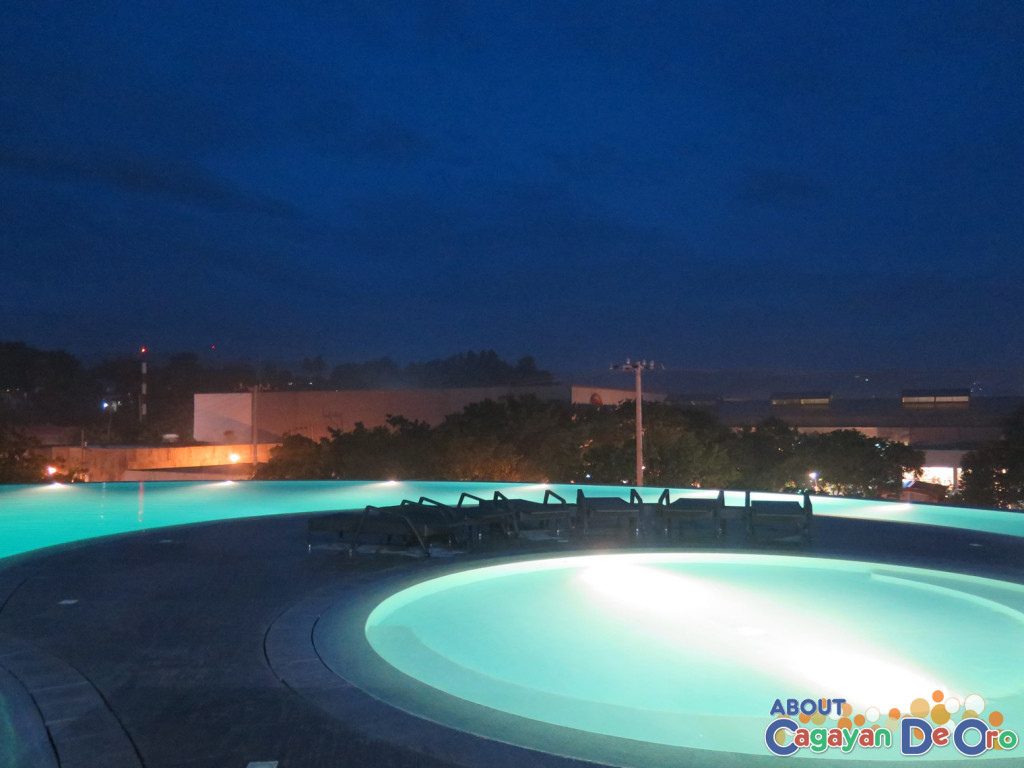 Limketkai Luxe boasts of the largest rooftop infinity pool in the city, with a breathtaking view over the city at night.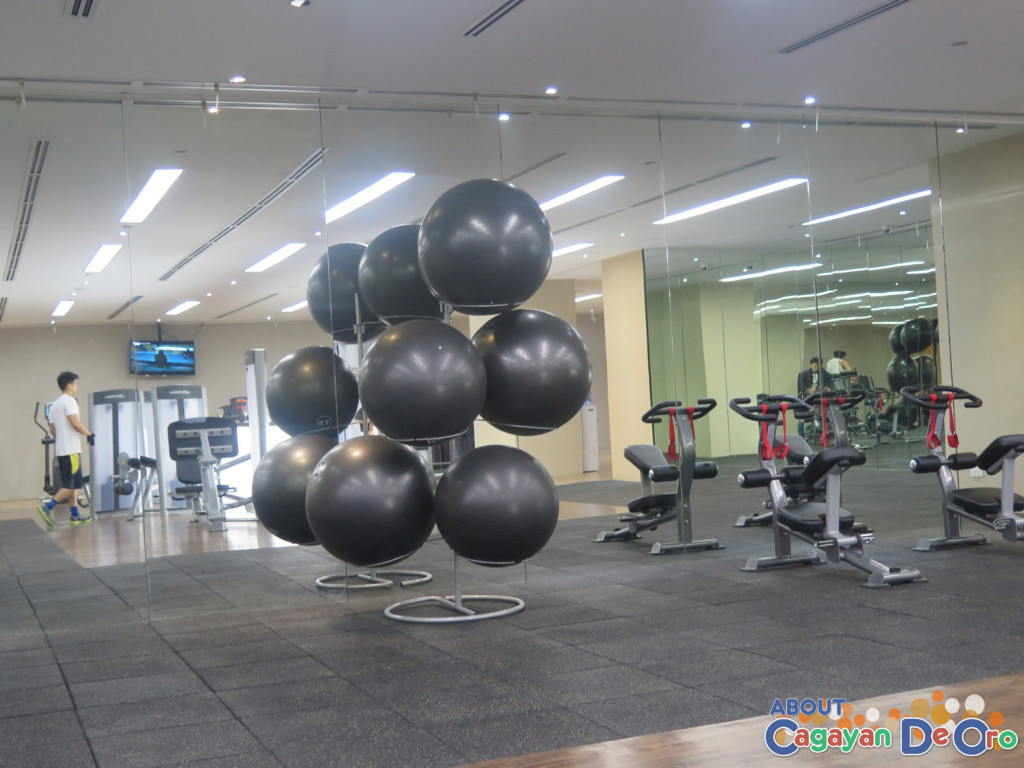 It also has a wellness spa and fitness gym, one of the largest in the city as well.
Meet the General Manager
When you meet the general manager, Mr. Jerome De La Fuente, and get to talk with him heart-to-heart about running the hotel or the tourism industry in CDO, one tends to think of him as a Cagayanon who adamantly pushes to improve Cagayan de Oro's tourism industry. This is because, for Sir Jerome, when you improve the tourist industry, you improve the hotel business in the city. For him this logic is not hard to comprehend. But in reality, Sir Jerome hails from Manila; quite a feat considering that being a native Manileno, he cares a great deal in improving the details that will attract anyone, Filipinos and foreigners alike, to come to Cagayan de Oro for business or pleasure. He also cares a lot for all the hotel employees, emphasizing that attitude plays a large part in the employee's continued service and promotion.
He believes that the government needs to make an extra effort for Cagayan de Oro by stopping negative travel advisories that have no bearing on what is happening in the city or even the province. Though Sir Jerome's background was more in advertising, his passion and glamor seeking was inclined to the hotel business, having had vast experiences in public relations, sales, and eventually being a general manager for famous international hotel chains in China, Hong Kong, Malaysia, and Singapore. After several years of working abroad, he decided to return to Manila and open a consultancy firm. One fine day, friend of Sir Jerome from his international stints introduced him to the Limketkai Center owners, who hired him because they needed someone with international experience in the hotel industry and great expertise in sales.
Promotions and Events
Every Sunday is Family Fun Day at the Infinity Pool from 9:00 a.m. to 5:00 p.m. at P500 per person, consumable on food and drinks.
Wednesday and Friday nights at the garden by the poolside is Pool Party Nights from 6:00 p.m. to 11:00 p.m. at P400 per person, consumable on food and drinks. They also serve Kamikaze and Margarita at P488 per pitcher.
For their Themed Weekend Buffet at only P598 for lunch and P650 for dinner, Friday is Seafood Market, Saturday is Barrio Fiesta, Saturday is Mediterranean Flavors, and Sunday is A Taste of Asia.
Special Feature
An art exhibit showcasing Kagay-anon visual arts talents called "Sidlak" is currently ongoing at the Limketkai Luxe Hotel.
Here are some of the masterpieces currently displayed at the exhibition.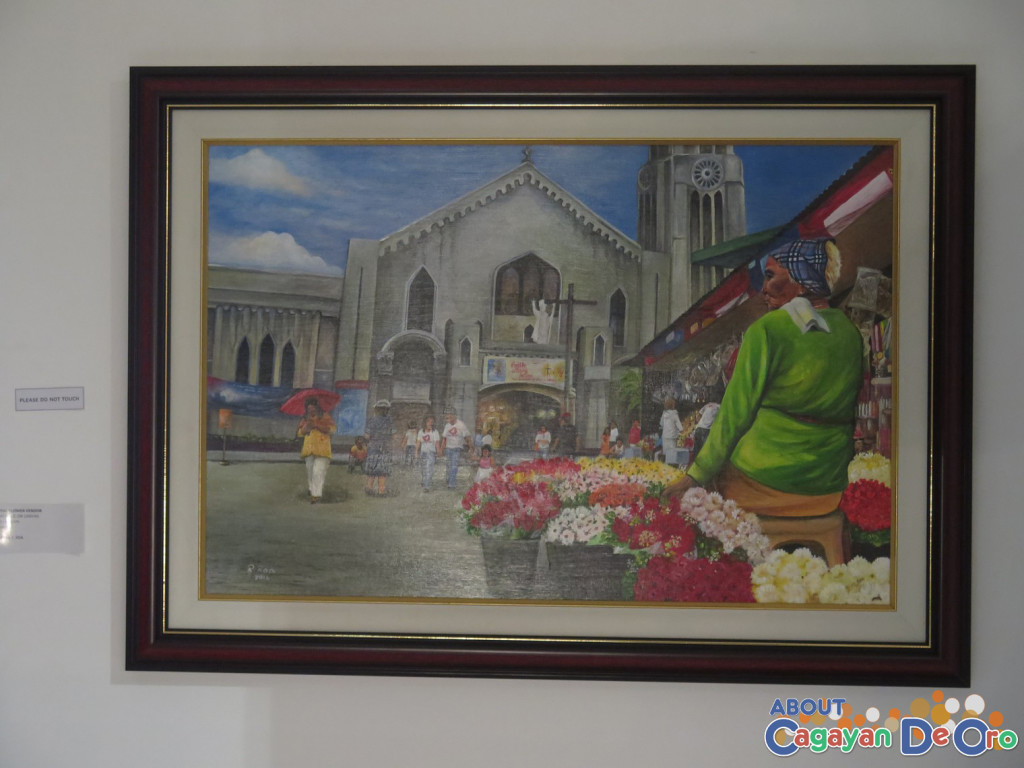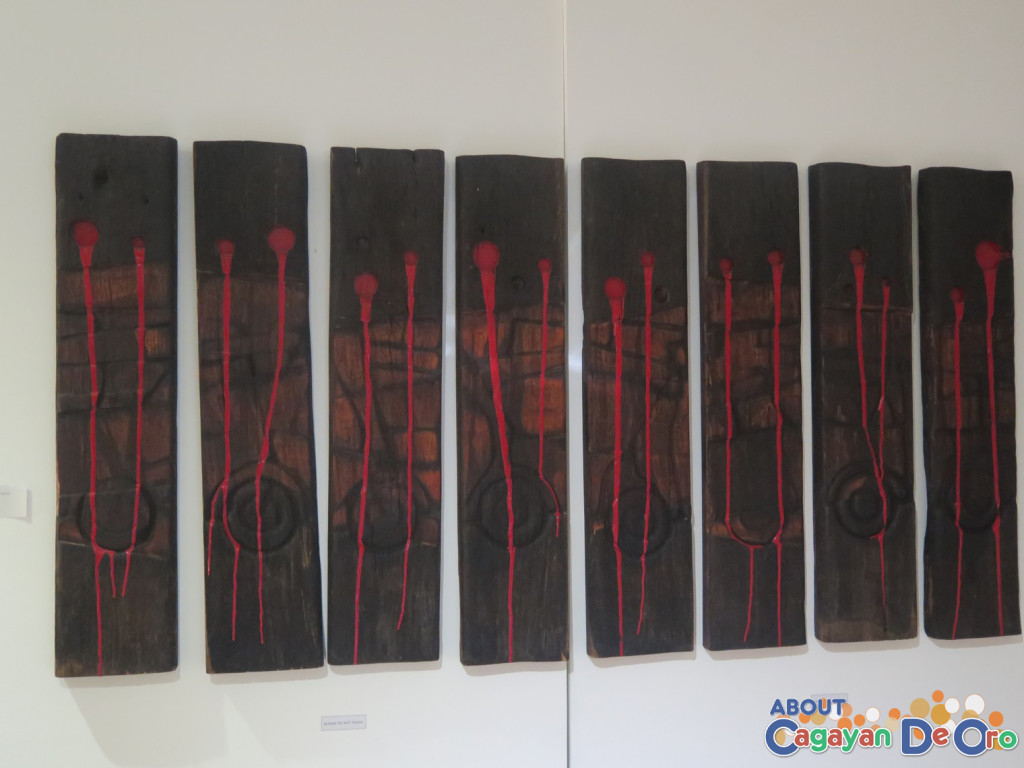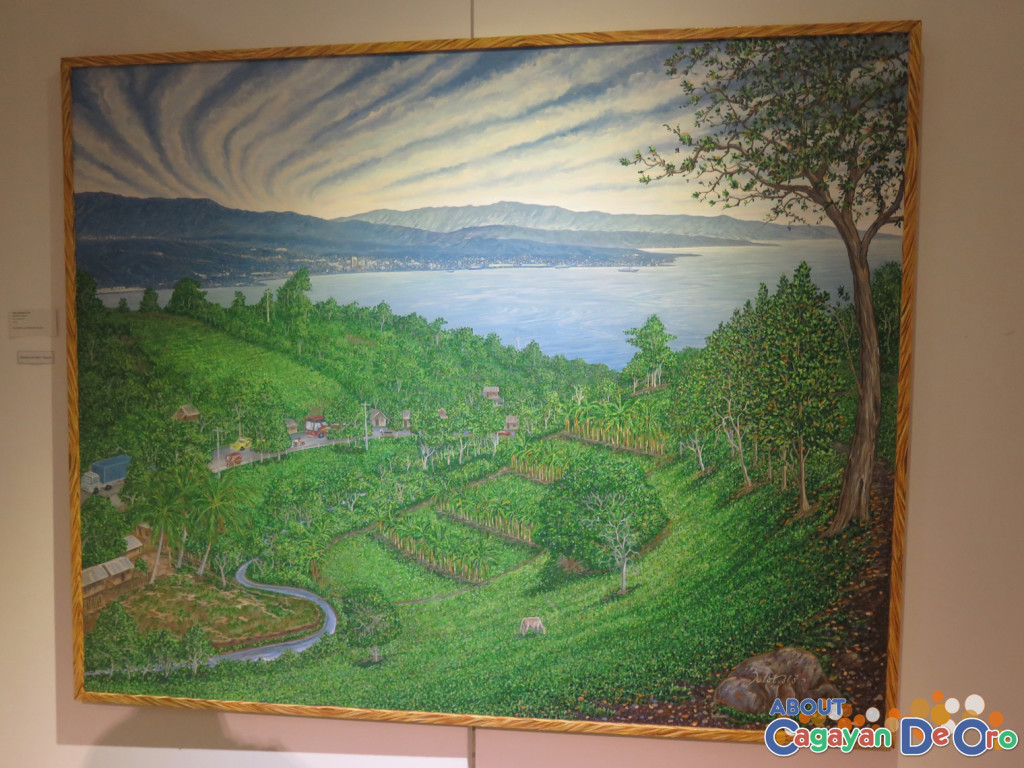 Upcoming Specials
Any time before the end of this year, a part of the hotel's ground floor will undergo renovation for a new piano bar, as well as a new smoking room since all public areas in the hotel are no smoking areas.
For the Christmas season, Limketkai Luxe is preparing a slew of activities geared towards making both hotel and non-hotel guests feel the real spirit of the holidays, including "lighting up" the whole area to the maximum, something that the city has never seen the likes of before.
Quotable Quotes from Sir Jerome
"Cagayan de Oro is not Mindanao. Whatever happens anywhere in Mindanao has no effect whatsoever on the city."
"If you take care of your people, your people will take care of your customers."
For Inquiries and Bookings
If you plan to book your stay or would like to inquire about the hotel rates and other relevant information, please contact them through this contact information:
Contact Numbers: +63 88 880 000 or +63 2 779 5240 or +63917 3124563
Website: www.limketkailuxe.com
Facebook Page: https://www.facebook.com/LimketkaiLuxeHotel/
Twitter Page: https://twitter.com/LimketkaiLuxe
Conclusion
Cagayan de Oro has been heard time and again to be the pearl in the entryway into Northern Mindanao, or for the whole island for that matter. In spite of this, for decades Cagayanons have clamored for a 5-star hotel that will finally put CDO in the tourist belt map, and something to boast for that is more than at par with the best from other major Philippine cities. It's only appropriate and fitting that CDO's best and finest 5-star hotel should come from a local entrepreneur group, so here's hoping that Limketkai Luxe Hotel can continue to be the city's number one 5-star travel provider into the future.