17 Nov

List of Coffee Shops in Cagayan de Oro For the Coffee Lovers Out There

Coffee, almost everyone's favorite beverage, and the usual drink everyone serves for friends, visitors, during business meetings, gatherings, etc. It's very common to hear friends or business associates say, "Let's have some coffee…" while you seldom hear people mention soda drinks or even tea at the end of this sentence. In Cagayan de Oro City we have our share of coffee lovers (we dare say a third of the adult population are coffee drinkers) and most have their favorite coffee shops, and this is a mix of hard-earned franchise names or local names born from the creative minds of Cagayanon businesspeople.
Starbucks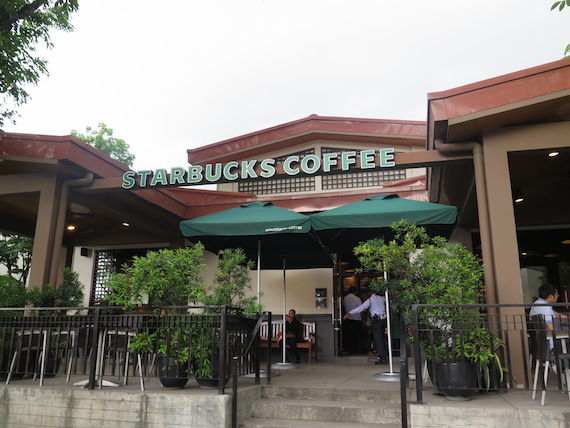 We have no qualms in starting off our list of coffee shops in Cagayan de Oro with five international franchise names because, let's face it, when it comes to coffee and pastries, everyone goes to at least one of these names on a regular basis, and on top is Starbucks. This is the world famous American coffee company that started in Seattle, Washington, and now has over 23,000 stores in 66 countries, all of them franchise names, but none of them franchised owned, meaning that all of them are centrally owned and controlled. Thus, the coffee that you drink in New York City will have the same flavor and quality when you drink it in London of CDO. They are the first to introduce "third generation beverages" like cold coffee and teas. The first CDO store opened at the Limketkai Center while the other one opened at the Ayala Centrio Mall.
The Coffee Bean and Tea Leaf
This coffee shop was founded by Herbert Hyman in 1963 in California. It has been around for over 50 years now. CBTL is now one of the biggest privately-owned, family-run coffee and tea companies in the world. Not only do they serve coffee and tea but they also offer delicious desserts to pair you drinks.
You can find them at Centrio Mall and in Limketkai Gateway.
Bo's Coffee
The third international and franchised coffee place to open in CDO. The first Bo's Coffee opened along Velez Street and a second one at Limketkai Center, but today only one coffee branch remains on the ground floor at the Ayala Centrio Mall. They serve those sweet and various coffee flavors and frappes that go well with their pastries. This coffee shop is popular among the locals who love their coffee at only half the price of international brands.
Coffee Works
A locally owned and created coffee shop that is a classic favorite of many students and professionals, presently located at the Limketkai Center, the branch in Divisoria having since closed. It is actually one of the oldest locally owned coffee shops that opened in the style of Manila and Cebu coffee shops cafes. It is usually packed in the afternoons with students and professionals with their laptops and tablets enjoying the coffee and frappes while doing work or leisure thanks to the free Wi-Fi. The café actually opened in 2005 and they even sell their own branded souvenir items like coffee mugs and signature coffee.
Figaro Coffee Company
Figaro is a cozy coffee shop located at Limketkai and is a great place for coffee lovers to gather. It is ideal for small gatherings, business meetings and is the perfect hangout for friends. This coffee shop is not only a good place for coffee but is also great for dining since they serve delicious food like sandwiches, salads, pasta and delectable meals.
Dave's Beanery Cafe
Located at Kauswagan Highway near Savemore, Dave's Beanery Cafe is another great spot for coffee lovers. It is a homegrown business that is rising to popularity due to its magnificent coffee and delightful desserts.
Coffee Dream
Coffee dream is a delightful homegrown to choose from. This coffee shop at SM City Mall serves coffee, cold coffee, chilled blends, other beverages and delectable food.
Vienna Kaffeehaus
Another old-time and locally owned coffee shop that first opened along Velez Street and now also has a branch at the Limketkai Center Mall. Again many swear to the great taste of their coffee lineup as well as their cakes and pastries that go well with their coffees. The cool and quiet ambience of the coffee shop makes it a great venue for business discussions or just a place to unwind with great conversations and coffee.
Krispy Kreme
While known as doughnut shop, this store offers the second-best coffee in the U.S. next to Starbucks. That's because in the U.S. doughnuts and coffee go hand-in-hand. And while Starbucks was founded in 1971, Krispy Kreme began way back in 1937, since they allow franchising with centralized administration, the branches here in CDO gives local entrepreneurs a chance at a business. Their coffee menu choices may not be as wide as Starbucks, but many coffee lovers swear that Krispy Kreme coffees have a far superior taste. The first franchise opened in CDO is at Limketkai Center while the second one is at Ayala Centrio Mall.
J.Co Donuts and Coffee
J.Co is an Indonesian donut, coffee, and yogurt company founded only in 2005 but is now rapidly expanding into Malaysia, Philippines, and Singapore.
Like Krispy Kreme people think of J.Co only in terms of doughnuts, but their coffee selections are one of the best that you will ever get to taste.
J.Co branches are franchise owned, again giving a business opportunity for local entrepreneurs. The sole branch in CDO is at the Ayala Centrio Mall.
Dunkin' Donuts
In our list of coffee shops in Cagayan de Oro there is no way we would not include the city's first international donut and coffee franchise to open in Divisoria by a local CDO franchiser, Golden Era Food Chain. Today, there are franchise owned branches at Ayala Centrio Mall, Limketkai Center Mall, SM City Mall, Carmen, Macasandig, Cogon, and Puerto.
Ever since this brand opened in 1950 in Massachusetts, U.S.A., it has now opened 11,000 franchise stores in 33 countries. Many old-timers and millennials swear to the Dunkin' Donuts' taste difference in coffee.
Mister Donut
Here is another donut and coffee shop that many swear serves really good coffee. The second international coffee shop franchise to open in CDO, the lone Mister Donut franchise branch in Divisoria has now moved to a bigger shop on Velez Street corner Arch. Hayes Street. Although founded in 1956 as a joint American-Japanese venture with over 1,300 stores worldwide, in 1990 the brand was acquired by Dunkin' Donuts, though franchises in Taiwan, South Korea, Thailand, and Philippines were allowed to keep the original franchise name. Most recently Mister Donut has partnered with 7-Eleven stores for its doughnuts and coffee.
Conclusion
And there you have it, coffee lovers, our official list of coffee shops in Cagayan de Oro, though admittedly, we had to leave out many small shops and cafes, most of them locally owned, because either they're not that favorably located and known or they're attached to bigger shops or hotels that automatically exclude them. Also, we based our selections on popularity due to coffee taste and selection, and undoubtedly all the above mentioned will pass every coffee taste test. After all, for a coffee shop to be successful, they first need to create great coffee to attract coffee lovers out there.
We also have a list of Pastry shops and cafes for people love eating sweets.