08 Apr

List of Homegrown Restaurants in Cagayan de Oro – A Guide Where to Eat

As Cagayan de Oro as a city continues to grow physically and economically in leaps and bounds, Kagay-anons will also notice that homegrown, original, and Kagay-anon-owned restaurants and food places have been mushrooming all around the city. Just walk inside the malls or down the Divisoria streets in the city and you'll see a lot of them.

As Kagay-anons we must feel proud to have these local enterprises by local entrepreneurs so we also need to give our devout attention to these places to keep them in business. This is because unlike major food chains, these establishments are stand-alone businesses and are dependent on the local following. Here's About Cagayan de Oro's list guide of where to eat in Cagayan de Oro useful for both local residents and tourists:
NATIVE FILIPINO CUISINE
Kagay-anon Restaurant
This restaurant is one of the oldest in the city ever since Limketkai Mall opened and has made a name with the locals as serving some of the most delicious and authentic Filipino dishes and delicacies in the city.
It is one of a very few select restaurants in the city that serves authentic ostrich meat as well. It is actually one of the biggest fine dining places in the city and still uses typical Filipino wooden furniture and serving utensils. Their menu may seem a little pricey, but the servings are quite large and may even be too much for two persons. Most notable at the entrance is the large number of awards given to the restaurant over the years. They are at the Limketkai Center Rosario Place. You can call them on (08822)729003 and they are open 9:00 a.m. to 8:00 p.m.
The menu lineup at this restaurant is mostly Filipino dishes with their bestsellers usually being the local Baby Back Ribs, Sinuglaw, and Kinilaw. Their Pancit and Empanada are also second to none in the city, and many regulars of the restaurant will swear to this. Their empanada is sometimes ordered in large quantities for take out to be served at parties, other special occasions, or brought home.
Many also swear to their Lengua Estofada as delightfully delicious. They are also popular with having one of the most affordable function rooms in the city. Occasionally they have affordable lunch and dinner buffets.
They are located along Don A. Velez Street beside RMN-DXCC. You can call them at (088)852-1432 and they are open from 9:00 a.m. to 10:00 p.m.
Cora's Grill
Many old-timers swear that the original Cora's Grill was a small stall in Cogon Market, and everything grew from there. Whether this is true or not, one thing for certain is that this restaurant is well-known for its affordability, as you can see it on their signage outside the place: "Lami-an Na, Barato Pa."
Many will swear on their bestsellers such as the Stuffed Chicken, Crispy Pata, and Sizzling Squid. Their old fare of Special Batchoy with egg is also very delicious.
They also serve occasional lunch and dinner buffets. They are located along the J.R. Borja Extension Highway. You can call them on (088)886-5033.
The Village Den
This restaurant goes with the moniker, "At Home Meals" and many who have tried the place find the prices very affordable, as if it was your mother's home cooking.
Their rice meals and Chicken Skin Chicharon are really good, as well as their Crispy Pata. They are located at the corner of Yacapin Street and Corrales Avenue. They are open from 9:00 a.m. to 10:00 p.m. and you can call them at 729-774.
Lighthouse Restaurant
They are located at the 4th floor of the Gaisano City Mall and they are considered one of the more affordable lunch, snack, and dinner buffets in the city since the late 1990's.
The food they serve at their buffets is actually very good and it is common to see the place packed full even during weekdays. The lunch buffet is from 10:00 a.m. to 2:00 p.m., the snack buffet is from 2:00 to 5:00 p.m., and the dinner buffet is from 6:00 to 8:00 p.m.
Terrazzo Bar and Resto
Originally located at Lapasan, this bar and resto is now located at Divisoria along Tiano Bros. Street. Many old-timers will tell you that they serve the best Bulalo and Spare Ribs in town and at very affordable prices.
They don't look that busy during the daytime but at night the place all lights up. It is also a well-known watering hole for those looking for affordable beer buckets and other liquor.
CHICKEN PLACES
This is a cute, comfortable, and cozy restaurant that serves the best Buffalo Chicken Wings in the city, and the only way to prove this is by visiting the restaurant. Aside from this, they also serve other mouthwatering dishes and desserts in a stylized American fashion. The chicken wings come in different flavors and can be served either mildly, medium, or extremely spicy.
Also best sellers are their burgers and the sizzling dishes, especially the roast beef and sisig. Their desserts are also quite a hit, especially their brownie ice cream.
They serve only a single variety of beer and these would really go well with whatever Buffalo wings you order. They are located at the Great Spot Arcade along the J. R. Borja Extension Highway and they are open from 9:00 a.m. to 11:00 p.m.
Pan-Chic Pancit and Chicken
With an obvious name as this, it's not hard to figure out that their bestsellers are their pancit and chicken dishes.
Most of their orders are good for 4-5 persons because the restaurant greatly encourages families and groups to partake since the prices are group affordable.
They are located at the Geleng Arcade along J.R. Borja Extension Highway and at their newest location at the Uptown Condotel near the Xavier Estates Gate 2 along the Fr. Masterson's Avenue in Upper Carmen. They are open from 10:00 a.m. to 2:00 p.m. and from 5:00 to 10:00 p.m. You can call them on (088)880-9500, 0915-7991500, and 0939-3020500.
Dear Manok
One of CDO's fairly old grilled chicken restaurants. They have what they call "Group Feasts" for large groups, and of course their bestsellers are their chicken and rice meals, Sizzling Sisig, Boneless Bangus, Sizzling Squid, and Kinilaw.
Their function room is also growing in popularity for small to medium events and occasions.Many generations of Kagay-anons have tasted the great food at this restaurant. Today they are located at the corner of Tiano Bros. and Akut Streets. You can call them on (088)856-4914.
Cucina de Oro
Many Kagay-anons will remember this as the original Chicken Ati-atihan before taking the name of Cucina de Oro. With the moniker, "Sasayaw ka sa sarap" and "We didn't invent chicken barbecue, we perfected it," they still retain the original chicken barbecue and other cooking from Bacolod due to the original franchise before being taken over by a homegrown enterprise. They also serve other great grilled and sizzling dishes that they have always been known for, as well as the best Pochero and Ostrich dishes in town. They are located along the Limketkai Drive just before the crossroads at the Shell gasoline station. You can call them on (088)856-9168 and they are open from 10:00 a.m. to 11:00 p.m.
Manokan Grill
This was the former Jo's Chicken Inato that closed for a few months to build a bigger and better building with a new name, and still located along Yacapin Street beside the Trinidad Building.
Their menu bestsellers are naturally their "Chicken Inato" rice meals, as well as their Macao Canton, Chopsuey, Kinilaw, Fish Tinola, and Calamares.
Like the old Jo's, the new place is still very affordable and when they opened it was as if they never closed as you can see the place often packed full during lunchtime and dinner time.
Ang Lechon Manok ni Sr. San Pedro and Foodhaus
The success of this local lechon manok franchise owes it all to the Unabia brothers (one of them named Pedro, hence the name) who are from Misamis Oriental. After opening the first branches in Cagayan de Oro and Bukidnon, they set up the Anakciano Inc. in order to franchise their business.
Today there are more than 300 Sr. San Pedro franchise branches all over the country, selling the mouthwatering and juicy lechon manok that many customers love as compared to other brands that are dry. For inquiries into franchising you can get in touch with Anakciano Inc., 3708 Las Piedras St., Kauswagan, Cagayan de Oro City, or call them on 0916-3459265.
FUSION OF INTERNATIONAL and FILIPINO CUISINE
Bigby's is locally owned but has expanded with branches in Manila, Cebu, Davao, and Bacolod. The restaurant's ambience is actually a cross between fine dining and casual eating, and is a great place for pairs, family meals, or large group partaking.
Anyone going there is advised to try out their house specialties and best sellers such as their pork, chicken, beef, seafood, veggies, and other specialty dishes with those kinds of funny names.
If your tongue is a true connoisseur for good food then you'll enjoy their food at their two locations at the SM City Mall and at Ayala Centrio Mall. Their original location at the Limketkai Center will soon be reopening.
This cute little restaurant can offer an impressive lineup of appetizers, salads, main courses (divided into beef, pork, chicken, and seafoods), sandwiches, pasta, pizza, crepes, cakes, and an assortment of drinks and refreshments. They even have a great lineup of 'combo meals.'
For bestsellers, they have Burger Steak combo meal, Breaded Fish Fillet and Pork Chop, Oxtail Stew patterned after the Pinoy Kare-Kare, given a more "Frenchy" taste, Herb Roasted Chicken and Seafood Pasta Rollups.
For pizza their bestseller is the homemade black crusted Black Mamba Pizza, the only restaurant in the city to serve this.
They also serve desserts like Blueberry Cheesecake, Chocolate Fondue Cheesecake, French Macaroons, and the Banana and Almond Crepe. They are located at the ground floor of the Grand Central Arcade Building on Arch. Hayes and Pabayo Streets.
Their food is a fusion of Spanish, Filipino, American, and other international dishes. Their best sellers are their Clam Chowder, Shepherd's Pie, Asian Pasta and noodle meals, Kinilaw, Pork Sisig, Bangus Sisig, and Baby Back Ribs. In fact, their Baby Back Ribs are more than competitive with the best from other bigger restaurants. Their cracked bread is also a hit.
For desserts, their best sellers are the Tablea Cake and Cookies Ala Mode. What makes the food at this place so inviting is the affordability.
Aside from the expats, foreign visitors, and professionals who visit regularly, part of their mainstay are also students, a testament to the affordable prices. They are located at Gomez and Capistrano Streets, though somewhat nearer to Burgos Street.
The Palate by Tita Ins
Formerly the Fusion Resto Café, this fairly new place has menu items that are already affordable and come complete with rice so they don't serve what we call budget meals. They have "All Day Breakfast" meals, Boneless Lechon, Pan Seared Pork Chop, Beef with Ampalaya, and their new Lechon Belly Meals and Sandwiches.
Their lechon meals are guaranteed because the place is owned and managed by the same proprietors of Tita Ins and Mommy Inday's Lechon. All their chicken meals have different degrees of spices worth savoring.
Another favorite for groups is the Turbo Chix and the Beef with Mushroom that is good for 2 – 3 persons. They also serve really delicious desserts. They are located at the 2nd floor of the Consortium Building along Corrales Extension beside Capitol University.
Their salad lineup is actually considered the real bestseller, as well as their smoked Fuego To Go Ribs that is slowly cooked for 4 hours. It is cooked in its final stage when someone orders it. The Spaghetti Vongole is a pasta dish bestseller because of the seafoods used in place of traditional ingredients.
In truth however, every single dish on the menu lineup is worth trying and savoring. Even their Sriracha Chicken Wings is a bestseller since it is an amalgamation of traditional Buffalo wings and Vietnamese ingredients.
And if you want a different snack or dessert, it's best to try their Sikwate and Coconut Snow Ice Cream. They also serve sandwiches like the Blue Iron Burger with pickled oyster mushrooms, Sweet Italian Sausage, and the Tangigue Sliders. They are located at the corner of Pabayo and Toribio Chavez Streets, where the former Mom's Corner used to be.
This española cocina (Spanish cuisine) restaurant can boast of impressive mas vendidos (Best Sellers) not found anywhere else in Cagayan de Oro. Pica Pollo is basically plump chicken parts cooked in a sizzling gravy sauce specially made for it.
Paella Mixta is the typical Spanish seafood paella very common with Spanish eaters. It contains shrimps, mussels, and chicken cooked in typical tomato-based Spanish style. The Croquetas de Pollo is breaded croquette that can be filled with different fillings, in this case, butter milk, flour, carrots, and chicken.
Even their Rivale Burger is a best seller with its caramelized onions. For their pasta dishes, their best seller is the Pasta Agli Olio cooked with olive oil. Their Rivale Sisig is actually a healthy "pulutan" alternative since they only use prime pork parts with very little fats. They can be found at the Big Tree Arcade along Kauswagan Highway, in front of Resonance.
Affordable fine dining is how you would describe this mostly Asian restaurant. While most of the specialty menu is Chinese, the general menu concept is Asian.
They can safely boast that their bestseller is the Pancit Canton and Patatim, a sort of pork crispy pata that is instead ensconced in a specialty sauce with condiments.
Their desserts and drinks are also made especially different. They are located at the ground floor of the Grand Central Arcade Building, Arch. Hayes Street and Pabayo Street.
Sentro 1850
Again, this is one of the older restaurants in the city to offer affordable fine dining. It is located at the corner of Don A. Velez and Toribio Chavez Streets. The restaurant is normally filled to the brim during lunchtime and dinner time so some customers may find themselves on the waiting list.
They serve a fusion mix of Philippine and foreign cuisines, focused mostly on their Ribs, Smoked Barbecue, and Roast Beef lineup.
The local lineup boasts of the best Lechon Kawali, Crispy Deep Fried Pork Belly, and Grilled Pork Chops in the city. Their cake desserts are purely sinful. They're open every day from 10:00 a.m. to 12 midnight. They also have function rooms for small parties.
Circa 1850
Like its sister restaurant, Sentro, this restaurant also serves really good fusion dishes of ribs, barbecue, roast pork and beef, and other grilled delicacies. However, their salad and pasta dishes stand out more to give that truly "retro food" feeling of what it was to savor food in the 1850's.
They are located at the ground floor of the Tune Hotel along C.M. Recto Avenue, almost in front of MUST. You can call them on (088)852-1850 and they are open from 7:00 a.m. to 2:00 p.m. and from 5:30 to 10:30 p.m.
Minindal Cuisine
Not many people are familiar with this unassuming – almost hidden – restaurant, but once you get inside and get to taste their food you get hooked almost immediately. In fact, looking at the entrance of the restaurant you wouldn't know that inside is a somewhat grand ambience complete with antique oak furniture, retro wall and table decors, and that feeling that you must be dining in one of those old 19th century restaurants until you realize there's electricity in the place.
Minindal is old Tagalog for "Merienda" or snack, but there's nothing "snacky" about their menu lineup such as their longganisa, caldereta, ensaladan talong, along with their fusion dishes like chicken cordon bleu and baby back ribs.
They located at the corner of San Agustin and Tiano Bros. Streets. You can call them on 0922-9660384 and they are open at 11:00 a.m. to 2:30 p.m. and from 4:00 to 9:00 p.m.
Frankees Resto-Bar
They are located at the corner of J.R. Borja Extension Highway and Macajalar Road. Their menu highlights are actually not only their delicious foods such as their steaks and pork dishes but also in the size of their servings that can be often even more than 2 persons can finish off.
Even their side orders of pasta dishes, sandwiches, and salads are truly delectable, as well as their unique frozen drinks. Surprisingly, the ambience and decoration inside is quite simple, but very homely, as if you never left your own house. Their food is generally a mixture of Filipino and international fusions.
Mindy's Restaurant
This is one of CDO's 80's era restaurants that introduced eat-all-you-can buffets at affordable prices. Some of the really swell food on the buffet is their pancit canton, crabs, Kare-Kare, sweet and sour fish, beef steak, fried chicken, Chopsuey, fresh lumpia, and even fresh fruits for dessert.
The general atmosphere and ambience is typically the same as it was back in the 80's, like that of being inside a cool brick home. They are located at the corner of Yacapin and Don A. Velez Streets. You can call them on (088)272-0698.
Peking House
Like its front neighbor, Lighthouse, at the 4th floor of the Gaisano City Mall, this cozy restaurant is one of the first in the city to offer affordable eat-all-you-can buffets for lunch, snacks, and dinner time. The lunch buffet usually starts around 10:00 a.m., the snack buffet starts at around 2:30 p.m., and the dinner buffet starts at 5:30 p.m. This restaurant is often referred to as the "masa buffet" because of its affordability even for low income earners.
The Fat Monk Lifestyle District
This was the popular restaurant formerly located at the Limketkai Center, famous for its crocodile meat dish. It's still the same fusion restaurant that its regular customers remember but with a new home at the Lifestyle District along Corrales Extension, in front of Capitol University.
It still serves its Octopus and Squid bestsellers such as the Chili Octopus, Kung Pao Squid, Oyster Squid, and Sambal Squid. Their prawns and shrimps, like the Butter Garlic Prawns and Steamed Garlic Prawns, are also bestsellers. They're also popular with their delicious noodle dishes like the Singapore Hokkien Hae Mee, Pad Thai, and the Char Kway Teow. Their Malaysian Pork Chop and Fried Pork Belly are also worth trying out. Their rice orders are also almost meals in themselves and go very well with any dish you order. Of course, people will always be in love with their delectable Salt and Pepper Crocodile, Crocodile Salpicao, and Crocodile Meat in Black Beans. They are open from 11:00 a.m. to 2:00 p.m. and 5:00 p.m. to 2:00 a.m.
FOREIGN CUISINE
Ramen Tei Authentic Japanese Noodle House and Sushi Bar
This restaurant is considered as one of the first by a local to open an authentic Japanese restaurant. Their sushi, mixed sashimi, mixed ramen, kani salad, and seafood yakiudon seem to be the crowd favorites over and over again through the years. Even their pork tenderloin is good. They are located at the ground floor of the Rosario Crescent at the Limketkai Center.
Thai Me Up
This well-known name for Thai cuisine and some Filipino dishes offers lunch and dinner buffets aside from its regular menu. Since they cook up authentic Thai dishes with five flavors combined, spicy, sweet, salty, bitter, and sour, if you're not yet used to Thai food, you can request the waiters to tone down the spiciness of your orders. Their bestsellers have always been the spicy pomelo chicken salad, pork spare ribs, beef in basil sauce, chili crabs, and Thai spring rolls. Their main branch is near the corner of Capistrano and Mabini Streets, with another branch at the Ayala Centrio Mall. You can call them on 73-8424, 310-8424, 0917-7102336, 0917-7946118, and 323-1174.
Tokyo Bubble Tea
All the drinks they serve are in tea form, hence the name of the place. But their main fare is their authentic Japanese dishes. If you like Japanese food but you're sick of all those so-called Jap restos that don't taste any bit like Japanese (and are expensive), then this place is perfect for you, your family, and your group of friends. The food is really delicious and very Japanese tasting with prices that are much lower than other Japanese restos out there. The concept of the restaurant is called a "famiresus" or "family restaurants" that are popular in Japan. You'll find this place at the Ayala Centrio Mall.
Tadakuma Ramen Tei Restaurant
Not to be confused with the Ramen Tei at the mall since the term "ramen tei" is the Japanese generic term for "noodle house." They just recently opened towards the end of 2015 so they are another authentic Japanese restaurant that wants to compete with other Jap restos in the city. Their Jap menu bestsellers are the mixed sushi set, seafood ramen, California Maki, Tuna Sashimi, salmon sashimi, omurice, and Gyudon. Their green tea is also quite tasty. They are located along Ramon Chavez Street, right in front of Ayala's Alveo Aspira Condominium. You can call them on 0932-2847799 and (088)852-0427.
Mooon Café
This Mexican food restaurant used to be at the Limketkai Center, but they have since moved to the Lifestyle District along Corrales Extension. If you're looking or just curious about Mexican food, the Mooon Café name is not a typo, though many people do notice that the name does have three o's. The three o's represents the three names of the owners. Out of curiosity for Mexican delights, get ready for your tongue and taste buds to go "arriba, arriba, andale, andale" by a variety of appeteasers, salads, pot meals, special Mexican, pork/chicken/beef, fish, sausage, and pasta delicacies all cooked to real Mexican standards.
For those who love or are just curious about Italian food, this is the place to visit. It is owned and managed by Chef Angelo Obrero, customers swear to the great taste of their Rosemary Chicken and Chef's Pizza. They're even affordable compared to past Italian places that never survived in the recent past in CDO because their dishes seemed to be priced in Italian Lira or Euro. They're even now serving affordable student meals and special beer buckets plus pizza. They're open from 10:30 a.m. to 12:00 midnight and are located at the Lifestyle District along Corrales Extension.
Junno Deli Café and Gastropub
As the name implies, they're a cross between a restaurant serving British food and a drinking pub hole the Brits usually call a gastropub. They became more than a blip on the Cagayanon's food radar when they introduced the first week-long fine dining event featuring a 6-course gastronomic British cuisine. It was a sold out affair, and ever since then more and more customers have been flocking to the British inspired place serving delicious Brit dishes at surprisingly affordable prices. They're open from 10:30 a.m. to 12:00 midnight and you can call them on (088)880-2592. They're located inside the Lifestyle District along Corrales Extension.
Ababu Persian Cuisine
This restaurant serves authentic Persian cuisine, something a bit rare in Cagayan de Oro. Don't confuse Persian with Arabian because there's a big difference. Persian food is from the Persians of Iran or Iraq while Arabian food is from Saudi Arabia. The place is structured like a fast food joint, which is actually a good thing because the food is affordable and they even offer budget (tipid) meals for students. They serve very satisfying and meat-filled shawarma and their shawarma rice meals are very tasty. Their other Persian cuisine lineup is quite impressive. It is recommended to pair their viands with salad rather than rice so you can truly taste the wonders of Persia. They're located at the Monte Carlo building on Corrales Avenue almost in front of Xavier University.
Secret Garden Korean Restaurant
For Cagayanons craving for Korean food, this place offers real quality and authenticity in the way the dishes are cooked and taste. This Korean place is only about 5 minutes from the city center along Masterson's Avenue, Upper Carmen, in front of the Xavier Estates main gate. Don't be fooled by the simplicity of the entrance because once you're inside you'll feel the Korean ambiance straight away. The menu and food is typically Korean and boasts of frequently returning customers, both Filipino and Korean expats and tourists. That's how good they are. It's a great place for family and friends with a coziness that will really make you relax and focus on all that delectable Korean food.
PIZZERIAS
Calda Pizza
This is one of CDO's first big-sized thin crust pizza place that opened with the concept of serving really large-sized pizzas for large groups. Just how big? How does a super large 30 incher or extra super 36 incher grab you? You can even have the pizza delivered to your office or doorstep. Their bestsellers are usually the Calda Speciale, Filetto, Roma, Quattro Stagione, Filipiniana, Carousela, Hawaiian, and Bianca, though their whole menu lineup is quite long, giving you more reasons to go there and attempt to savor each flavor. Just don't forget to bring your friends or family unless you're attempting to finish off an extra super all by yourself. Their main restaurant is Lapasan with a branch at Lorraine's Portico at Pueblo de Oro.
Big Flat Bread (BFB)
Another of CDO's original "large pizza places." This is the place to go for large groups or medium sized families who need to share really large pizzas (How does 30 inches grab you?) since you can choose to order from sizes ranging from big, bigger, and biggest, with "biggest" usually enough for around 10 people. Their bestsellers are the Southern Chicken with BBQ sauce, the Knickerbocker, Beef Salpicao, the Hawaiian, and the Oriental. The great crowd favorite has always been the Godfather. They're not just the place for big pizza but also the place for big and delicious pizza. They also have a "Do-It-Yourself" create your own pizza where you get to choose your own toppings. They are located along Corrales Avenue just outside Wat Ever and Lokal Grill.
Alberto's Pizza
Here's a local pizzeria that's very popular with students because of their affordable pizza menu lineup. Once you get to savor their Italian flavors, you'll wish you had visited their place sooner. They're located smack in the middle of the city at the Marfori Compound on Gaerlan and Pabayo Streets, that side street short cut leading to Corrales Avenue if you enter from the Pabayo Street side. You can even call them for deliveries to your home or office. The usual favorites are the Beef and Mushroom, Bacon and Cheese, Hawaiian, and the Supreme.
BURGERIAS
A true and proven homegrown local burger and sandwich joint that has Cagayanons coming back again and again even when they started out with just a small stall at the Robinson's in Limketkai Center. Cagayanons are very familiar with their Ultimate Sandwich, Flat Iron Burger, and Deli Ranch Salad as bestsellers. Their Deli Hand-cut Fries are now becoming a hit when paired with the sandwiches. Jokingly, their Tokyo Crib Baby is now being touted as a cheaper version of Army Navy sandwiches. The new Sautéed Chicken Fajitas with onions and bell peppers in tortilla wrap and Handcrafted Sausages in Mini Baguette with coleslaw or pickles and onions are also growing in popularity. Whether you're catching a snack for the movies or just want a hearty burger or sandwich meal, you'll find them at the 3rd floor of the Ayala Centrio Mall, at the entrance of the cinemas.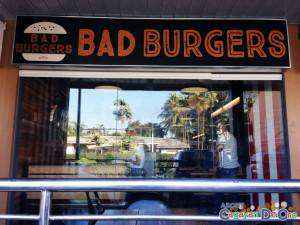 The name implies that the burgers are completely different than the standard fare you're used to with traditional burger fast foods. Just take a gander at their menu and you'll the burgers are cooked, prepared, and presented differently. If burger names like Double Foul, Triple Threat, Black Burger (it's really black), Dominator Burger, and Donut Burger don't entice you to order, then perhaps you don't have a palate and taste buds. They even have all-day breakfasts, appetizers, and pasta dishes, not to mention the long list of hot, cold, hard, and beer drinks (it's rare for a burger place to also be a watering hole, so this is a first in CDO). They're open daily from 9:00 a.m. to 2:00 a.m. and are located at the new Center Point Arcade on Domingo Velez Street and Corrales Avenue.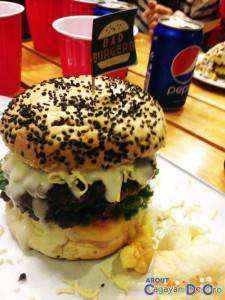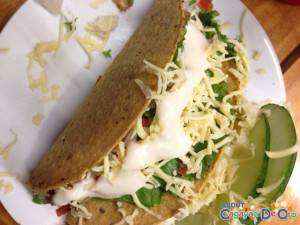 Chub's Diner
This is a small mom-and-pop-neighborhood-diner nestled between buildings along Corrales Avenue in front of the Xavier University gymnasium. Yet they've been around since 2012 because not only do they serve really large meal servings, they also serve one of the best tasting and tallest (foot high) burgers in town. They also do serve normal sized burgers. They have a steady flow of customers all day long. They're not hard to find, just leave your belt outside as their door sign suggests.
SEAFOOD AND GRILLED FOODS
Instead of just ordinary Filipino food this place gives its customers popular "Bisaya" cuisine. It's like eating clean street food minus the street. For instance, their chicken barbecue comes in two popular flavors: The standard sweetened variety and the "inasal" style flavored by tanglad. Most of their fowl and meat dishes come in these paired or more varieties so customers can choose the one's that they were used to or simply to savor a new flavor, out of curiousity. And if your curiosity still isn't piqued, try ordering from their "Bisaya" menu such as Do it…pancit!, Espesyal na Espesyal, Ang Fried of CDO, Sizzle Bebeh!, Hi miss, gusto ka ug hinam-is?, Pampa-gana, Wow! Sabaw!, Salad Oh!, Pang Tulak. They are located along Corrales Avenue in front of Parasat.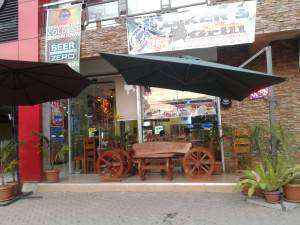 This small and quaint place serves up deliciously cooked varieties of beef, pork, chicken, and seafoods in variety budget meals. These affordable budget meals come in three categories: Biker's Meal (sometimes called student meals), medium budget meals (or Best Sellers), and the high end budget meals or Unli Rice Specials. All budget meals are inclusive of iced tea. They also serve Bulalo, mango shake, and corn berry shake, beer and other alcoholic drinks throughout the day. You can find them on the ground floor of the Consortium Building along Corrales Extension, beside the parking lot of Gaisano City Mall.
Panagatan Seafoods Restaurant
Located along the Iligan-CDO-Butuan National Highway in Opol, Misamis Oriental, this seafoods specialty restaurant has been a mainstay for Cagayanons and their visitors for many years now. The restaurant built on the breakwaters of the seashore ensures that day or night customers can gaze down on the waters and occasionally catch glimpses of fish while enjoying the fresh sea air blowing in. At the entrance are aquariums filled with fresh marine resources, including really fresh lobsters. You can choose from these and have it cooked to your choice. The usual bestsellers are the grilled squid, steamed shrimps, grilled tuna belly, kitong, grilled panga, Kinilaw, gambas, and inihaw na bangus. For groups you can choose from their "Bilao" Specials with choices that are good for 3-4 persons. They also have a branch at the Ayala Centrio Mall.
Prawn House Restaurant
The main restaurant is at the Regatta Square, Pueblo de Oro, right beside SM City Mall. At the entrance they have aquariums filled with fresh marine resources that are open to selection and cooking in your choice. Their Prawn Thermidore is a definite must-try, as well as their Kinilaw, tiger lobster sashimi, and their fried rice platter goes very well with any seafood dish. They have two other branches at the Ayala Centrio Mall and along the National Highway in Opol.
Seablings
Located along the National Highway in Opol, right beside Panagatan and Prawn House. This used to be the old Seabreeze in the 80's and mid 90's. For a restaurant 20 minutes away from the city, their main attraction is their Lunch Buffet that fills up the restaurant fast. Their bestsellers are their grilled squid, steamed shrimps or shrimps kebab, halaan-guso-lato salad, steamed crabs, sweet and sour fish fillet, and kinilaw.
Redtail Shrimps and More
No plates or utensils are used in this place because each person is given long printed paper bibs that they have to wear, thin plastic gloves are worn since you need to eat with your hands, all the food is served in clean plastic bags, and paper plates and table mats are used. Their seafood dishes are served either in its own sauce or in coconut milk (gata) and locked in those plastic bags, so when they are opened, a tasty aroma is emitted in the air. There are two locations at the Papa Juanito's Square at the back of the Robinson's Center in Limketkai Mall and along Don A. Velez Street in front of Sentro 1850.
Butcher's Best
A Cagayanon favorite especially with students and yuppies since the late 1980's. Their affordable barbecue dishes, garlic rice, and sisig dishes have always been the fare for quick lunches or relaxing group or family dinners. Their main branch is still at Arch. Hayes Street corner Corrales Avenue.
This place serves a wide array of seafood dishes, one of their bestsellers being the Paella de Marsicos as well as their baby back ribs and wild catch all-time favorites. Some of their other well-known specialties are the Catch to Match, Meat your Destiny, Catch in a Bowl, and Fluffy Fried Rice, as well as the drinks like Wild Catch cocktails and Hooker's Shooter. The catchy tag lines inside the resto probably sum up what the restaurant is: "Where fish to be served today has yet to be caught!" and "Home of the world class Master Baiters and world class Hookers Place where the fish we'll serve peeps tomorrow."
Barkadahan Grill
Ever since the first Barkadahan opened in Divisoria in 2005 (which burned in a fire caused by a gay dressmaker on the 2nd floor), Cagayanons thought that this restaurant was from out of town. Noel and Aileen Martinez are Cagayanons who love food so much they decided to make it a family business. Today, the original restaurant is still in Divisoria (rebuilt after the fire) and with 2 additional branches at the Ayala Centrio Mall and Primavera in Uptown, Carmen. They are known for their very affordable and very Filipino tasting dishes that are good for quick lunches or family gatherings, and cooked as if your very own mother was in the kitchen.
Loreto's Bar and Grill
Here is a popular family business that has been around since the 90's and has physically transformed more times than all of the Transformers combined. This almost permanent fixture at the corner of Tomas Saco and 6th Streets in Nazareth is a combination of a restaurant, bar, videoke hangout, billiards, and live band entertainment. The food is affordable and many will argue that Loreto's still serves the best Kinilaw, Sisig, and Bulalo dishes in town. Their function rooms are the rave of the city and are usually reserved months in advance especially before peak months.
Lexis Bar and Grill
Another of CDO's "oldies" that has been around since the 90's and has a permanent presence at the corner of Tiano Bros. and Macahambus Streets, you will often find them open only during lunch time and after 5:00 p.m., even during weekends. But when they're open, they're usually filled because their Filipino food menu lineup is not only affordable but are also delicious. Nighttime is usually busy for this restaurant as it has become one of CDO's popular drinking places especially with a live female trio or quartet singing pop songs accompanied by a techno band. Their beer bucket combinations are one of the most affordable in town.
Mykarelli's Grill
What has got Cagayanons coming back to this place is their popular and affordable meals such as the "Baby Come Back" ribs, Hungarian Beef, Crispy Pata, Chicken Inasal, and Sisig. Cagayanon Mags Acapulco and her family decided to open the first branch at the J.R. Borja Extension because they knew Cagayanons love their Filipino and fusion dishes in home cooked style, and from then on, things picked up for the business, even becoming a popular watering hole along the Borja Extension because of the other delicious "pulutan" that they serve. Another branch has recently opened at the Lifestyle District along Corrales Extension to bring the Mykarelli's style of food nearer to other Cagayanons.
This new kid in town is a nice place if you're looking for delicious but affordable dishes for a night out with the family or just a quiet lunch with a friend or group of friends. It used to be the old Tsinoy's Mami House at the corner of Tiano Bros. and Mabini Streets. Taking a look at the menu, the appetizers alone already will seem mouthwatering, and as your eyes go down to the soups, you'll notice that their Bulalo is more affordable compared to other restaurants. They have Shrimp Platter Specials that are good for groups of 4 and above. Naturally, they can't go without having the Sizzling Favorites such as sisig, pork chop, pochero, chicken, spicy pusit, and mixed seafoods. Of course there's the Inihaw Favorites such as tuna belly, salmon belly, pusit, liempo, and pork barbecue.
The restaurant's bestsellers are actually a combination of seafoods like the spicy Tuna Dynamite, Crablets, King Crab, and Malasugue Kinilaw, and meat dishes like Babyback Ribs and fresh organic chicken dishes. Customers are greatly encouraged to try out the pirate's Casili, Pugapu, or whatever fancies their palate from the live aquarium. For drinks, the house favorite is, you guessed it, Captain Morgan's Spiced Rum. It really sounds like a favorite hangout for pirates, especially when customers can also have fun at the KTV rooms. They also have club rooms or function rooms available starting at a minimum of 30 persons or for functions up to 100 persons. They are located in Lapasan, where the former The Barn used to be, in front of Home Plus.
Lokal Grill and Seafood Restaurant
This seafood restaurant is located along Corrales Avenue and is a well-known landmark along the avenue since it is the restaurant beside the Watever KTV. It is a favorite drinking place especially during the weekends because of its grilled tuna belly and crocodile sisig that does well as "pulutan" fare. Another bestseller is the mixed vegetables and deep fried squid in fish sauce. Their must-tries also include their seafood sisig, kinilaw, and Sinuglaw. Security has been recently beefed up since the whole compound is now fenced in.
VEGETARIAN
Green Haven Vegetarian Restaurant
Probably the only vegetarian restaurant that focused mainly on veggie and Mongolian fares for its buffets since 2011, it briefly closed for renovation and re-opened in 2015 as Green Haven Shabu-Shabu, thus, adding the famous Japanese dish in its vegetarian fares. The buffet is actually a choice of vegetables, meats, noodles, rice, and sauces that you place in a large bowl and you get to select how it is cooked. They also serve single and short orders for those who prefer non-buffet eating. They now even serve desserts. They are located at the Rosario Strip in Limketkai Center.
RIBS and STEAKHOUSES
Ribs and Bibs
A fairly new family restaurant that opened at the corner of J.R. Borja Street and Corrales Avenue, the place offers the best of Filipino and fusion rib, steak, and grilled dishes cooked in special sauces that are remarkably new to the Cagayanon taste. The delicious smell of the food being cooked continuous to waft inside the place since they are the first restaurant to introduce the "open kitchen" concept wherein customers can view and gawk while the food is being prepared and cooked. The place is huge and well furnished with retro antique furniture; with function rooms that can accommodate up to 50 persons, while the entrance is filled with old photographs of Cagayan de Oro's history and famous landmarks.
Countryside Steakhouse
The name says it all so you don't need to guess what this restaurant specializes in. They are located at the Rosario Strip at the Limketkai Center just outside the mall across from the west side entrance. They are one of the few places in the city that serves really good Sirloin Steak, Ostrich Steak, Rib Eye Steak, and Ostrich Salpicao. Also don't forget to order their Baby Back Ribs, Countryside Burger, and Mashed Potatoes that adds to their bestsellers. This restaurant was one of the pioneers when Limketkai Mall opened back in 1992 during its "open roof" days and is considered one of the city's oldest restaurants.
Capt. Richie's Baby Back Ribs
Presently located at the corner of Tomas Saco Street and 16th Street in Nazareth when they opened in 2012; they recently opened a new branch at the J.R. Borja Extension Highway. They can legitimately lay claim to serve the best baby back ribs in town as well as other specialized ribs dishes. This is because unlike other ribs and steaks restaurants that cook these dishes the old-fashioned American way, Capt. Richie's achieved a somewhat American-Filipino mixed taste to its ribs and steaks. And because the place is owned by a Cagayanon, they call their specialty the St. Augustine's Ribs.
COFFEE SHOPS and TEA SHOPS
Brewberry Cafe
Not many know that this Cagayanon-grown restaurant actually made it to the Philippines' top 10 promising restaurants in 2010. Today, though the place is known for their delicious dishes, meal combinations, and buffets, they do make their share of whopping and killer coffee combinations. In fact, the place actually gets filled in the afternoons with coffee and tea drinkers. They're one of the few places that serve free refillable coffee for breakfast. They are located at the corner of Don A. Velez and Toribio Chavez Streets.
Dave's Beanery Coffee Shop
This almost little-known local coffee shop is along the National Highway in Kauswagan, at the Liceo de Cagayan building. They brew up their own versions of hot coffee, hot tea, hot and cold lattes, frappes, and they serve their own pastries and cakes as well. They even have their own version of salted caramel and hot cocoa.
This new coffee place is located at Door 111, Great Spot Arcade, J.R. Borja Extension Highway. This is actually a comfortable place where you can just plunk down on a chair and relax with a cup of coffee or tea. It's also a nice place to study, even work, or just bond with friends or family. They serve, well, of course, coffee, tea, blended drinks, cakes and pastries. They even serve all-day breakfast meals. They have good choices from their Espresso Bar, Blended Beverages, and Tea Beverages.
Lexy's Sweet Kitchen
Located at Door number 1, De Lara Building in the heart of Divisoria on Tirso Neri Street, Lexy's is a small but cozy coffee with cake and pastry place. They serve their share of short orders like pastas and lasagnas. Their blueberry cheesecakes and chocolate moist cakes are taking customers by storm as well as their breaded pork and lasagna. Their coffee and tea drink variations keeps them filled in the afternoons with professionals and students alike.
Chingkeetea
Having opened in 2012, this tea shop is one of the first of its kind to open in the city. The main feature of the place is their small rooms that provide some privacy for those who want some quiet tea drinking. The original branch has recently moved to its new location on Arch. Hayes corner Pabayo Streets. Two other branches have opened near the Corpus Christi School in Macasandig along Tomas Street and another one at the Grand Central Arcade on Arch. Hayes Street. Aside from their frappes and milk teas in various flavors they also serve cupcakes and cookies. The main house rule is no free Wi-Fi to make sure that customers talk to each other.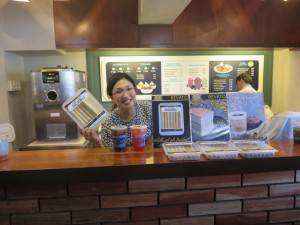 This unique tea shop offers a different kind of Hong Kong and Taiwanese milk tea called Nai Cha. It has an impressive lineup of Asian Nai Cha teas, fruit teas, Yakult teas, cheese variations, and soy milk variations. They even serve freshly brewed hot tea and hot coffee for traditional tea drinkers. Their first tea shop opened in Carmen, beside the SSS building. Now they have two branches at the Ayala Centrio Mall (Rustan's and 3rd floor cinema area), one at the 2nd floor of Robinsons at the Limketkai Center, and a stall at SM City Mall. Their refreshing iced tea drinks are not only thirst quenchers but also carry health benefits because they only use fresh and organic ingredients.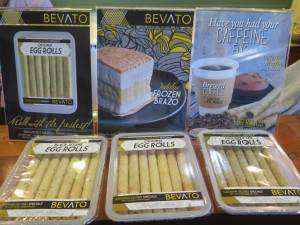 Infinitea CDO
A cozy milk tea shop serving up various milk tea flavors, fruit tea, frappes, and coffee. Loose leaf tea is basically used for all the tea drinks. The tea shop has a relaxing and lounge type environment with free Wi-Fi and soothing music. They're on the ground floor of the VMP CDO Corp. building, Tiano Brothers corner Montalban Streets. Business hours are 9:00 a.m. to 11:00 p.m. The atmosphere is actually quite relaxing given that they're away from the hustle and bustle of busy Divisoria.
Coffee Works
Definitely one of the best known local coffee shops in the city that serve hot coffee and tea beverages as well as a bevy of cold beverages and frappes. Having started at the Rosario Strip at the Limketkai Center, the original coffee shop is back at their former location again after locating along Corrales Avenue for a few years. They are also the only local Cagayanon coffee shop that sells their own coffee merchandise like mugs, cups, and tinned coffee beans. They sell their own line of pastries and cakes that go pretty well with any coffee or tea order. They are also the only coffee shop that uses "electric calling buzzers" on each table to call customers that their order is ready, rather than calling out the customer's name.
SNACKS and DESSERTS
MBB Frozen Factory
This is the ice cream and confectionery sideshow of Missy Bon Bon that people are familiar with at the entrance of their main restaurant at Limketkai Center. MBB now has a separate stall on the 3rd floor of the Ayala Centrio Mall. They are the first and only ice cream place manufacturing and serving original Italian Gelato Ice Cream in various sweet and fruity flavors using only natural and organic ingredients.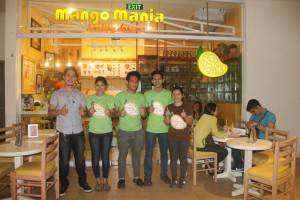 This healthy food place uses mostly mangoes and mixed fruits. Their bestsellers are the fresh mixed fruit mango, mango sago, and mango mania coco ribbon. Their Mango Ice uses shaved ice and mixed fruits. Their bestsellers are the mango ice original, mais con yelo, and mango ice choco banana. The Smoothies basically consist of mango original, mango banana, strawberry banana, pina banana, melon, and mango pandan. Their snacks and desserts have a unique lineup such as mango float, banana muffins, green mangoes with special bagoong dip (a healthy pairing for beer or other drinks), mango puto maya with sikwate (pure hot cocoa), mango cheese cake, and mango moochi. Miscellaneous "pasalubong" or gift items are their bottled bagoong, mango rum liqueur, and dried mangoes with Belgian chocolate. You can check them out at the Lifestyle District on Corrales Extension and at the Ayala Centrio Mall.
Candy's Cafe
One of the first restos to open together with the Limketkai Center before moving to their new location at the ground floor of the Ayala Centrio Mall. Many Cagayanons love the interior décor that seems like a cross between modernity and Victorian era furniture. They serve really good desserts here and people do frequent the place after shopping around the mall to savor their sweets for snack time.
Izzy's Café
One of the first restaurants that opened together with Gaisano City Mall, the city's second mall to open back in the 90's. They serve a lot of affordable meal combinations to attract the mostly middle class and student clientele that frequent the mall. It does help that they're situated beside the cinemas on the fourth floor. They also have good dessert and sweet snack lineup on their menu.
Cecil's Snack Inn and Bakeshop
Probably one of the oldest eating places that first opened in front of Xavier University in the 1970's. Now they have 3 branches at the corner of Tirso Neri and Pabayo Streets in Divisoria, at the corner of Corrales Avenue and J.R. Borja Street, and in Bulua. They've always been known for their delectable cakes, pastries, and people going gaga over their top bestseller, the Egg Pie, that people swear is the best in the city and much better than the one sold by Shanghai Bakery. In fact these two mentioned bakeshops are the only two selling genuine egg pies by the slice or by the box. They also make killer éclairs that students awesomely adore.
Kiwi Swirl
A standard favorite now with students at the corner of Don A. Velez and Justo Gaerlan Streets, the place serves up surprisingly healthy snacks and desserts. Their healthy alternatives include frozen yogurts and fruity smoothies. They even have healthy frozen yogurt sandwiches. One factor that adheres it to its regular customers is that it is a bit distanced from the main Divisoria area so there isn't that much noise even from passing vehicles.
Dessert Strip Café by Chef Maribel
This place serves a really good Dessert Bowl as well as pastries, cookies, cakes, and sandwiches that mall goers at the Ayala Centrio Mall have grown to love and partake after strolling and shopping around. The claim of this homegrown dessert place is that everything is homemade, and they sell their wares often by the slice or in small boxes so they can easily be carried home. You can also catch them at special bazaars at SM City Mall and at the ground floor of the Concentrix building.
Little Miss Funnel Cake
This is one of those dessert and snack places you've probably seen at the corner of Don A. Velez and Gaerlan Streets but never really looked closely at. How does deep fried Oreos in pancake batter and topped with vanilla ice cream with sprinkles sound to you? Or better yet you can try out their mango caramel funnel cake, chocolate glaze funnels, chocolate swissmiss with marshmallows, and blueberry funnel cake. And they're very affordable as well, so it's no surprise to see the place filled up with mostly students.
Slers Ham and Café
Surprisingly, few Cagayanons realize that Slers Café at the corner of Don A. Velez and Del Pilar Streets, another at the ground floor of the Gaisano City Mall, and one at the corner of Don A. Velez and Yacapin Streets serves up really delicious sandwiches, pandesal jamon combinations, and even cakes and pastries and coffee selections. The sandwiches are mostly filled with Sler's flagship ham slices that they have been known for.
PASTRY and BREAD SHOPS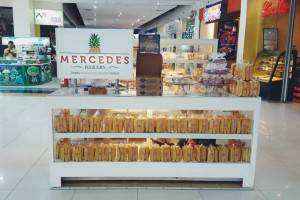 The home of the original pineapple crumble that only they are selling in the whole city. Mercedes is not your typical bakery that bakes the daily bread. Since 2007 Mercedes has been known for their sizable Pan de Sal and the pasalubong delight called Biscocho. Their pan de sal is bigger, fluffier, and fuller compared to your usual neighborhood bakery pan de sal. They also serve really good oatmeal and choco chip cookies, Butter Browns (mixing up of brownies and butterscotch), and their latest Chunky Monkey Muffins that are sprinkled with really large chunks of dark chocolate. Another bestseller is their large Meat Buns that is really filled full in the middle. They have a kiosk at the ground floor of the Ayala Centrio Mall while their main shop and bakery is along the National Highway in Gusa almost in front of Caltex Gusa.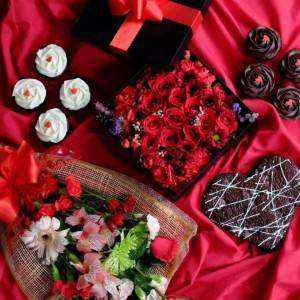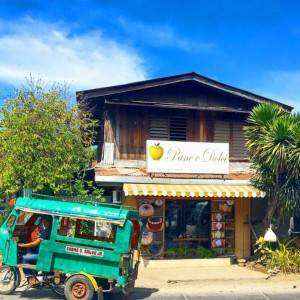 Pronounced, Pan-ee Dul-chee, this famous pastry shop at the corner of 12th and 21st Streets in Nazareth has been shouting "Sylvannas" for many years now. Sometimes spelled as silvana, it is an original Filipino dessert and the frozen cookie version of the Filipino cake, Sans Rival. It is a layer of salted butter cream sandwiched between two meringue wafers coated with cookie crumbs. However, the sylvanas created by Pane E Dolci is a bit different and definitely more delicious. They come in different flavors like nutella, classic (salted butter cream), ube, chocolate, peanut butter, and red velvet.
Aside from their freshly brewed coffee, this restaurant is the only original Italian Gelato Ice Cream resto capital of the city. This resto was born from its original sweet dough. Since they don't use preservatives and only use fresh and natural ingredients, their Sweet Doughs remain fresh for only three days and what isn't sold is discarded. Their breads are mostly of the sweetened variety such as their blueberry cream cheese, chocolate almond, and mocha sandwich. Their breads also have meaty varieties like their chicken adobo, German franks, ham and egg, and fish curry bun. For their Sandwiches bestsellers they have their Full House, Miss B's Roast Beef, Missy Cheesy Burger, and Top Dog Roll. At present, the main restaurant is at the Limketkai Center with 3 other "satellites" at Level 1 of Robinson's Plaza, also at the Limketkai Center, one at the 2nd floor of the Ayala Centrio Mall, and one at the ground floor of the Gaisano City Mall.
Hanabel
Hanabel is still a very popular small diner and sweet pastry shop at the corner of Pabayo and Tirso Neri Streets in the Divisoria area. A fire that started at the upper floor of a gay dressmaker briefly closed Hanabel but it reopened in 2013 in the same location after renovations. It still serves those delicious cakes and pastries as well as its vegetable salads and cooked meals it has become famous for.
Something Sweet by Ann
This is a very cute and comfortable place along Toribio Chavez Street that is becoming famous for its lava cake with vanilla ice cream. They also serve terrific smoothies, cupcakes, milk tea, banoffee pies, and other sweet tooth varieties. They even serve short orders like French Fries, sushi, and canapés. They do accept made to order cupcakes, cakes, pastries, cookies, and other sweets.
Malunggay Pastel Breads and Cafe
What started as a feasibility study and project by four students from Xavier University has now become a reality with a main store on Fr. Masterson's Avenue in Upper Carmen and a branch in Divisoria. Their bread and pastel is anchored on one main product, obviously, this being the veritable Malunggay vegetable. The health benefits that their breads and other pastry and menu products are almost second to none in the city.
HOTEL RESTAURANTS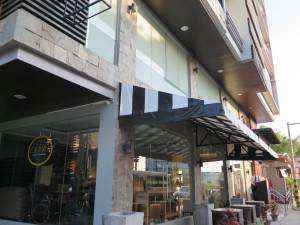 This is the official restaurant and coffee shop of the Pacifico Boutique Hotel located at the corner of Apolinar Velez and Dolores Streets. It is open from 6:00 a.m. to 12 midnight. The Crema is somewhat of a cross between casual and fine dining so you don't need to dress up to eat at the place. The restaurant serves up an impressive lineup of Filipino, French, Italian, and other international dishes on their fusion menu.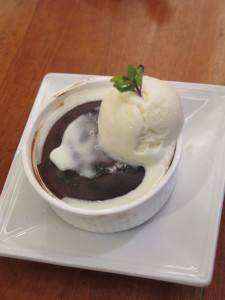 Kave Restaurant and Bar (Limketkai Luxe Hotel)
The KaVe (pronounced Ka-Ve, not cave) on the ground floor of the Limketkai Luxe Hotel surprisingly provides fine dining at very affordable prices. This is somewhat unexpected from the city's first five-star hotel. This is because the restaurant welcomes non-hotel guests as well as its own hotel guests to dine in its elegant surroundings and to savor its superb fusion menu lineup. Its bestsellers include its seafood stew from Marseilles, France, called the Bouillabaisse, Sicilian Lamb Chops with provencale ratatouille and polenta with parmesan cheese, the hotel's signature Luxe Gold cocktail, Mixed Green Salad, Saumon au poivre Norwegian salmon, and its Tiramisu coffee flavored dessert.
Annabel's Restaurant (Xavier Estates and Country Club/Ridgeway Chalets)
Situated inside the Xavier Estates and Country Club, Annabel's is the official restaurant of the Ridgeway Chalets. The main entrance to the restaurant is at the first gate of the Xavier Estates along Fr. Masterson's Avenue in Upper Carmen. The restaurant is already well-known for its being an event venue with good value-for-money food and grand ambience.
Bon Café and Restaurant (N Hotel)
The popular N Hotel is along the Kauswagan Highway just almost in front of the entrance of the NHA Subdivision. The hotel is popular due to its swimming pool venue especially for families during the weekends, but the Bon restaurant is also a popular event venue serving its great and sumptuous food at affordable prices.
FOOD CART
This is not your average food cart that you see around the city. This one serves really first class food. Before you start getting confused between Donatello, the ninja turtle, and the Platters, it is these platters that give the food stand its uniqueness. Surprisingly, their platters are at affordable prices and there are three to choose from. The Basic Platter at P79.99 contains one Grilled Chicken and 1 side dish, the Pasta Platter at P119.99 contains one Grilled Chicken and 1 side dish, and the Premium Platter at P149.99 contains one Grilled Chicken, 2 side dishes, 1 one drink. For all the platters, you can choose the sauce for your chicken like Alfredo, Marinara, Pesto, Gravy, and Chili Paste. For the Premium Platter, aside from the long list of choices for side dishes, the choices for drinks include Lemonade, Mint Iced Tea, and Calamansi Juice. You can also order extras with additional prices. They are located at the Divisoria Arcade on R.N. Abejuela Street (beside Dunkin Donuts). They are open from 10:00 a.m. to 8:00 p.m.
RESTOBARS
Pacifico Roof Deck E-Bar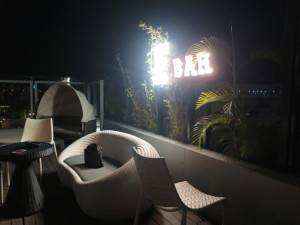 This is the Cagayan de Oro's only roof deck bar and holds a breathtaking view of the city, bridges, and river at night with an almost 360 degree view all around. The E-Bar holds a variety of great drinks, a great food menu lineup, and the usual beer buckets for even the most fickle liquor drinkers. The relaxing atmosphere is punctuated during Friday, Saturday, and Sunday nights when the bar hosts live performances from acoustic bands and singers. The roof bar recently hosted a live concert by the famous Lee Grane of The Voice fame.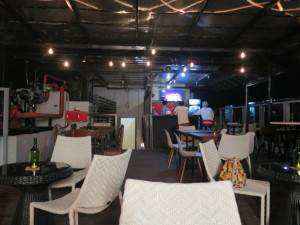 De Kalsada Bar and Grill
This affordable watering hole tries to emulate a somewhat neighborhood feeling when groups go there to drink and have fun. Perhaps being located openly beside the roadside helps in the concept as well. The drinks and food served and priced on their menus are more suited to the middle class, working class, and student crowds.
Burrow Bar and Brew
A small, cozy, and comfortable bar that's good for small groups. They have a wide range of cocktails, wines, beer, and other liquor as well as a few food items on the menu. During the day time they serve a lineup of coffee brews. They are located at the corner of Capistrano and Mabini Streets.
Haze Restobar
Located at the Grand Central Arcade at Arch. Hayes corner Pabayo Streets, this restaurant and bar features really good and affordable food during the day time and for dinner while they serve an array of liquor and cocktail selections with the usual beer bucket choices. Though Haze is a small bar, the customers can bring their drinks to the central arcade tables and chairs just outside the Restobar.