03 Jun

LTFRB-10: Libreng Sakay Available For All Commuters (& Other FAQs)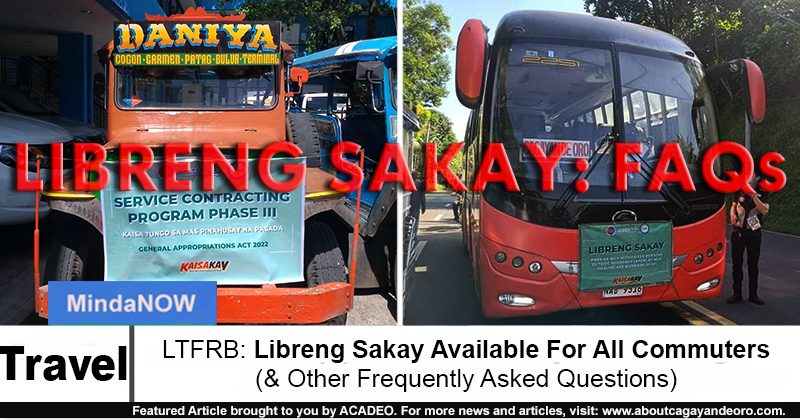 Mga higala! ICYDK, the ongoing Libreng Sakay initiative (Service Contracting Program III) of LTFRB Region 10 is available for all commuters in Northern Mindanao!
Dili lang ni para sa APORs or healthcare workers!
For more details, below are the Frequently Asked Questions (FAQs) about Libreng Sakay:
Who can enjoy the benefits of the SCP III Libreng Sakay?
ALL COMMUTERS, whether APOR or not, are free to ride any authorized unit enrolled in the GROSS Service Contracting WITHOUT paying any fare.
Is it necessary for me to show my ID in order to enjoy the Libreng sakay?
Previously, APORs and HCWs were required to present identification whenever riding the Libreng Sakay, but since we are now on alert level 1, anyone can board and benefit from the program with or without presenting any ID.
What are the AVAILABLE ROUTES for the abovementioned program?
For the list of LIBRENG SAKAY routes, please click the link below:
When will the program end?
LTFRB will announce when the program will end. Please check their Facebook page for updates:
Is Libreng Sakay available every day?
Libreng Sakay is available seven days a week, every day until the end of the Service Contracting Program III and until further notice.