30 Nov

Magical Nights of Lights at the Ayala Centrio Mall

November 29, 2016 – Cagayan de Oro City – Ayala Centrio Mall, Cagayan de Oro City's prime shopping mall, presents its Magical Nights of Lights on December 1, 2016, Thursday, starting at 5:00 p.m. This night can bring brighter lights and a merrier Christmas when you bring your whole family to witness a very spectacular Christmas show for the first time in Cagayan de Oro City. The signature lights and sounds show that is a hit in Makati will now be shown at the Centrio Gardens.

The light and sound show will also feature singer and actress Julie Anne San Jose, also known as MYJAPS. Julie Anne is also a model and television personality, but is more known for her singing and albums released. Her "Julie Anne San Jose" album garnered a Diamond Record Award which sold more than 150,000 units in the country. Her second album, "Deeper," garnered a Triple Platinum Award after record sales reached more than 45,000. Julie Anne became a uStream and YouTube video sensation with her covers that included her version of Nicki Minaj's "Super Bass" that got more than 20 million views.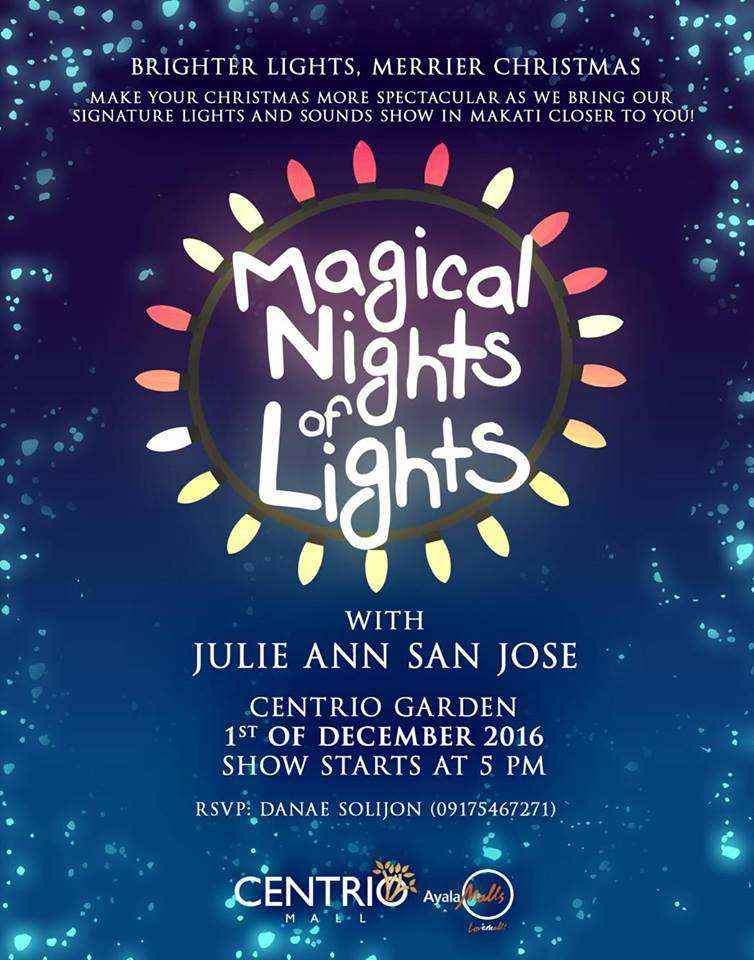 Each year, the lights and sounds show by Ayala in Makati called the Festival of Lights is always held at the Ayala Triangle Gardens. It has beguiled literally thousands of Filipinos for the past 6 years when it first started, a combination of lights, sounds, and musical scores. Like the Festival of Lights as the centerpiece of Ayala Land and Ayala Mall, the Ayala Centrio Mall's Magical Nights of Lights Christmas spectacle in Cagayan de Oro City aims to bring holiday cheer to everyone. It will run daily starting on December 1 up to the first week of January 2017, every 30 minutes from 6:00 p.m. to 10:00 p.m. As night falls, blazing lights will transform the Centrio Gardens into a magical paradise as more than a thousand twinkling lights start to play with the sounds. As the sounds of Christmas favorites fill the air, the string lights on trees and field lights on the ground start dancing. These lights will flash and change colors to the beat of the music, bringing the unmistakable Christmas spirit alive.