08 Aug

8 Maguindanao Local Officials Surrendered, Other Officials Given 24 Hours to Concede to the PNP

Eight Maguindanao local officials surrendered and other officials are given 24 hours to cede to General Ronald dela Rosa, Philippine National Police Director.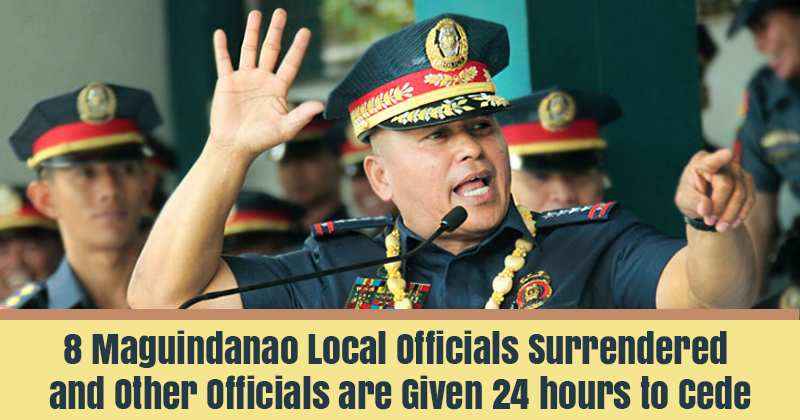 This morning, seven officials flew to Manila along with police officers ordered to escort them to surrender to Dela Rosa in Camp Crame.
Local officials who surrendered were spotted by TV camera in Dela Rosa's office, the night before the Chief Executive's expose. The eighth Maguindanao local official named by President Duterte who was involved in illegal drugs trade was Mayor Rasol Sangki of Ampatuan town.
Last Sunday, tons of government officials, including mayors, judges, policemen, soldiers and ranking military officials were named by President Duterte. These officials were allegedly involved in illegal drugs trading.
The eight Maguindanao local officials who surrendered along with Mayor Sangki were, Montasir Sabal of Talitay; Mayor Vikman Montawal of Datu Montawal; Mayor Samsudin Dimaukom of Datu Saudi Ampatuan; Mayor Norodin Salasal of Datu Salibo; Vice-Mayor Abdulwahid Sabal of Talitay; Vice Mayor Oto Montawal-Datu Montawal; vice mayor Nida Dimaukom of Datu Saudi Ampatuan.