12 Oct

Man Decapitated, Disposed and Found at Barangay Balubal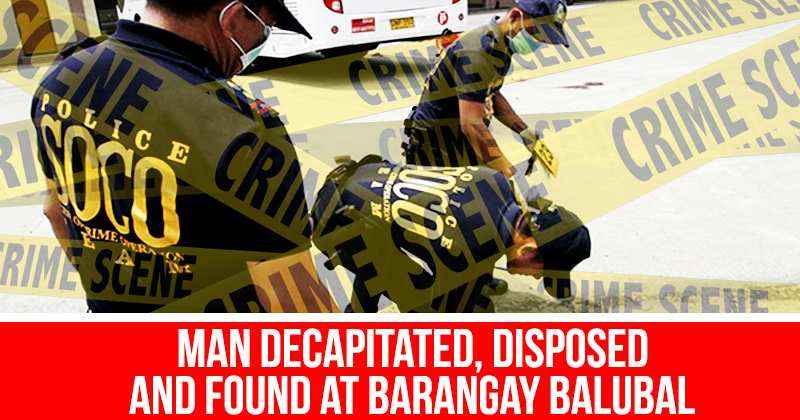 On October 10, Monday, a headless body of an unidentified man assumed to have been decapitated elsewhere, was found at Barangay Balubal, Cagayan de Oro, at around 6:30 in the morning.
Residents called the police after finding the beheaded man, 100 meters away from the residents' houses, said Chief Inspector Ian Borinaga of Police Station 6.
The authorities described the man as estimated to be aged between 30 to 40 years old, about 5'7″ tall, was wearing a black shirt and denim shorts. The thighs of the victim were wrapped with packaging tape when the policemen found and examined the body, Borinaga said.
Borinaga stated, "Posible nga sa laing lugar giputlan og liog ang biktima unya gilabay lang sa Balubal."
The beheading was likely done somewhere else as the amount of blood near the body was only minimal, according to the investigators. Borinaga stated, "Napuno na unta sa dugo ang biktima kung didto gihimo ang krimen pero mga gamay'ng blood stains lang atong nakita."
The authorities recovered a .45 caliber cartridge in the area yet there is no confirmation found that the victim was shot, Borinaga added. A piece of cigarette, green boxer shorts, and packaging tape were also recovered by the Scene of the Crime Operatives (SOCO).
SOCO Chief, Dr. Christian Caballes stated, "Wala tayong nakita na nakalaban 'yung biktima. No defense wounds sa katawan."
The victim's remains would be subjected for an autopsy, SOCO said, adding that they would process and examine the recovered evidence.
Borinaga said, "Walay nakita nga unsa mang illegal nga droga. And wala pud identification."
Police investigators said that there is no hint of possible motives for the killing.
Borinaga called on the public to report any information concerning the incident. As he spoke, "Panawagan nato sa publiko nga i-report kung naay makita nga ulo or kinsa katong nawad-an sa kapamilya nga i-identify ang biktima nga gidala sa bollozos funeral homes."
He added, "Kinsa katong dunay mahibal-an nga makatabang sa kaso palihog sa pag-report kay hangtod karon blangko pa gihapon ta."
News Source: Sun.Star