28 Oct

Man From Bahrain Seized by PDEA Operatives In Drug Bust Operation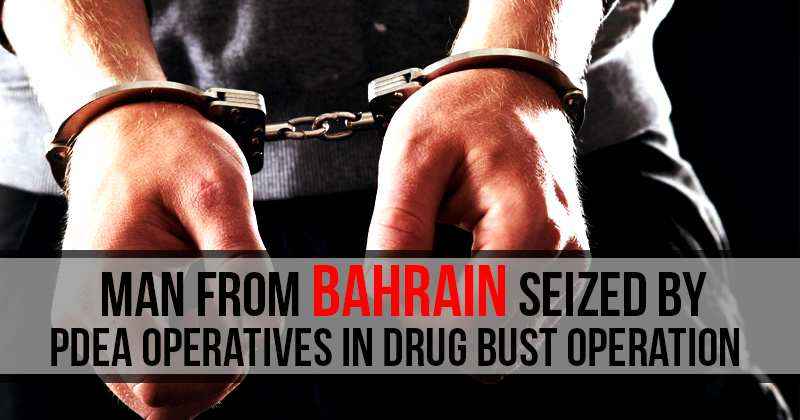 On October 26, Wednesday, a man from Bahrain was apprehended during the drug buy-and-bust operation at Phase 1, Villa Ernesto Subdivision, Gusa, Cagayan de Oro City.
The operation was conducted by the operatives of the Philippine Drug Enforcement Agency (PDEA) in Northern Mindanao as they have marked a drug den in the area.
PDEA-Northern Mindanao spokesperson Agent Ben Calibre identified the drug suspect as Waled Isah Mohammed Qasim, 45 years old and is from Bahrain. It was said that the suspect has been maintaining a drug den.
A concerned citizen reported the illegal activities of Qasim to the PDEA which prompted them to conduct the operation, Calibre said.
As he spoke, "Naay info nga iyang balay gihimong drug den and ga-invite siya og mga minor nga mga babaye ug didto mag pot session only lang kay sa gawas ra ang among transaction pero nagtuo mi nga naa pay droga sa sulod wala lang mi search warrant."
According to Calibre, Qasim arrived in the country last January this year and started trading illegal drugs.
A sachet of methamphetamine hydrochloride or commonly known as shabu and the P3,000 drug bust money were recovered by the PDEA operatives.
Calibre stated, "Wala siya'y live-in partner. Among gi-validate tanan information nga among nadawat. But since reliable ang among informant nagtuo mi nga gabaligya siya and ga maintain og drug den."
PDEA is still verifying the information that may lead to the suspects' drug supplier.
The suspect also has a standing case on reckless imprudence resulting to homicide subsequent to a vehicular accident at Jasaan, Misamis Oriental in the first week of September 2016, according to the local anti-drug law enforcement agency.
Qasim, on the other hand, confessed that he is using illegal drugs but refused to admit that he is selling illegal drugs.
Qasim stated, "I'm just a tourist. It was all a setup. They didn't allow me to contact my lawyer," adding that he was visiting the country at least once or twice a year.
Calibre insisted, "Iya manang claims kay ang mga suspect karon naa sila mindset unsaon pagpalusot pero kami sa PDEA kasuhan gyud namo siya kay nakasupak man siya sa balaod."
News Source: Sun.Star