23 Aug

Up Close and Personal: A Serious Yet Fun Interview with Mayor Oscar Moreno

What does it feel like to just sit down and chat with Cagayan de Oro's Mayor Oscar Moreno? An interview crew from Team aboutcagayandeoro.com and LogicBase Interactive spent an hour on the afternoon of August 10, 2016 to ask the mayor questions about the state of the city as well as throw not-so-serious questions and funny questions in his direction to see how he would answer them.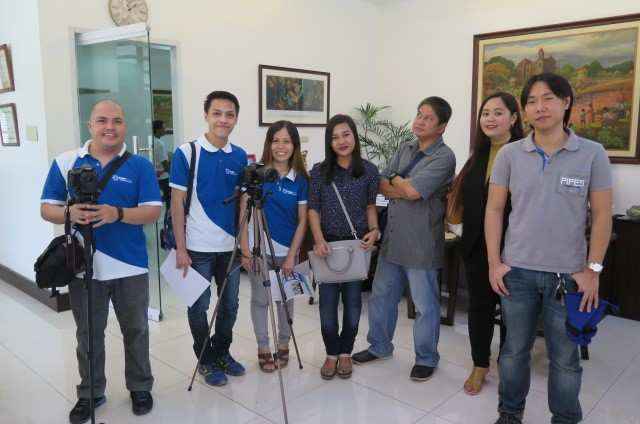 The interview crew was composed of Bryan King, Yani Briones, Jacob Jose 'Coy' Fuentes, Jiffy 'Jeff' Badal, Jan Rhais Amantiad, April Mae Ablon, Khristine 'KC' Curay, and Eugene Kanlapan.
On Education-based projects as his top priority
According to Moreno, the education-based projects for the city targeting the schools must be seen on a more "macro level." This means that when you improve the schools you improve the educational level of the school goers that also affects everything from peace and order to economic progress. On his first term alone his projects have produced more than 400 additional classrooms for various public schools around the city. On the high school level, Moreno also instituted the construction of new high school campuses in Bugo, Agusan, Gusa, and Macanhan. In the case of barangay Gusa, in the past they only had an annex high school based in Gusa Elementary School.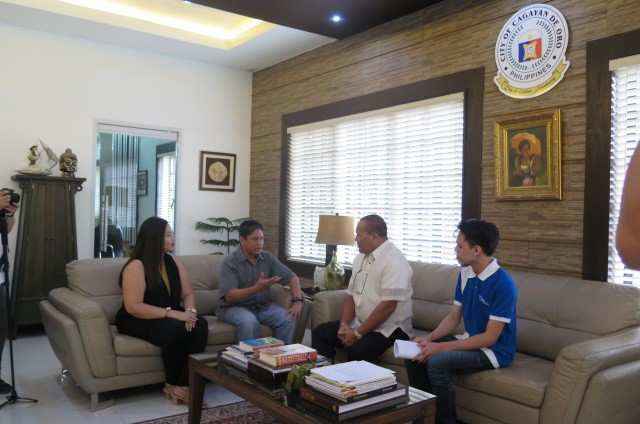 For his second term Moreno is hoping to add more classrooms and campuses on both the elementary and secondary levels in order to alleviate what he terms as the "double shifting" in public schools wherein students are divided into 2 shifts: the 6:00 a.m. to 12noon first shift and the 12noon to 6:00 p.m. second shift. He sees this as a bad effect of growing up because children and teens have to wake up at 3 or 4 in the morning while the second shifters are going home when it's already dark.
This also makes children prone to juvenile problems such as illegal drugs. In fact, new campuses will soon be sprouting in Macasandig and Balulang while the ongoing transfer of the Cagayan de Oro City High School to its new campus in Nazareth will soon be finished. On top of that is the construction of 800 additional classrooms again for various schools.
Construction of paved roads for outer rim barangays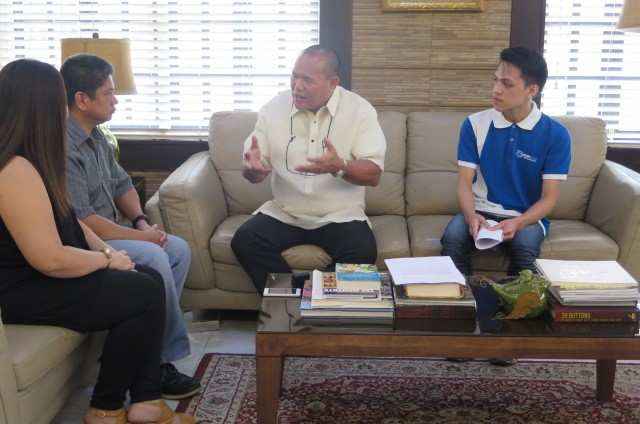 Moreno mentioned that in connection to his new classrooms and campuses he has already started the implementation of the construction of paved roads to all outer rim barangays not only leading to and from the city center but also to connect these barangays directly to each other without the need to first go down to the city center.
Healthcare
According the mayor, the upgrading of the J.R. Borja Memorial City Hospital is now ongoing in conjunction with the local government's PhilHealth Card project.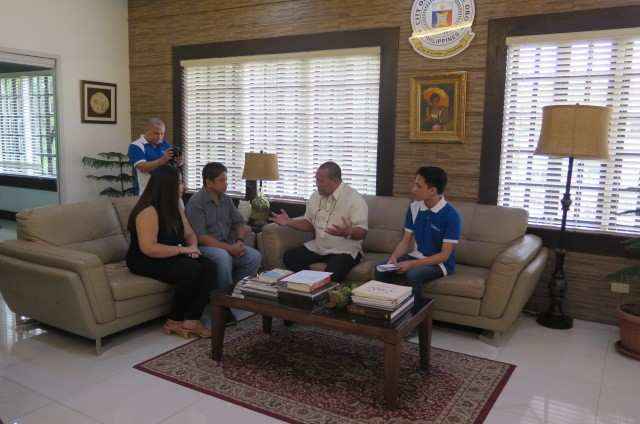 Upgrading and renovation of all health centers in the suburbs of the city are also ongoing. Two new primary hospitals are also on the final planning stage to be constructed soon. In the first district it will be located in barangay Lumbia. In the second district it will be in between Agusan and Tablon.
The city's traffic problem
During his first term the "other side controlled" council would not appropriate enough funds to hire more RTA (Roads and Traffic Administration) traffic enforcers, repair broken traffic lights, and purchase and install new traffic lights.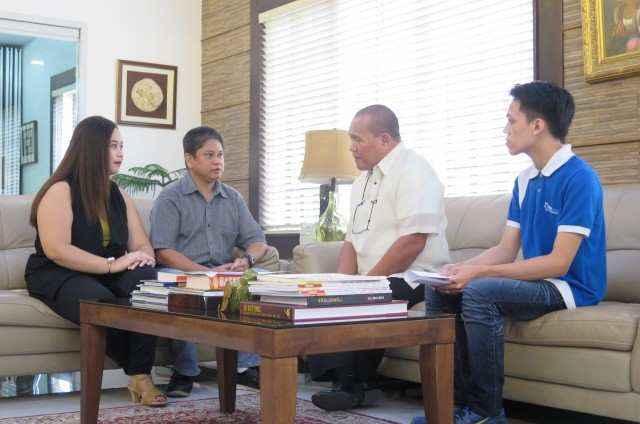 Now in his second term, Moreno wants to reverse this in order to address the city's growing traffic problem.
For the city's business growth
For Moreno, business investments will always consider all factors and aspects that make investing in Cagayan de Oro advantageous for the business. So for him, peace and order, education, traffic, infrastructure, and the like all play a role in getting investors to come here. Also, he sees investing in Cagayan de Oro a long term advantage not only for the city but also for Northern Mindanao since the city is the admitted gateway in entering Mindanao and also in entering the Visayas.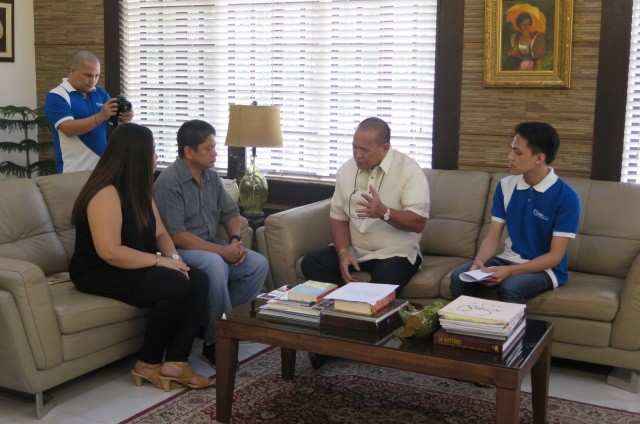 So, for instance, the number of secondary and tertiary schools producing high quality graduates and skilled workers has made CDO the educational center of Northern Mindanao, something that is attractive to business investors, especially for the BPO and IT sector. Moreno cites the recent investments of several foreign BPO's and call centers and the opening of Pilipinas Shell Petroleum Company's biggest fuel storage facility in the city.
On the "war" on drugs
Moreno cites that he is 120% percent in favor of President Rodrigo Duterte's "war" on illegal drugs. He cites the fact that one in every five families in the Philippines is either directly or indirectly affected by illegal drugs.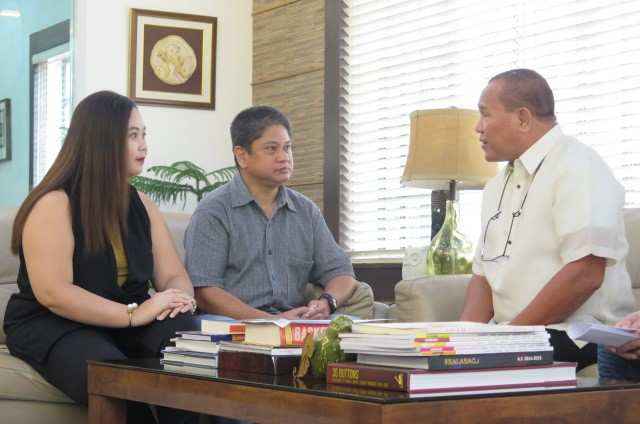 He puts forward to every Filipino that since this "disease" on illegal drugs has been going on for too long, "when do we need to get angry?" He also added, "When do we get angry and move against illegal drugs, when even our grandchildren are affected by it?" He also cited that regardless of President Duterte's "unorthodox" methods, we all need to see the sincerity of the president's actions and approaches.
The not-so-serious side
Some regular followers of About Cagayan de Oro sent in their questions for the mayor beforehand. A few were selected for this interview. The mayor had the privilege to read these questions and answer them to the best that he can.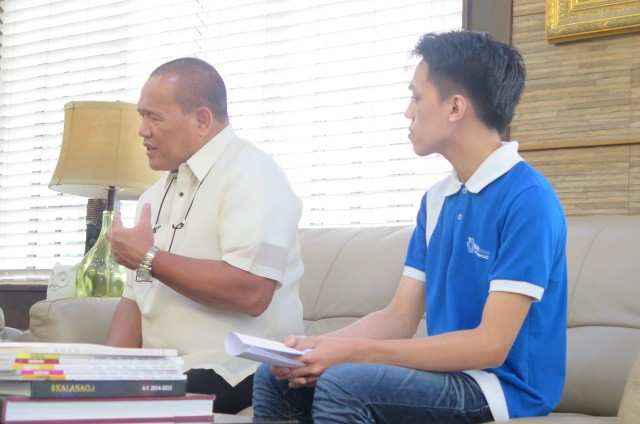 "Mayor, nganong wala may McDonalds sa Carmen na area?" (Sender – Ilaga Tagalabo)
"Maybe they're having a difficult time looking for a space in Carmen, though we can't force them to locate in Carmen either. But Carmen is attractive because it's the biggest barangay in the city."
"Mayor, ig unsa nimo si Alma Moreno ug Isko Moreno?" (Sender – Giovanni Macabinta)
"I am not related to either of them. Alma is not a Moreno since this is her screen name. She is a Laxamana. Isko Moreno is also a screen name because his real last name is Dagasuhan. I am also not related to German Moreno."
"Mayor, kabalo daw ka mo sayaw ug trumpets. Pwede ko nimo tudluan?" (Sender unknown)
(For this, Jiffy Badal had to teach Mayor Moreno this dance step, which he thoroughly enjoyed)
"Mayor, pila na ka Pokémon imong na dakpan?" (Sender – Jan Rhais)
"I've heard of this game but have never played it. My grandson is very fond of this game. But don't be surprised if one day I'll be roaming the malls looking for Pokemons."
"Mayor, unsay message nimo sa imong mga bashers and haters?" (Sender – April Mae)
"Peace."
"Mayor, kung ikaw pa pili-on, unsa imong ganahan na delicacy sa CDO?" (Sender – Coy)
"There are many delicacies in Cagayan de Oro. The old ones are the best though, like the Mantikahon, binaki, humba, inasal, lechon, kinilaw, and others."
"Mayor, unsay kalingawan sa uma-abot na fiesta?" (Sender unknown)
"There are many core events and there are highlights, and the main events are always the Miss Cagayan, the parade, and the fireworks displays."
"Mayor, kinsa imong idol na leader or politician?" (Sender – Hayes Kagay-anon)
"I am inspired by the achievements of former Vice-President Emmanuel Pelaez, former senator Nene Pimentel, and former mayor Justiniano Borja."
Fast Talk – Mayor Moreno only has to answer 'agree' or 'disagree.'
Death Penalty – disagree
Divorce – disagree
Same sex marriage – disagree
ENDO – disagree
Reproductive Health Bill – disagree
Curfew for minors – agree
Free city Wi-Fi – agree
Ipa preso ang mga paa-sa – "Unsa nang paa-sa?"
With these questions, the mayor only needs to answer with one word.
Favorite sports – basketball
Favorite street food – maruya
Preferred color sa camote, violet or orange? – violet
Sayaw or kanta? – kanta ("sample daw," of which the mayor belts out a line from the Kundiman, "Usahay")
Kung end of the world na – pray
Water rafting or scuba diving – water rafting
Usa ka butang na dili ka maayo – Pokémon
Naniniwala ako sa – Diyos
In conclusion, Mayor Moreno was asked, "How would you like to be remembered when you finally leave office?"
"As someone who has done his share in nation building."
Picture-taking with Mayor Oscar Moreno
After the interview, Team About Cagayan de Oro/Logicbase Interactive LLC shared a group picture with the Honorable Mayor Oscar Moreno.