31 Aug

Military Vehicles From South Korea Issued to 4ID Philippine Army

A total of 43 KM 450 1¼ ton troop carrier trucks and 10 KM 451 ambulance were issued for the units of 4th Infantry "Diamond" Division (4ID), Philippine Army.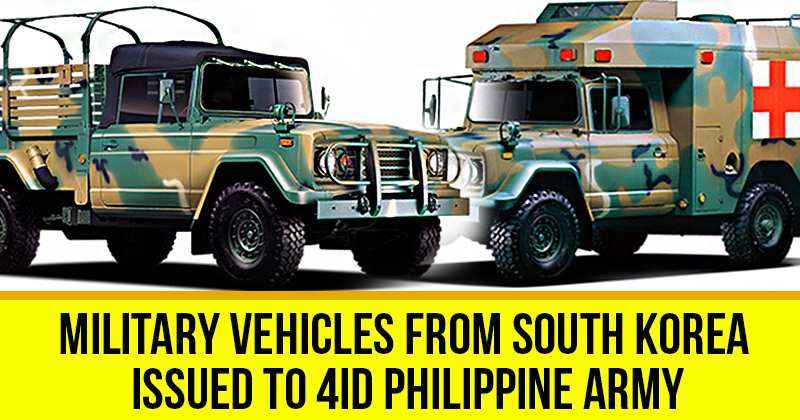 This is the product of the Government-to-Government procurement between the Philippines and South Korea. The vehicles are part of the innovation program and the ongoing mobility enhancement program.
On August 30, Tuesday at Camp Evangelista, Patag, Cagayan de Oro City, the ceremonial blessing of the vehicles issued to the army units was held at 4ID Grandstand.
Meanwhile, a blessing ceremony was also held at the 4th Infantry Division Advance Command Post in Butuan City for the vehicles to be issued to troops assigned in CARAGA region.
These vehicles help subordinate units of 4ID to boost their mobility requirement.
Army troops were assigned in the hinterlands and mountainous areas for Bayanihan Team Activities and Rescue and Relief Operations and the vehicles could be of great help as it can withstand the terrain and weather in the Division's area of responsibility.
ID commander, Maj. Gen Benjamin R Madrigal Jr. stated, "The 4ID is very grateful for the arrival of these new military vehicles that will definitely support the accomplishment of the Command's mission especially in undertaking peace and development and disaster response activities."
He also acknowledged and gave thanks for the support of President Rodrigo Roa Duterte, their commander-in-chief, and the leadership of Department of National Defense-Armed Forces of the Philippines (DND-AFP), and the Army in the constant effort for the Armed Forces of the Philippines (AFP) modernization program and the Army Transformation Roadmap.
A technical inspection was conducted before the vehicles were distributed, this is to guarantee that all parts and accessories are functioning well and to assure the safety of the troops in accomplishing their missions and serving the countrymen.
"These military vehicles will be used in the campaign for peace and development in the AOR. Rest assured that our taxpayers, the people we are protecting in this part of Mindanao, will be glad to have an Army that is well equipped and could better serve them in any way necessary," Maj. Gen. Madrigal ended.