12 Oct

MisOr Police Officers Will Receive Cash Rewards from Gov. Emano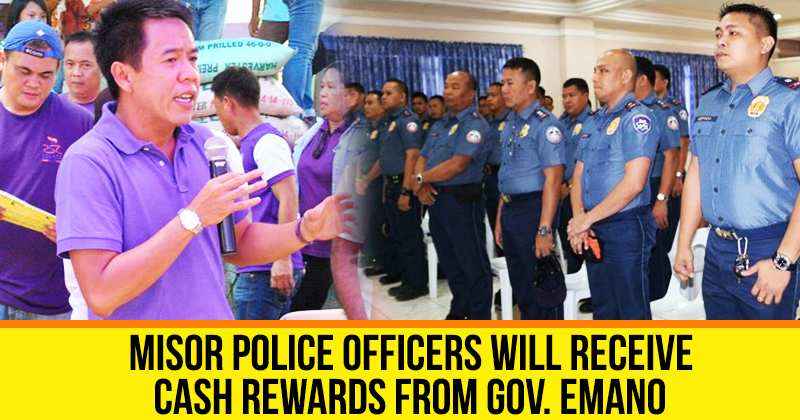 Misamis Oriental Governor Yevgeny Emano is proposing to give out cash rewards to police officers who were outstanding during anti-illegal drug operations.
On October 10, Monday, Gov. Emano together with provincial police director Senior Superintendent Manuel Sukarno Alvarez and other members of the Misamis Oriental Provincial Police Office discussed during the meeting regarding the bounty matrix for police officers who are qualified for the cash rewards.
The funds for the awards would be from the Capitol's intelligence and confidential fund.
Gov. Emano also took the moment to praise the outstanding performance of the provincial police office in the Philippine National Police's (PNP) Oplan Double Barrel-Northern Mindanao conducted from July 1 to September 15.
The governor said that the funds will be spent wisely and prudently for the comfort of the residents yet the exact amount of the intelligence and confidential funds has yet to be disclosed.
Gov. Emano stated, "Modako ang atong confidential and intelligence funds kung modako pud ang budget sa next year. Naay formula ana nga depende sa budget next year kay naa cetain percentage ana."
He added that intelligence and confidential funds will be liquidated from the National Commission on Audit.
There have been suggestions regarding the cash rewards. A portion of the incentive should only be given to the police officer who seizes and file charges against drug suspects and when the suspect is convicted, then the remaining half would be given.
The governor said, "Pag makadakop naay incentive gamay, kung ma file ang kaso additional reward and kung ma-convict ihatag ang maximum amount."
He also said that he would reveal the amount of the incentive when the matrix is final.
Meanwhile, Gov. Emano reported that he has been getting threats due to the operations against illegal drugs and illegal gambling in the province. As he spoke, "Halos kada, adlaw kada semana, makadawat ko og threats dili nako kabalo aha related ang threats kay every day I support the police to arrest criminals and every day I either create or break alliances so if ever I will be killed today wala ko kabalo why."
He added, "Dunay text nga moingon undangon na nako pero ang tinuod nga mopatay dili mana manghinadlok."
The governor also commented on the first 100 days of President Duterte, rating him, 9 out of 10. He said, "Sa pagsugod pa lang sa iyang kampanya he did not promise a lot of things ingon lang siya he will stop illegal drug menace, crime and corruption and naningkamot siya nga maundang. Of course and one percent he can't do everything his cabinet should work with him."
News Source: Sun.Star