04 Nov

MNLF Leader Misuari to President Duterte: 'You can Count on Us', Supports Peace Process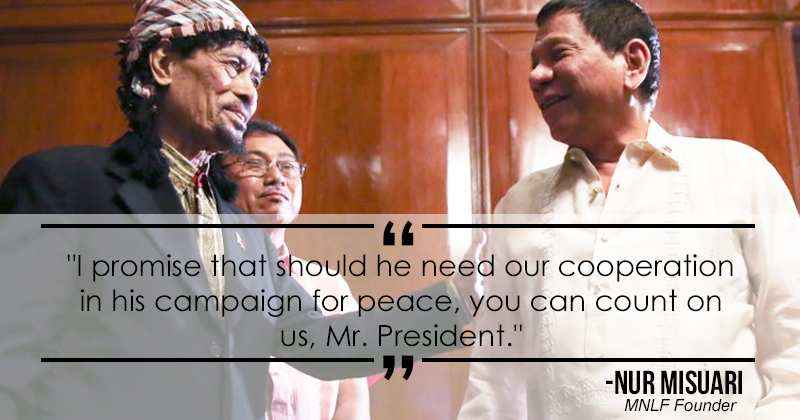 "I promise that should he need our cooperation in his campaign for peace, you can count on us, Mr. President," Moro National Liberation Front (MNLF) leader Nur Misuari said during his speech at the Malacañang Palace on November 3, Thursday.
Misuari has vowed to support President Rodrigo Duterte in his fight to seek peace in Mindanao.
Misuari went into hiding for some years following the Zamboanga siege.
President Duterte invited the Moro leader after the Pasig City regional trial court suspended his standing warrant of arrest, allowing him a temporary liberty.
In response to the invitation of the president, Misuari then flew to Manila on Thursday afternoon.
He said, "I am here just to see the president not thinking of having this press conference."
Misuari described the president as a man he "respect and trust."
He stated, "That he's one single man who can provide a solution in our homeland in Mindanao, that's the place I was born, the place where I intend to die. Now I am so happy to be free again, owing to the initiative of our President."
President Duterte stated citing Misuari's cooperation in the peace process, "The revolution that you have led and finally understanding on a common ground with the government."
President Duterte announced that his government would inaugurate a discussion with the Bangsamoro Authority.
News Source: Davao Today