11 Nov

Modan Japanese Wagyu House Modern Bistro: Bringing In Authentic Japanese Food with a Twist That Plays In Your Mouth

Modan Japanese Wagyu House and Modern Bistro is Cagayan de Oro City's newest restaurant located along Corrales Avenue in front of Hotel Xentro.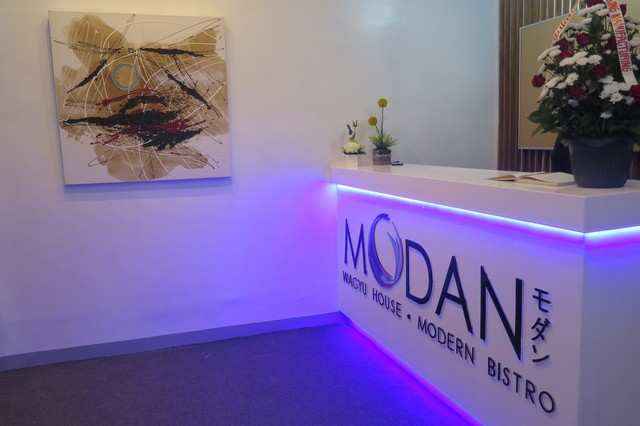 You could say it is a Japanese specialty restaurant that specializes in Wagyu Beef dishes while also serving other Japanese foods.
But before anything else, just what is Wagyu beef?
Wagyu is literally a "Japanese cow." It is a Japanese generic term for the several breeds of cattle that are highly desired for its high percentage of oleaginous unsaturated fat. Also, the meat from Wagyu cows is known for its high quality and thus, commands a high price.
It has also been medically proven that Wagyu beef yields a very high percentage of omega-3 and omega-6 fatty acids than other ordinary beef. The Japanese Black Wagyu makes up 90% of all cattle breeds in Japan supplying Wagyu beef. The next breed to the Black is the Japanese Red (which is actually brown in color) supplying almost 10% of Wagyu beef.
Ambiance and Atmosphere
While Cagayan de Oro has its share of Japanese restaurants, Modan Japanese Wagyu House plans to be a different Japanese eating place starting out with the Wagyu beef followed by the general layout of the place.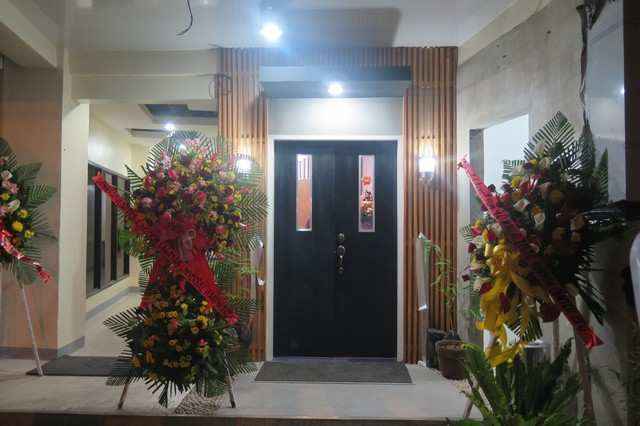 At the entrance to the restaurant, one quickly notices that the double doors are wooden swinging doors reminiscent of Japanese restaurants in the Nipponese suburbs.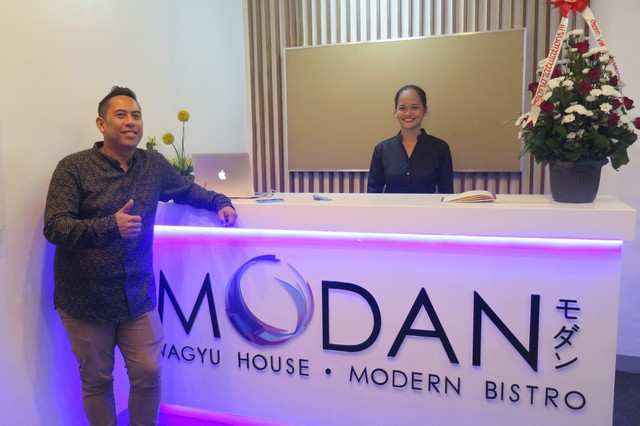 The lobby, receiving area, and front desk look like something taken from a 4-star hotel. One can mistakenly think such if they didn't know that the place is a restaurant. The restaurant itself has a different ambiance.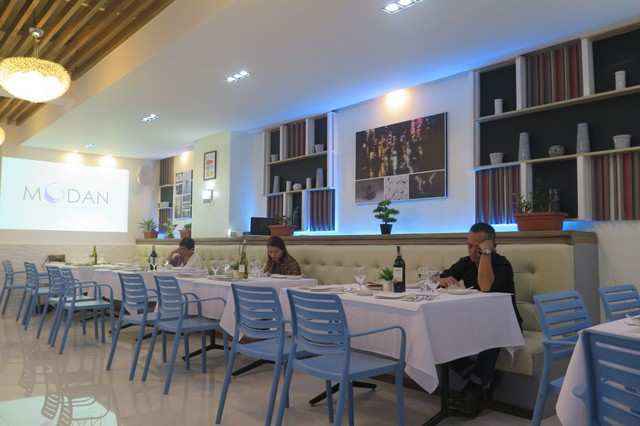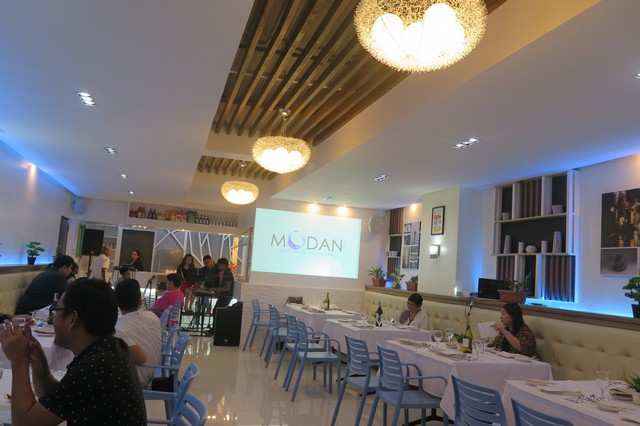 It is classy and elegant. The decorations, walls, and overall design are impressive, modern, flawless, smooth, and sleek. The furniture is simple and yet sophisticated and beautiful.
The Food
Of course, as a restaurant, the food must always come first, and what was served that night was truly delicious. The same can probably be said with the menu (see below) lineup.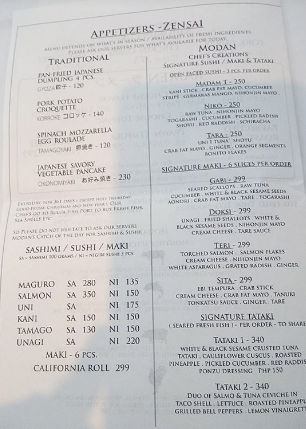 And budget wise, the price range of the food is between P260 and P2, 200 making the dishes affordable even for the middle class and employees.  Their Wagyu Set Meal is priced at P2, 200 – 200 grams and it comes with soup, salad and dessert.
Program Proper
The VIP night and soft opening began with a live band playing to entertain seated and arriving guests. The opening was hosted by R-funk Ylaya.
Modan Japanese Wagyu House and Modern Bistro proprietor Mr. Stephen Sanchez gave an opening and welcome speech, thanking everyone attending the event.
This was followed by a short speech given by the restaurant's Chef Sherwin discussing about Wagyu beef and its delicacies.
Representatives from the city's media and blogging outfits were there to cover the event such as Urban Life Gold Star Daily and About Cagayan de Oro.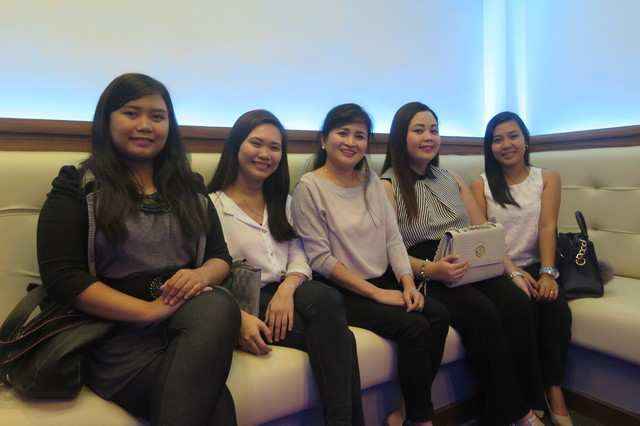 Other VIP's were present including the proprietor's family.
Tasting Modan Food
All guests were made to savor 5 courses of Japanese cuisine, including the Wagyu beef. Each dish was served in the unique and authentic Japanese fashion it is known for as well as its extraordinary flavor.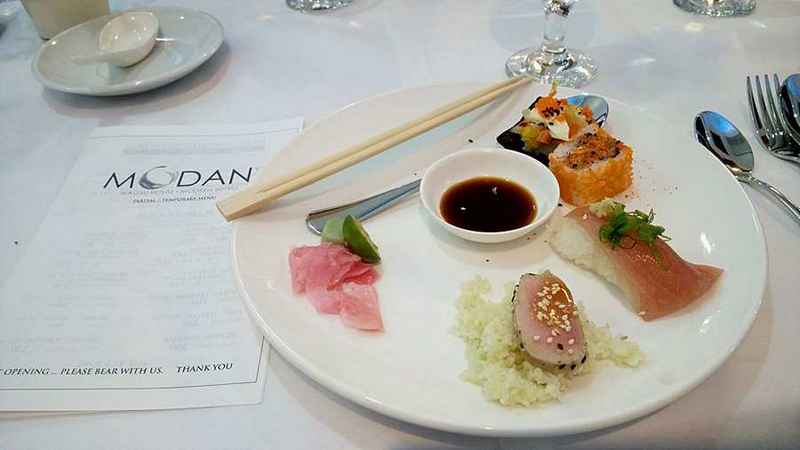 Japanese food was proven that night to be truly delicious and delectable to the taste buds.
The foods served at the VIP night are as follows:
1st Batch: Maguro sushi, Madam T (kani stick, crab fat mayo, cucumber strips, guimaras mango, nihonjin mayo), Teri (torched salmon, salmon flakes, cream cheese, nihonjin mayo, white asparagus, grate radish, ginger), Tataki (white & black sesame crusted tuna ttaki, cauliflower cuscus, roasted pineapple, pickeled cucumber, red raddish, ponzu)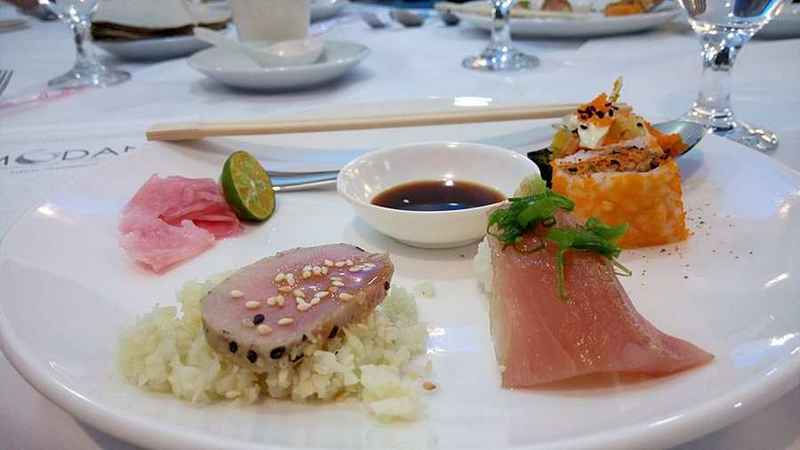 2nd Batch: Ramen Shio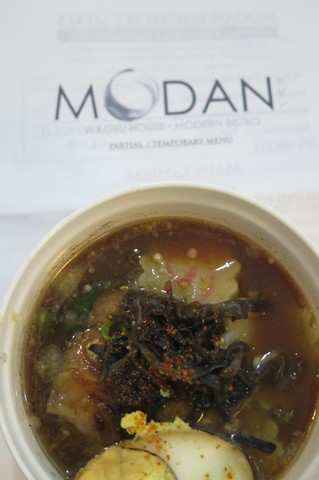 3rd Batch: Breaded pork cutlet with tonkatsu sauce, chicken teriyaki bento, shrimp tempura bento, pork potato croquette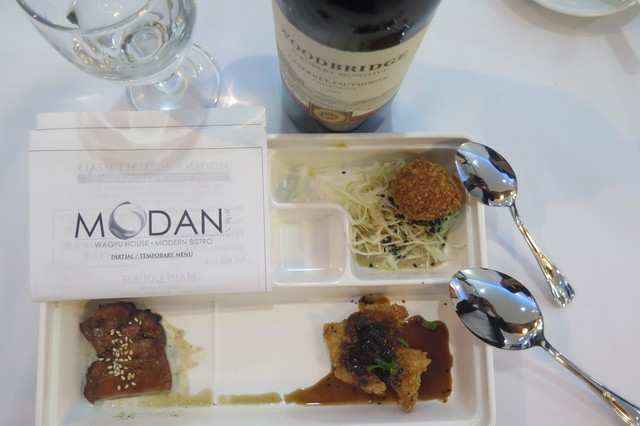 4th Batch: Pan-fried Japanese dumpling, stir fried thin egg noodles, roulade of chicken stuffed with spinach, mushroom, bacon and cream cheese, mesclun greens, ponzu, soy butter glaze truffle scented potato puree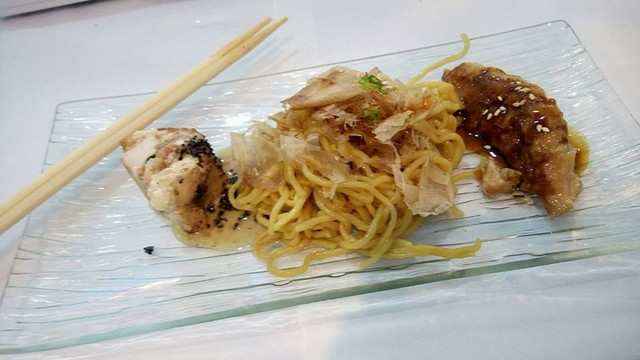 5th Batch: Wagyu Steak
Dessert: Crème Brulee
How It All Started
In the middle of the event, a short video was played highlighting Mr. Sanchez, Chef Sherwin, and the assistant chefs. It also showed how Modan Japanese Wagyu House and Modern Bistro started beginning with the construction up to the 12 days before the soft opening.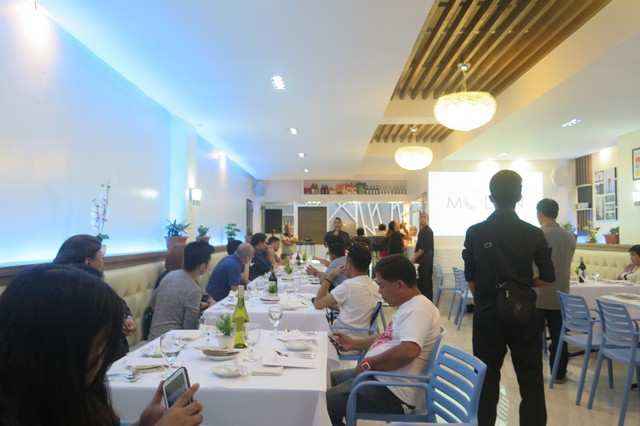 The video even showed some amusing scenes such as going to the market to buy ingredients, short meetings, to their food preparations. One heartwarming scene portrayed Chef Sherwin addressing the assistant chefs and telling them, "We should reach a point wherein we don't need to memorize the name; we should know the food by heart."
Event Highlights
Probably the real highlight of the opening night was when portable stoves and cooking stones were placed on the tables so the guests could cook their own Wagyu beef.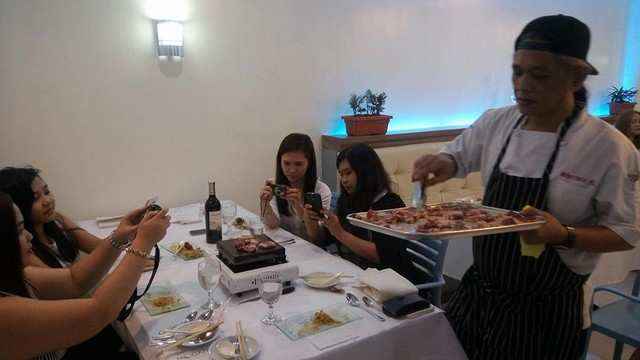 This was done to highlight the Wagyu beef's different and delectable taste even when cooked by itself in its own oil. Each table was also served a bottle of Woodridge wine that really goes well with the Wagyu beef.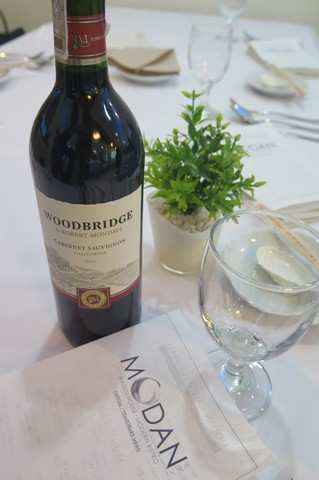 It was noted that aside from their imported wines other drinks on the menu included Japanese beverages and beers.  Before the opening event was through, the guests were given a 20 percent discount gift certificate that they could use when they come back and dine in the restaurant.
Why Choose Modan?
What makes Modan Japanese Wagyu House and Modern Bistro stand out from other Japanese restaurants in the city is the food, the restaurant's ambiance, and the modern and sleek decorations.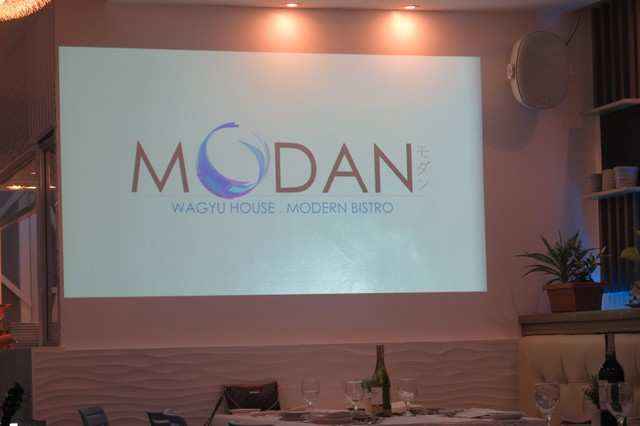 It's not your run of the mill traditional restaurant at the malls with glass door, glass window walls, and complimentary decorations just to make the place look nice.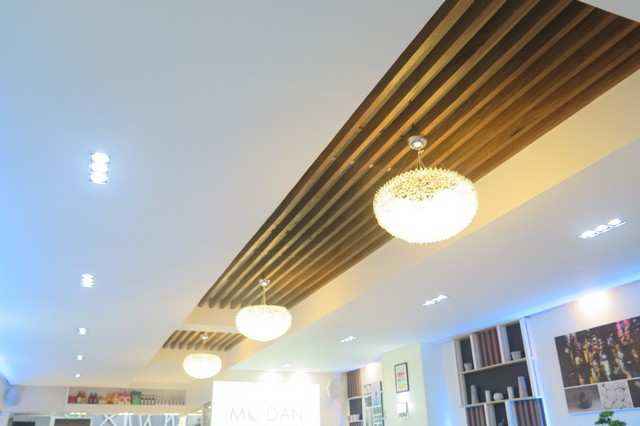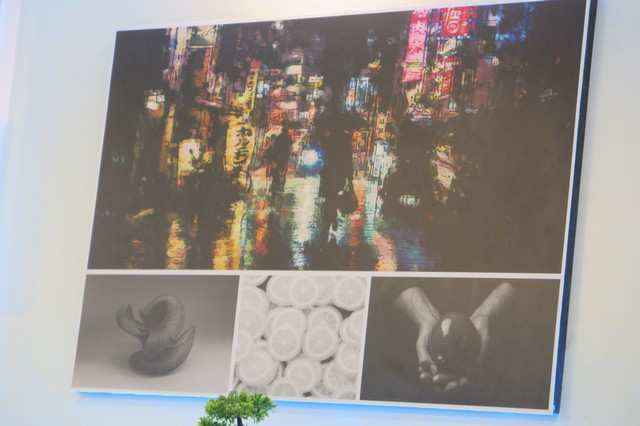 Aside from that, they serve authentic Japanese cuisine at its finest. The chef knows how to play around with ingredients to give the food a distinct taste. Its Japanese food that tastes like no other.
Conclusion
The growing popularity of Japanese restaurants around the world is considered somewhat of a mini-phenomenon since many people accrue more and better rather than Thai or South Korean foods that tend to be mostly spicy.
Cagayan de Oro is no stranger to this phenomenon and this new Japanese restaurant only goes to show that being unique, creative, and delicious can go hand in hand just to be different.