27 Nov

Get The Finest Tips In Modeling Straight From Asia's Next Top Model, Maureen Wroblewitz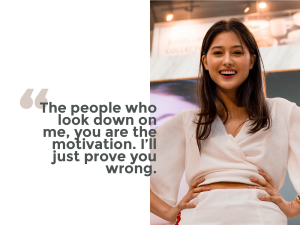 The modeling world is a highly-competitive field. Being a model you'll have to have a thick skin and be able to take the criticism and use it to become better.
I know most of the Filipinos are fans of the Victoria's Secret Fashion Show or even the American Reality TV Show, Asia's Next Top Model. And every year we see new faces and new looks having the potential of a true model who is waiting in the wings to take that top model spot.
On the other hand, becoming a model in the Philippines has to do with luck. Well, you are lucky enough if modeling came knocking to your doorsteps while others have to go down the road and bang on doors just to get noticed.
But for Model Central Producer and Photographer, Yza Delos Angeles, modeling is for every Filipino of every shape and size. The reason why she started to create a welcoming environment for every models and modeling enthusiasts here in Mindanao, Model Central. An avenue for budding and aspiring models to discover and cultivate their inner beauty.

Model Central has been in the industry for five (5) circles already, giving its enrollees a holistic development program, shaping their modeling skills and as well as personality.
Although Model Central welcomes everyone with their whole heart it encourages its enrollees to become a better version of themselves by bringing the finest mentors right in front of them. Thru this, Mindanao would also be able to uplift its standards on handling out modeling mentorship or workshops given to kids, young adults and adults.
As mentioned earlier, Model Central has been inviting iconic mentors across the world to inspire every models and model enthusiasts out there. And with its fifth circle this year, Model Central is proud to present their mentors for the Modelling and Personality development:
The Mega Fashion Crew Extreme Edition Runner Up for Make Up Category, Dandy Roa.
Actor and Director of Our House Productions and Corporate Trainer, Josh Eballe.
Film and TV Commercial Director, Nick Daez
Prima One Modelling Agency and Owner of Prima Stella Model Management, Chinie Go.
and last but not the least Asia's Next Top Model Cycle 5 Winner, Pinoy Pride, Maureen Wroblewitz.
All these star-studded mentors in one event! So what are you waiting for? Join the circle and get the finest tips straight from Asia's Next Top Model Maureen herself.
Model Central is open to men and women of 3 years old and above, absolutely no weight and height requirement.
Model Central will be a great avenue for the enrollees to find the model at the center of one's self thru these exciting and steadfast sessions:
Professional Modelling Training
Makeup and Grooming Workshop
Meet and Greet with Maureen Wroblewitz

Photo and Video Shoot Output
There will be 5 sessions on the most weekends of December and this December 2, 2017 they will kick off with an Orientation to be followed by the First Session commencing on December 9, 2017.
PLUS they are also accepting partial and staggered payments.
To join just send your name, age, school or company, location and contact number to 09277921770 to pre-register.
They are still accepting enrollees so hurry!!
You can also follow their official Facebook Page: Model Central by Yza Delos Angeles for more updates.