07 Oct

Mongol To Hold Design Your Own Pencil Case Contest This October 19 @ Gaisano Mall

Mga higala! MONGOL will be holding a DESIGN YOUR OWN PENCIL CASE contest this coming October 19, 2019, at the Gaisano Mall of Cagayan de Oro City!

The contest is open to kids who are 5 to 12 years old.

The most creative "pencil case designers" will win the following:
1st Prize– P5,000 cash + P10,000 worth of school supplies
2nd Prize– P3,000 cash + P6,000 worth of school supplies
3rd Prize– P2,000 cash + P4,000 worth of school supplies
How To Join?
Step 1: Purchase a Mongol Exam Pencil Case for only P94.75 at the Gaisano Mall.
Step 2: Decorate with any medium you want like popsicle sticks, clay, glitters, etc. during the event.
Step 3: Get a chance to win the cash prizes and school supplies.
Mechanics (at the event):
Present proof of purchase/receipt of Mongol Exam Pencil Case at the registration area in Gaisano Mall, on or before 12:00 noon.
Assembly time is 12:00 pm and contest will start at 1:00 pm.
Participants will be given 2 hours to design their pencil case.
Entry will be judged based on what has been finished on the given time.
Participants may bring their own design materials. Basic supplies like scissorcs, glue, market, etc. will be provided at the event.
Theme will be announced on the spot.
Entries will be judged based on the criteria below:
Creativity- 50%
Originality- 30%
Brand Visibility- 10%
Functionality- 10%
For more details: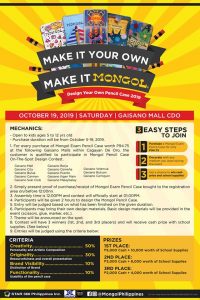 Below are sample entries from previous Design Your Own Pencil Case contest: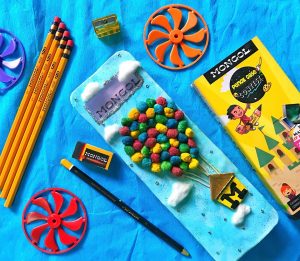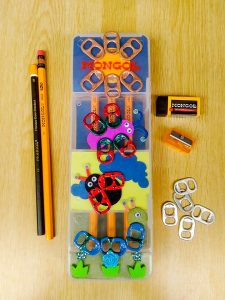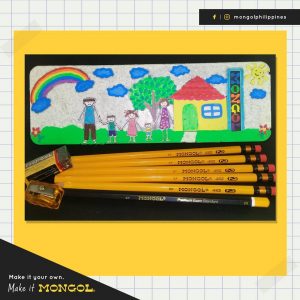 Images by Mongol Philippines.