27 Jul

Satisfy Your Lockdown Cravings With MONSAN Tea Atelier's White Rabbit Milktea, Pizza, & More!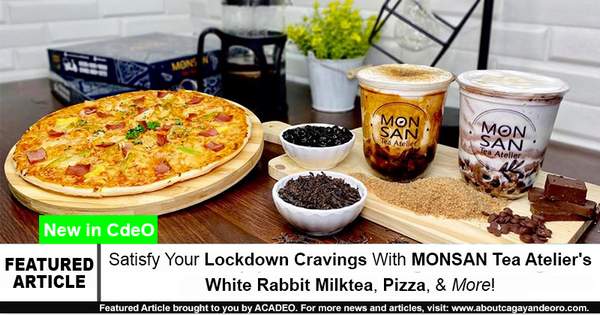 Mga higala! While still offering Kagay-anon favorites like the unique White Rabbit Boba Milktea but with new branding, MONSAN Tea Atelier (formerly Monding Sanchez Tea Lounge) now also serves cakes, pastries, and pizza!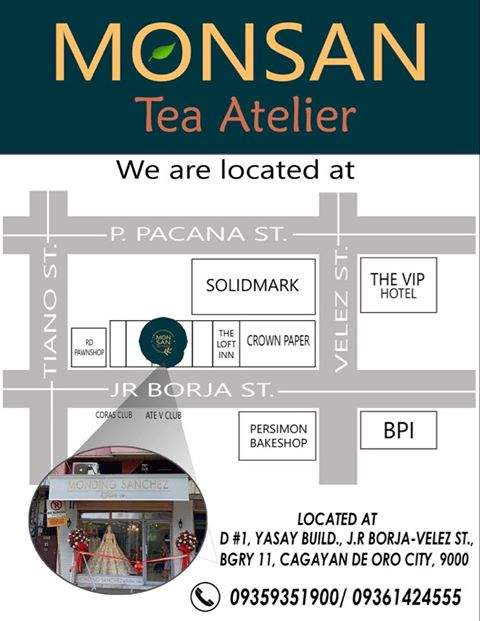 This establishment is located inside the Door 1 of Yasay Building, along the JR Borja and Don Apolinar Velez Street. They are open every day, from 10:00 AM to 10:00 PM.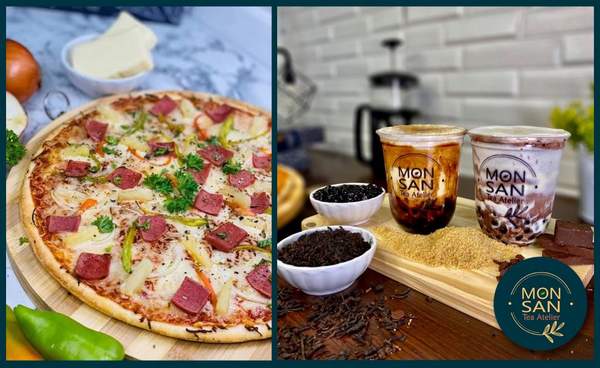 Currently, their menu includes the following:
Fresh Pizza
Hawaiian Pizza
Pepperoni Pizza
Affordable Combos
COMBO A – 1 10″ Pizza & 2 Regular Classic Brown Sugar Milktea with Pearls
COMBO B- 1 10″ Pizza & Any 2 Milktea Flavors with Pearls
COMBO C – 1 10″ Pizza, 2 Regular Classic Brown Sugar Milktea with Pearls, and French Fries
Refreshing Milkteas
White Rabbit Milktea (Signature Flavor)
Brown Sugar Series

Classic Brown Sugar Milktea
Monster Brown Sugar Milktea
Monster Chocolate Milktea
Monster Brown Sugar Fresh Milk

Cookies & Cream Series

Cookies & Cream
Wintermelon Cookies & Cream
Hokkaido Cookies & Cream

Choco Milktea Series

Choco Milktea
Wintermelon Chocolate
Choco Java Milktea
Mocha Milktea

Classic Milktea

Wintermelon Deluxe
Taro Milktea
Hokkaido Milktea
Okinawa Milktea
Matcha Latte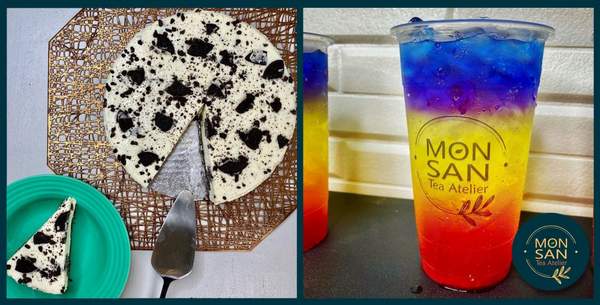 They also have cream cheese milk teas, fruit teas, lemonades, dalgona coffee, hot drinks, and snacks.
Wanna order? You can have all these delivered at your doorstep higala! Check out the details below:
MONSAN Delivery: 09359351900 (FREE delivery within 3 kilometers)
You can also check out the comprehensive menu on their website, MONSAN Tea Atelier. By placing an order thru this site, you can enjoy a 5% discount.
Or you can visit their official Facebook page: Monsan Tea Atelier – CDO
BTW, just this July 24, the owners– Jayson Monding and Jean Peter Sanchez, joined the 5th webisode of Cagayan de Oro's Online TamBAIan, a webinar series that talks about the roles of young Kagay-anons during this time of the pandemic.