27 Aug

Moreno Encourages The Public To Utilize The FREE "Telekonsulta" Of CHO, JRBGH, & NMMC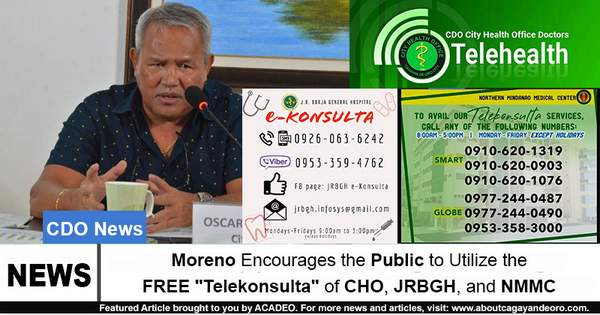 Mga higala! Cagayan de Oro City Mayor Oscar Moreno is urging the public to utilize the "Telekonsulta" service offered by the City Health Office (CHO), the JR Borja General Hospital (JRBGH), and the Northern Mindanao Medical Center (NMMC), especially for individuals who are suffering from minor health problems!
This initiative was brought up as an effort to lessen the need for physical visits to clinics and hospitals and reduce the risks of getting infected by COVID-19.
Moreno also added that private hospitals must adapt to having teleconsultations so that the public can easily get access to their various medical services.