30 Jun

Moreno Will Fight for His Position as City Mayor Until the End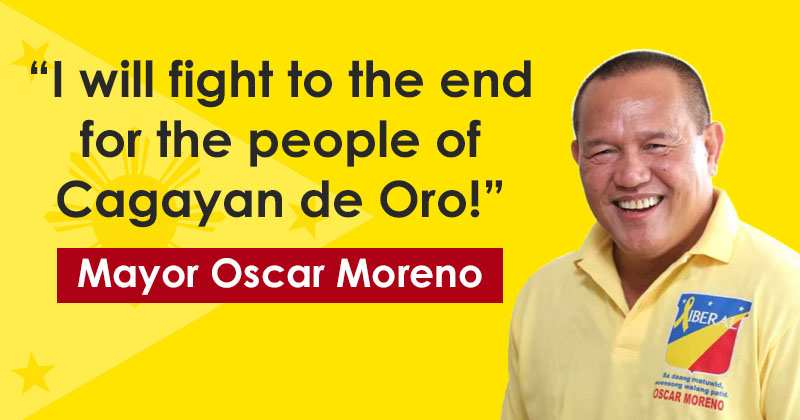 On Wednesday, June 29, Mayor Oscar Moreno called for a press conference where he declared his will to fight for his position as city mayor.
Mayor Oscar Moreno has been dismissed by the Office of the Ombudsman after it was found out that Moreno and the City Treasurer was involved in a negotiation with the Ajinomoto Phil. to reduce the tax assessment without the approval of the City Council according to the anti-graft court, August last year.
Maricel Rivera, Moreno's public information chief said that Moreno's oath-taking on Thursday, June 30, is a "business as usual." The Inauguration Committee is finalizing the details for the oath-taking Ceremony today, June 30.
Vice Mayor Ian Acenas also issued a memorandum Wednesday, June 29, saying it is indeed "business as usual in all offices at City Hall," but signed as "city mayor," not acting city mayor.
In replacement for Acenas, acting vice-mayor was Councilor Lourdes Candy Darimbang.
Revira said, "Besides, wala pa sad order from DILG nga mulingkod si Acenas."
"In a ruling dated June 22, 2016, the Court of Appeals ruled adversely on Vice Mayor Caesar Ian Acenas' motion to leave to intervene on the petitions for certiorari filed by Moreno and Banez on the dismissal decision of the Ombudsman over the Ajinomoto case," she added.
Ina statement written by Associate Justice Edgardo A. Camello, he said, "That as long as Moreno exhausts all legal remedies to his dismissal, there is no vacancy to speak of. Not even a dismissal by the Ombudsman of his motion for reconsideration."
He also added, "It is true that the Ombudsman's decision has called for the immediate execution of petitioner Morenos's dismissal order, but while the dismissal order was made executory, it was never final. The appeal is even available to petitioner Moreno."
At the end of Camello's letter, it reads, "In fine, it is inevitable to conclude that since there was no vacancy to speak of in the Office of the City Mayor of Cagayan de Oro, the intervener has no right to the mayoral office. He has no right or interest to protect to entitle him to intervene in these consolidated cases. For these reasons, motion for leave to intervene is denied. All pleading filed by intervener Caesar Ian Enerio-Acenas are ordered expunged from the records."