07 Oct

127 Brand New Motorcycles Issued For Northern Mindanao Police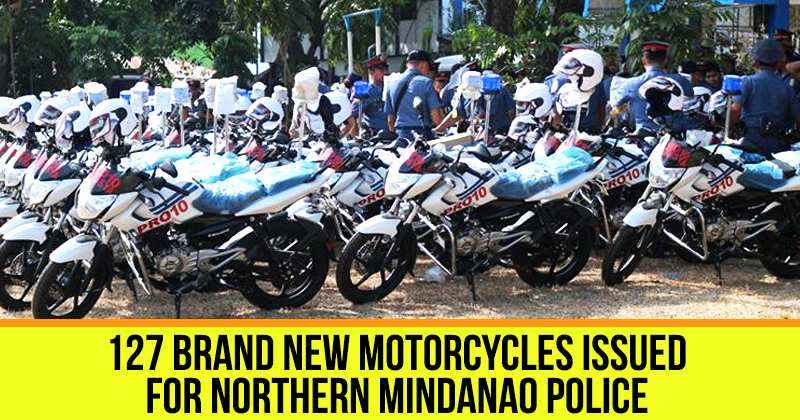 On October 6, Thursday at Camp Vicente Alagar, Cagayan de Oro, the Philippine National Police (PNP) issued 127 brand new Kawasaki Rouser motorcycles to the various police stations across Northern Mindanao to boost police capability in fighting crime in the region.
Bukidnon police received 24 units, 7 for Camiguin, 24 for Lanao del Norte, 7 for Iligan City, 19 for Misamis Occidental, 27 for Misamis Oriental, 11 for Cagayan de Oro City, 1 for Regional headquarters, 1 for Regional Public Safety Batallion, 1 for Regional logistics, 1 for Regional Commel, 1 for Regional Engineering, 1 for Regional Finance, 1 for Regional Special Training Unit, and 1 for Regional Intelligence.
The Police Regional Office (PRO)-Northern Mindanao also received two man utility trucks.
The motorcycles were distributed through the regular procurement program of the Philippine National Police (PNP), PRO-Northern Mindanao spokesperson, Superintendent Surki Sereñas said.
The national headquarters noticed that motorcycles are essential in conducting police operations such as disasters and emergency response, Sereñas added.
Sereñas stated, "Gipangayo nato ni kay normally ang national headquarters ga-survey na sila unsa ang mga needs kung nakita nga kinahanglan ila nang ihatag."
The budget for the fuel will also increase following the additional assets of police stations, Sereñas said. As he spoke, "Dugangan pud na ilang gas allowance."
He added, "Responsibility na sa user ang maintenance. Kung madisgrasya liability na sa user ilabi na kung gigamit pa gayud sa personal unya kung nakainom pa gayud gawas nga ipa-repair sa ila kasuhan pa gayud administrative."
The issuance of the motorcycles emphasizes the PNP's sincerity and commitment to its intensified operations against illegal drugs, crime, and corruption, PRO-Northern Mindanao regional director, Police Chief Superintendent Noel Constantino said.
Constantino stated, "It will surely bring material advantages to their move capacity and it will also boost their capability during police responses."
He added, "I challenge all the personnel under this command to live up the expectations. Fight until the last threat to the peace and development of Northern Mindanao has been neutralized or placed behind bars."
News Source: Sun.Star