24 Apr

Movies to watch out for this summer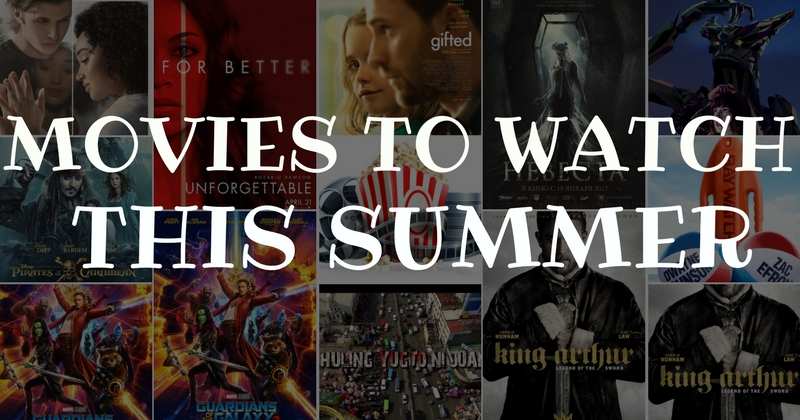 Can't wait to go for movies with your friends and families? Eating popcorn and drinking lemonade while laughing, crying and shouting with them? Because we are fond of watching movies since it is very interesting, full of adventure, insights, and lessons that we love to ponder. We listed the upcoming movies that you shouldn't miss out! So get ready and choose what your heart beat for!
April 26, 2017
Guardians of the Galaxy Vol. 2
Did you enjoy the first Guardians of the Galaxy movie? If you want to know more about your favorite marvel heroes, witness this second part as they unravel the mystery of Peter Quill's backstory. What's interesting in this movie is how the Guardians will save the Galaxy as friends or one family? And what will be the role of Peter Quill in the story?
This movie is applicable for all ages where they can learn the value of family and friendship. Never quit when a simple problem came on their way, and never ever quit when big ones came.
Director: James Gunn
Writers: James Gunn, Dan Abnett (based on the Marvel comic book)
May 3, 2017
Gifted
If you love stories that can make your heart warm this summer. Try out the movie 'Gifted'. Starring Chris Evans, Mckenna Grace, Lindsay Duncan, Jenny Slate and Octavia Spencer. This is a story of a single man named Frank (Chris Evans) raising his prodigy niece Mary (Mckenna Grace), she's drawn into a custody of battle with his mother.
Witness how Frank fights Mary's life against people who wanted her to live in an extraordinary life because of her intelligence. But, Frank wanted her to live as an ordinary child, like what he promised to her mother. What will he do along with their journey? Will he succeed in getting Mary out of that situation?
A heart melting story that makes you cry, better for the whole family. Better not to miss any second when watching!
Director: Marc Webb
Writer: Tom Flynn
Unforgettable
Indeed, when love is gone, madness will come. What if, everything that you expected to be perfect will become worst?
Unforgettable is a movie about a woman who sets out to make the life of her ex-husband's new wife turned into hell. Witness how Tessa (Katherine Heigl) unravels the life of Julia (Rosario Dawson) and how she will ruin everything due to jealousy.
A suspense movie that can make you scream and make your heart palpitate in an extraordinary way. This movie is applicable for singles and couples, not with kids because there are scenes that not applicable for them.
Director: Denise Di Novi
Writers: Christina Hodson, David Leslie Johnson
May 10, 2017
Baywatch
Time for that classic Baywatch scenes! Mitch Buchanan played by Dwayne Johnson, is a devoted lifeguard butt head with a brash new recruit. Mitch will not surrender his position together with his team to the new recruit until they found out that there are illegal activities going through the resort. Together, they uncover a local criminal plot that threatens the future of the Bay.
This movie is more of action and comedy that is applicable to everyone, but there are scenes which include sexy actions (also, verbal) that are not suitable for very young audiences.
Directed by: Seth Gordon
Writers: Robert Ben Garant, Thomas Lennon, David Ronn, Jay Scherick,
Damian Shannon and Mark Swift
The Bride
https://www.youtube.com/watch?v=_tknd8QK0yQ
Prepare to jump off your seat as this movie travails some horrific cinematic scenes that would surely scare the crap out of you!
This movie is about an engaged young woman named Nastya (Aleksandra Rebenok) who travels with her fiance to his hometown. When they arrived, she can't help to think that there was wrong on the visitation. She is surrounded by strange people and start witnessing unusual and terrible visions as the family prepares her for the mysterious traditional Slavic wedding ceremony. More than the wedding preparations, can she survive the next few days with these experiences and more are coming?
This movie best suits for people who loves horror since it can freeze you while watching it.
Director: Svyatoslav Podgayevskiy
Writer: Svyatoslav Podgayevskiy
May 11, 2017
King Arthur: Legend of the Sword
Witness how the legendary King Arthur pulls the sword from the stone and how he defeat the new kingdom. What struggle he'll be facing? Will he pursue his true legacy whether he likes it or not?
This action, fantasy, a somewhat dramatic movie is an eye opener that the past will always guide us in the future, it brings you to where you are right now. This can be enjoyed by the general audiences.
Director: Guy Ritchie
Writers: Joby Harold, Guy Ritchie, Lionel Wigram, David Dobkin and Joby Harold
May 17, 2017
Colossal
A woman discovers that a catastrophic event is somehow connected to her mental breakdown. She is connected to the monster who attacked the city that whatever she does, the monster will imitate it. When she raised her hand, the monster does it so by discovering it on a news.
Witness how a woman manages these strange things that are happening to her. This action-comedy movie is applicable to everyone but kids have to be with their guardian or parents for them to be guided
Director: Nacho Vigalondo
Writer: Nacho Vigalondo
May 18, 2017
Everything, Everything
A girl who's live spent inside their house because she's allergic to everything. But changes when she falls in love with a boy that lives next door. Witness how she to sacrifices everything just to live in one perfect day. Are you willing to do the same thing with her? Because sometimes in our lives, we need to try things beyond our limit in order to see who really we are.
This romantic drama suits everyone, especially teenagers who are afraid to live a life beyond the ordinary.
Director: Stella Meghie
Writers: J. Mills Goodloe (screenplay), Nicola Yoon (novel)
May 24, 2017
Pirates of the Caribbean: Dead Men Tell No Tales
Excited to see another movie from the well-beloved and well-acclaimed franchise Pirates of the Caribbean? This summer, Pirates of the Caribbean: Dead Men Tell No Tells will never disappoint.
The story revolves around a man named Captain Salazar (Javier Bardem) who is about to assassinate all pirates since they are already infected disease for generations. However, there was a boy who took everything from him. He came back to take revenge on this boy (Jack Sparrow), by searching for a girl who can pierce his heart.
Witness how Jack Sparrow (Johnny Depp) seek out for the legendary Poseidon's trident, a powerful artifact that his only hope for survival. This movie is for all audiences who loves Pirate and the Caribbean since the first episode!
Directors: Joachim Rønning, Espen Sandberg
Writers: Jeff Nathanson, Jeff Nathanson, Terry Rossio, Ted Elliott, Stuart Beattie
and Jay Wolpert
May 30, 2017
Ang Huling Yugto Ni Juan
A new President is in charge of the Philippines with its new administration and policies. One of this policy is the war on drugs which killed thousands of people who used drugs. How will it affect the lives of those on the street? How this policy makes a better society when in fact it becomes more chaotic when there are innocents lives were wasted?
This movie is good for Filipinos who are affected by this campaign. In order to understand why and how this policy was implemented, Ang Huling Yugto ni Juan will bring us to the reality.
Director: Mark Aggcoili Bago
Writer: Mark Aggcoili Bago
Indeed, movies can bring us to different places, culture, era and situations where we can pick many lessons that are applicable in our lives.  Let's not also forget that many of the stories we watched are made to entertain us, they are mythical and fictional. That's why we have to live life not depending on those fairytales but in our way.