28 Jul

Musikagay-an Festival 2016: The Ultimate Musicfest to Watch Out for this August

Remember the local music scene in Cagayan de Oro back in the late 90's to the mid 2000's? That was the heyday of the local pop bands and rock bands in the city when they were regularly playing at malls, bars, and in the now defunct Amphitheater. Bands that emerged during those days were such names as Gasulina, Nancy's Pungent, Tabula Rasa, Beams in Column, and Tekken, just to name a few.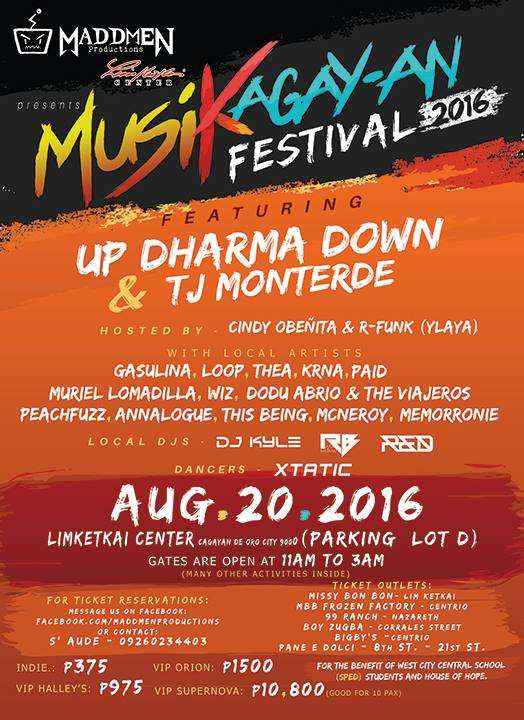 In the spirit of that era, Maddmen Productions in partnership with Limketkai Center presents The Musikagay-an Festival 2016. It's a cross between a reunion of sorts of Cagayan de Oro's homegrown indie music artists and a non-stop dance party. You could say it is a Party + Live Bands + DJ music. This music festival is slated for August 20, 2016, Saturday, at the Parking Lot D of the Limketkai Center. Gates will open at 11:00 a.m. and will close at 3:00 a.m.
The Musikagay-an Festival 2016 is hosting an impressive lineup of artists. In the forefront will be the Manila-based pop-rock band, Up Dharma Down.
This pop-rock band with their own brand of sound has already made people take notice with great hits from their 3 albums such as Tadhana, Oo, and Indak.
Also at the forefront will be TJ Monterde, Cagayan de Oro's very own and now considered the country's newest acoustic balladeer. His hits include Tulad Mo, Imahinasyon, and Ikaw at Ako.
Also performing at the festival will be local bands like Gasulina, Loop, Thea, KRNA, Paid, Muriel Lomadilla, Wiz, Dodu Abrio and the Viajeros, Peachfuzz, Annalogue, This Being, McNeroy, and Memorronie. Local DJ's providing great dance mix music will be DJ Kyle, DJ RB, and DJ Red. The local dance group, Xtatic, will also be performing there. The music festival will be hosted by Cindy Obeñita and R-Funk Ylaya.
Tickets are sold at P375 (Indie), P975 (VIP Halley's), P1,500 (VIP Orion), and P10,800 good for 10 people (VIP Supernova). Ticket outlets are at Missy Bon Bon at Limketkai Center, MBB Frozen Factory at Ayala Centrio Mall, 99 Ranch on Tomas Saco Street, Nazareth, Boy Zugba at Corrales Avenue, Bigby's Café and Restaurant at Ayala Centrio Mall, and Pane e Dolci / Caffe Zibetto on 8th and 21st Streets, Nazareth.
You can make ticket reservations by messaging the Maddmen Productions Facebook page or by contacting S'Aude at 0926-0234403.
When you visit the Maddmen Productions page on Facebook, you can get the chance to win Free Passes to the music festival by sharing and tagging the music festival video (see Facebook page for mechanics and details).