21 Apr

Specialty Temptations: Must-Try Signature Dishes from Local Businesses in CDO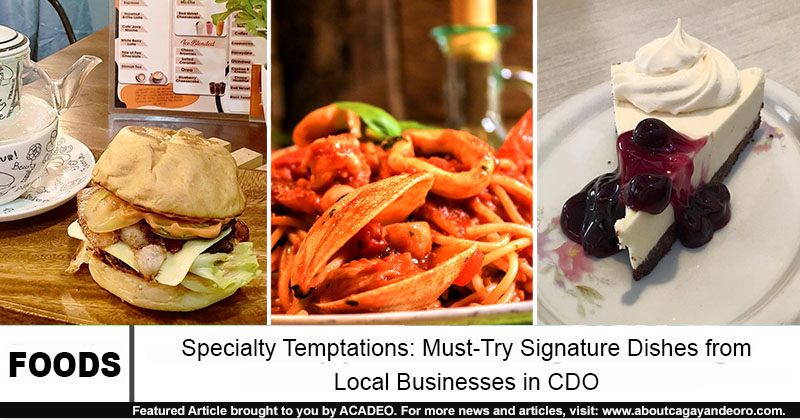 Whenever you think of a restaurant, is there a specific dish that comes to your mind? Not really everytime, but that could be the establishment's signature dish.
Having a unique signature dish elevates the branding of a restaurant as it separates it from the competition. This is the very reason why customers resonate with the brand as they keep on seeking for it if the signature dish gets recognized successfully. The only challenge is how to select that dish that will represent the restaurant.
If you are curious about the signature dishes that restaurants in CDO have to offer, this is your lucky day! Here are some of them that you should try!
Blueberry Cheesecake
Have a taste of heaven through Brew Berry Cafe's Blueberry Cheesecake.
Since 2007, this has been enjoyed by a lot of Kagay-anons and tourists with its rich, creamy, and silky classic cheesecake topped with luscious and sinfully sweet blueberry sauce.
Premium Burger Bun
Recognized by their homemade signature premium burger bun that they use in creating their burger masterpieces, Sarge's Coffee and Milktea Station can be located at The Warehouse Corrales Avenue.
Try their beef + bacon cheese burger sandwiched with their special buns.
Cold White/Black Brew Coffee
How do you like your coffee, hot or cold? Whatever your preference is, you will surely love H Proper Coffee Roasters' cold brew coffee. Their coffee beans are internationally and locally sourced.
Now available in chic and sustainable acrylic coffee cartons.
Spaghetti Seafoods Marinara
If you enjoy seafood a lot, you will definitely love EduardoDiego Ristorante's Spaghetti Seafoods Marinara.
This has been their signature dish for a very long time which consists of mixed seafood, marinara sauce, and spaghetti pasta.
Do you know some signature dishes that we at ACADEO must know? Comment them down below!
To learn more about these businesses, go to our CDO Listing. Want to be added? Contact us!