06 Jul

Napolcom Starts Investigation on Police Generals that are Linked to Illegal Drug Trading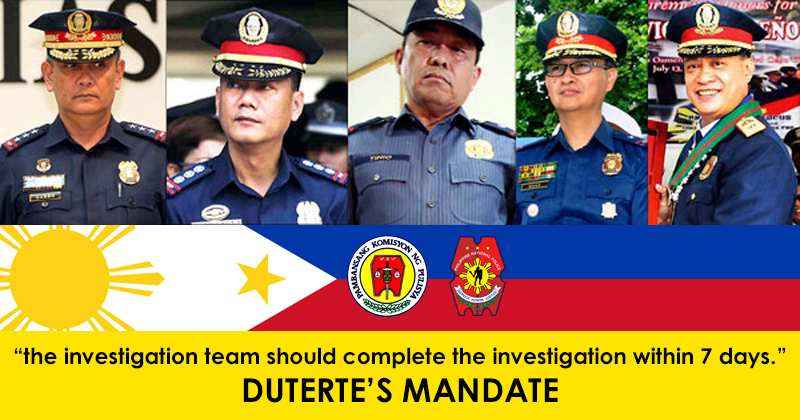 On Wednesday, July 6, the National Police Commission (Napolcom) started their probe on the Generals that was named by President Rodrigo Duterte on Tuesday as being involved in illegal drug trading.
The President requested that the probe of this case must be fast-paced.
Napolcom Vice Chairman Rogelio Casurao said, "The President is very clear on this matter. Ayaw niya na (He doesn't want that) the investigation will drag on because normally an investigation that drags on till eternity is always subject to suspicion that things are being fixed."
"A few minutes after his pronouncement, we immediately constituted a team to investigate all these generals who were named," recalling the events after Duterte's announcement.
3 of the 5 generals that Duterte named are still on active service. They are former National Capital Region Police Office director Chief Superintendent Joel Pagdilao, former Quezon City Police District Office director Chief Superintendent Edgardo Tinio, and former police chief of Region 11 Chief Superintendent Bernardo Diaz.
The other two generals that have already retired are former Deputy Director General Marcelo Garbo Jr and Vic Loot, who is now mayor of Daanbantayan, Cebu.
"We are assuring now the public that the investigation to be conducted by the Napolcom is going to be a straightforward investigation. In fact, the directive given to the investigation team is they should complete the investigation within 7 days, and then after that, we will go into the summary dismissal proceedings," said Casurao.
Until the end, going into the summary dismissal proceedings, it will take 1 month to finish it. As for this moment, the Napolcom team is already validating the provided evidence against the generals.
"There are already pieces of evidence that prompted the President to come up with that decision to name them in public. The task of the Napolcom now is validating these pieces of evidence for purposes of establishing probable cause. In addition to that, we will require them to submit their reply or answer," Casurao said.
All of the generals denied their alleged involvement in the case.
"The full force of the law, in our mandate as a disciplinary body, will be applied, without of course sacrificing due process," Casurao said.