25 Jan

Nenecita's Sorbetes, Reliving A Filipino Culture

Growing up as a Filipino kid, we all remember that exciting feeling the moment we hear the tinkling bells of mamang sorbetero. We then find ourselves rush towards nanay or tatay asking for money to appease our craving palate.
Over the years, sorbeteros across the world has been creative in bringing us more flavors to enjoy. Nevertheless, we always look back to the days were we happily eat our ice cream and its crunchy wafer cones.
And if you are missing that 100% lasang pinoy kind of ice cream, Nenecita's Sorbetes brings you its very own classic Pinoy Sorbetes.
Small Beginnings of Nenecita's Sorbetes
It all started when they found an old family ice cream recipe. It piqued their interest and they decided to learn more. In 2015, the family opened a small pandesal store in Alae, Bukidnon and thought of producing the ice cream recipe they have learned to pair up with their bread. Then their products became "in-demand" across Alae.
Sometime after that, the family was offered a spot to sell ice cream in Cagayan de Oro City which was situated at Ayala, Centrio Mall.  
To date Nenecita's Sorbetes can be located at Gaisano Mall (4th floor, Food Court), Divisoria (beside Jollibee Xavier Branch), Centrio Mall (near TGI Fridays) and Uptown Mercato (near XU Highschool Uptown). They are currently aiming to expand to different areas in the Philippines in order to promote their product and spread one of the symbols of the Filipino culture.
Nenecita's Sorbetes Concept
The family shared that from their humble beginnings and until now, they do not only look to gain profit from their family recipe, they also intend to preserve the culture of Proudly Pinoy Sorbetes.
What sets apart Nenecita's Sorbetes from other ice creams stations is that instead of using freezers, they chose to maintain the temperature and preserve sorbetes with a more natural technique using ice and salt.
Trivia: Adding salt to ice maintains low water temperature thus delaying the melting of ice. This provides a more natural taste for the produced ice cream.
And knowing the Philippines as a Coconut abundant country, Nenecita's Sorbetes is also using a mixture of their special ingredient- coconut milk, instead of the usual cow's milk.
NENECITA'S SORBETES MENU:
SCOOPING STATION
Premium Flavors
(Avocado, Durian, Mango, and Macapuno) P35 (4 scoops)
Classic Flavors
(Ube, Chocolate, Cookies and Cream, P30
Melon and Strawberries)
RETAIL
Pints                  P120
Premium          P380
Classic              P350
*CLASSIC SORBETES PACKAGE P3500++
1 full tub Ice Cream Sorbetes (4 gallons)

Can be up to 2 Flavors of your choice

Includes 50 FREE cones

Served in cart
*PREMIUM SORBETES PACKAGE P5000++
2 full tub Ice Cream Sorbetes (8 gallons)

Serves up to 200 servings

100 FREE cones

Up to 4 flavors

Served in cart
*BASIC SORBETES P2000++
1 Mini Tub container Ice Cream Sorbetes (3 gallons)
*ADD-ON:
Wafer Cones

P2/piece

Mini Cones

P1/piece

Plastic Cups

P5/piece
"An additional price of only 300 will be added on deliveries within Cagayan de Oro City"
We also got an opportunity to ask the owner if they were to choose a celebrity who would help them promote their product, and they happily shared that they'd choose Kyle "Kulas" Jennermann of BecomingFilipino who has been passionate about showing his love for the Philippines.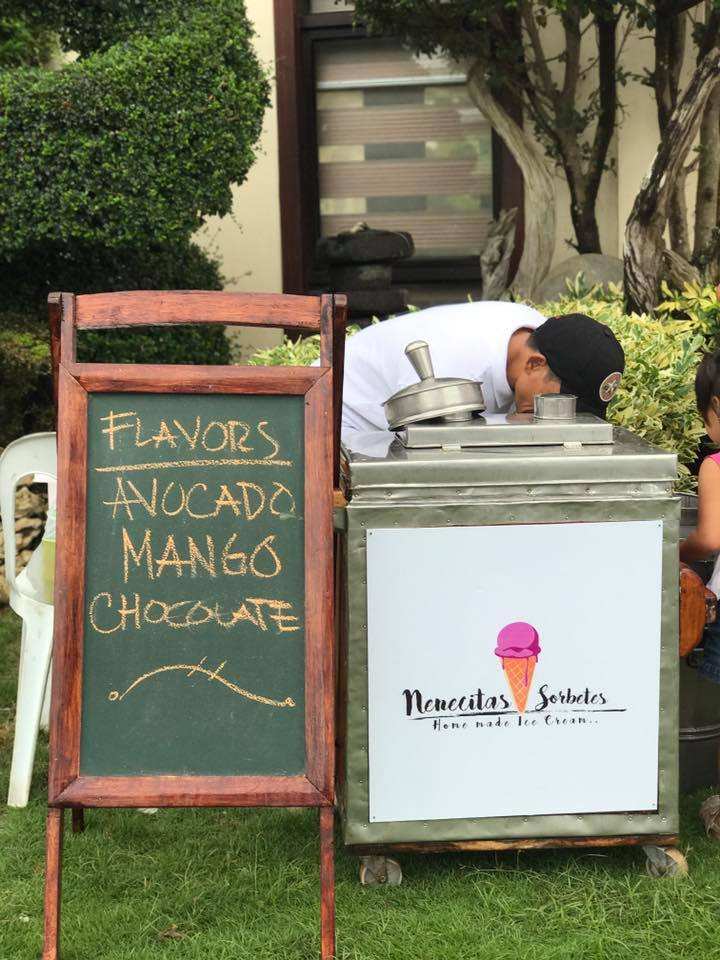 So if you are missing the old-style, cold and mouthwatering sorbetes of the Philippines served in carts peddled by Mamang Sorbetero, try out Nenecita's Sorbetes and be like a child innocently enjoying a cone of ice cream.
As the saying goes, you can't buy happiness, but you can buy ice cream.
For more information, you can contact Nenecita's Sorbetes at 0918-9302676 or 09189353489. You can also follow their facebook page for more updates at @inenecitas (https://www.facebook.com/inenecitas/).