08 Jun

Is the Next Senate President Coming from Cagayan de Oro City?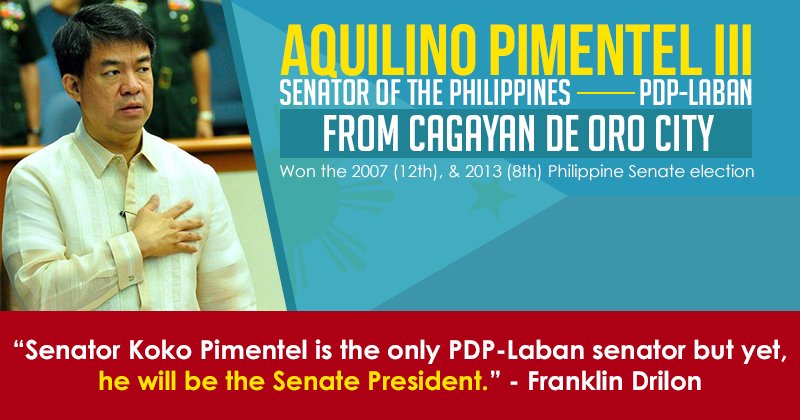 Yes, it could be, with the "Super Majority" supporting Senator Aquilino "Koko" Pimentel III, who is from Cagayan de Oro City, there is no stopping for him right now.
Current Senate President Franklin Drilon said on Wednesday, June 8, that at least 16 senators are supporting Pimentel in his campaign for the Senate presidency.
According to Drilon, "I wished to announce that last night the major political parties in the Senate have agreed to have an alliance, principally the Liberal Party and its allied parties. We have 6 LP members, 1 Akbayan, the LDP, plus the NPC and the other allied political groups. These two groupings: we led the one group, while Senator Sotto led the other group. Between the two of us, we have the support of 16 or 17 senators."
But Lacson tweeted a more valiant supposition, he said in his tweet, "16th Congress adjourned, getting ready for 17th: SP Pimentel, Pro temp Drilon, Majority Ldr Sotto plus a super majority of at least 20," stating that instead of only 16 or 17 senators backing up Pimental, there are 20 senators he said.
With this, Drilon is poised to become Senate President Pro Tempore while Senator Vicente "Tito" Sotto III will be the majority floor leader.
Being the PDP-Laban president, getting into the top leadership post in the chamber is Pimentel's "duty" as mentioned by Duterte. For the record, Pimentel is the only PDP-Laban senator.
Drilon said, "We maintain the independence of the Senate but at the same time, we will support, in general, the legislative agenda of President Duterte." Drilon pointed out that while they are supporting Duterte's plans, the chamber would remain independent.
He added, "As you notice, Senator Koko Pimentel is the only PDP-Laban senator but yet, he will be the Senate President. This is an unusual…Certainly in the recent memory I do not recall of a similar setup. This is to show that yes, we are willing to support, in general, the legislative agenda of this administration."