02 Aug

No to ENDO (End of Contract)!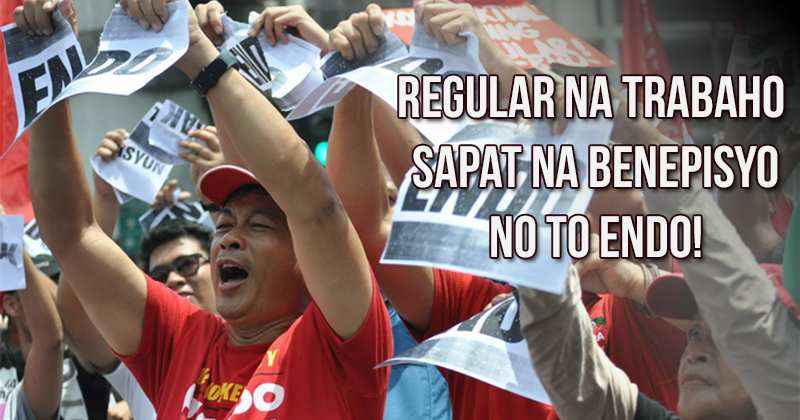 One of the objectives of the Duterte administration is to stop contractualization or "endo" (end of contract). Duterte said during the campaign period for Presidency, "Contractualization will stop. They have to stop it. It is an injustice committed against the Filipino people. I will not allow that as president of the country".
On August 1, Monday, President Duterte said that he would be unforgiving and do not tolerate companies who would still practice contractualization.
The President said through a press conference in Malacañang palace, "Huwag na ninyo akong hintayin na mahuli ko kayo because I will be unforgiving. You will not only lose your money, you will lose your pants".
President Duterte acknowledged Labor Secretary Silvestre Bello III for proposing a plan to hire more men to inspect companies. This is to ensure that the companies are not exploiting their employees. But Duterte said that companies should not wait for the inspection.
"Magsunod kayo o ikakansela ko 'yung permit ninyo. Mamili kayo," the President warns companies.
Once the President or the labor department finds out about companies who still practice endo, he would take away their permit and close the plant. Surely the company would always find a thousand reasons why he had done it.
President Duterte was also concerned about the security guards who are forced to work 24 hours. Who work for security agencies which are also owned by military men.
Though he recognizes the contribution of companies, he also tackles about the benefits for the employees to cut into company profits.
"Pay all the benefits. Iyong mga outsource, ikaw 'yung ahensiya, the agency, you take over as the employer, then pay, lahat kayo. Huwag kayong yumaman diyan ng pawis ng kapwa ninyo tao. Kalokohan iyan," said the President.
Social Security System (SSS) should be mandatory for companies as a benefit for their employees.
"If you do not take care of the workers, then I cannot take care of you", ended the President.