07 Jun

No More Duterte Interviews Until the End of His Term as President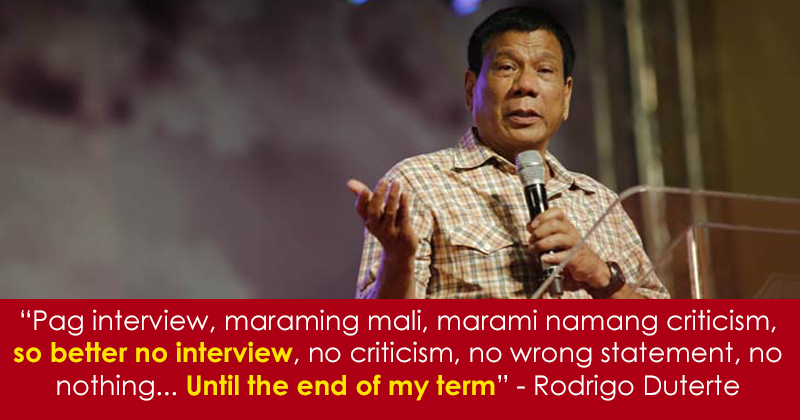 On Monday Morning, June 6, said in a video by TV5, "Wala. Sorry, ha? Talagang ano ako, boycott talaga." The incoming president of the Philippines chooses to boycott the media and stop giving press conferences.
Duterte's explanation in his decision to stop the meeting with the media was, "Pag interview, maraming mali, marami namang criticism, so better no interview, no criticism, no wrong statement, no nothing."
He was then asked until when will his boycott last, he said, "Until the end of my term."
Duterte's executive assistant Christopher Go said that announcements and other information that the president wants to be shared to the people through the media will be aired through the state-owned PTV.
For almost 3 decades that Duterte served Davao City as its mayor, there was no rift between him and the local media there. Just recently, when he conducted press conferences involving both media from the Philippines and abroad, misleading news headlines came up, causing confusion to the populace.
From the Pope, the Bishops, the Australian Missionary, the Catcallings, the Media Killing, and everything in between, he is purposely misunderstood by the media and painted a wrong impression to him.
It seems that we are to watch PTV more often from now until the end of Duterte's term as president.