09 Aug

No Hopes for Peace Talks: NPA's Defiance to the President's Order at its Peak!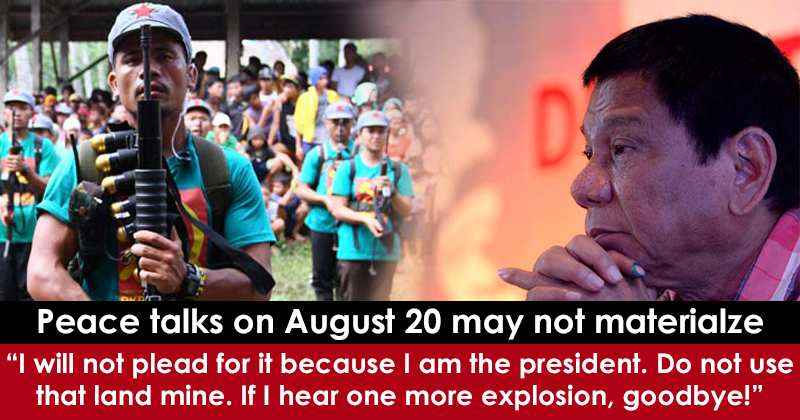 On Monday, August 8, the New People's Army (NPA) showed their objection to the President's request of halting their use of landmines against the government troops for it is a violation based on the Geneva Convention articles of war. Instead, they had stated that they will continue to develop such explosive mines in waging war against the Philippine administration.
Duterte warned the rebel group that if another death would be recorded due to their stubborn attitude of defying the government's request, then the President would call off the peace talks that is set to resume on August 20 in Norway.
While Duterte was in Catbalogan City, he said, "I will not plead for it because I am the president. Do not use that land mine. If I hear one more explosion, goodbye, and you peace panel, come home, don't waste your money there and talk nonsense. These communists, if you're listening, you have been at war with this government for 45 years. Do you want to fight another 45 years?"
The communist group continued their production of the remotely-detonated explosive devices and their use in guerrilla assaults despite this statement from the President.
This bold resistance of the NPA during this time might cost them another 45 years of war against the government. So far, this is the longest-running recorded insurgency in Asia.
The rebels said instead, "Waging people's war has always been the path to strengthen the revolution and accumulate victories."
Duterte was optimistic in his approach to the rebels at the start of his administration 2 months ago, by placing 2 lefties in his cabinet. He also fast-tracked the return of Jose Maria Sison, the prominent leader and founder of the Communist Party of the Philippines (CPP).
But with all of these present reluctance of the NPA to yield to the President's request, the hopes for the successful peace talks will be left into the ruins of a supposed to be a colorful end of this insurgency in our country.
The rebels said that Duterte "is showing himself to be more and more cantankerous, inventing one reason after another to attack the communist party and the rebels instead of finding ways to push forward peace negotiations."
They also added, saying that the President's "mindset is becoming more and more militarized as he hops from one military camp to the next."
Despite Duterte's genuine approach to the NPA and create lasting peace with them, the rebels seem to have understood the President in a wrong way.
Should they defy Duterte's request for one last time; peace between the Philippine government and the NPA will still be years away in its completion.