01 Mar

Online Application For CDO's "City Scholarship Program 2021" Now Open: Apply Now!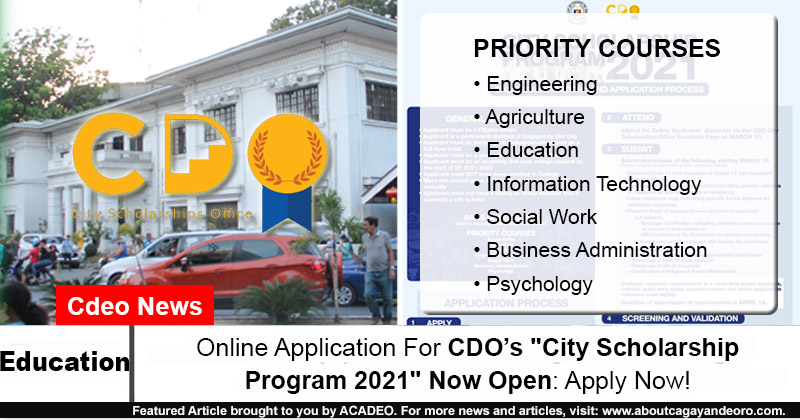 Mga higala! The online application for Cagayan de Oro's "City Scholarship Program" this 2021 is now finally open!
Interested students can now apply for this scholarship, from March 1-31.
Check out the details below:
QUALIFICATIONS
Applicant must be a Filipino citizen
Applicant is a permanent resident of Cagayan de Oro City
Applicant must be pursuing an undergraduate degree on a full-time basis
Applicant must be a graduate of Senior High School
Applicant must be an incoming first-year college student by the start of SY 2021-2022
Applicant must NOT have been enrolled in College
Must not exceed gross total family income to 300,000 annually
Applicant must not have a sibling or family member that is currently a city scholar
REQUIREMENTS
Photocopy of grades (Grade 11 2nd semester or Grade 12 1st semester)
Photocopy of Birth Certificate
Certificate of Residency of parents indicating specific address in Cagayan de Oro with length of residence
Clear residence map indicating specific home address for validation purposes
Copy of Parent's Proof of Income (choose whichever is applicable):
a. If indigent
-Barangay Certification indicating monthly income and source of income of both parents or
-BIR Certificate of Tax Exemption for unemployed parents
b. If employed or self-employed
-BIR Income Tax Certificate
If applicable/optional:
Certificate of Awards and Leadership from the School Head
Photocopy of PWD ID of the applicant
Photocopy of 4Ps ID of parents
Certification of Indigenous People Membership
(Note: Requirements must be enclosed in a clean long brown envelope labeled with the applicant's name, contact number, and online application reference code.)
Below is the online application form:
http://cityscholar.cagayandeoro.gov.ph:8080/apply-scholar
APPLICATION PROCESS
1. APPLY (March 1 to 31)
Accomplish the online application form. (Please take note that the online application is a major requirement. Applicants who fail to accomplish the online application will not be accommodated.)
2. ATTEND (March 10)
Attend Online Applicants' Assembly via CDO City Scholarships Office Facebook page.
3. SUBMIT (March 15 to April 15)
-Enclosed complete requirements in a clean long brown envelope, indicate applicant's name, contact number, and online application reference code legibly
-Present original copies of documents upon submission
-Deadline for submission of requirements is April 15, 2021
4. SCREENING AND VALIDATION (April 16 to 30)
City Scholarships Office will validate the applicant's residence and other documents submitted.
5. ANNOUNCEMENT (May 28)
Check results thru CDO City Scholarships Office Facebook page.
BASIS OF SELECTION
Grades, Income, Leadership, and Awards,
PRIORITY COURSES
Engineering
Agriculture
Education
Information Technology
Social Work
Business Administration
Psychology
For inquiries, just visit and message their Facebook page or contact: 0929-819-0819.
For more details: