06 Mar

Online Application For CHED Scholarship 2020 Now Open Until May 31, Full Scholars: P60,000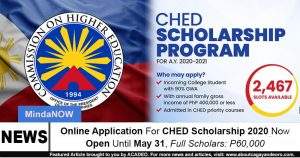 Mga higala! The online application for the CHED Scholarship Program (CSP) 2020 is now officially open!
Eligible students can apply starting this March 1 and until May 31, 2020. Over 2,400 slots are now available.
Check out the qualifications, requirements, and benefits below:
QUALIFICATIONS
Applicants must be a Filipino citizen;
He or she must be a senior high school graduate and/or candidate for graduation;
The applicant's family gross income must not exceed P400,000.00;
Must avail of only one CHED scholarship or financial assistance program; and
Must not be a graduate of any degree program.
Note: Special group applicants like disabled persons, solo parents, or with more dependents, should submit certifications or identity cards issued by their respective offices.
REQUIREMENTS
Verified birth certificate
Report card of last school education (senior high graduates) or certified true copy of grades in Grade 11 and 12 (candidates for graduation);
Proof of Income
BENEFITS
Full scholars: P60,000 annually (P40,000 for stipend and P20,000 for tuition and school fees).
Half scholars: P30,000 annually (P20,000 for stipend and P10,000 for tuition and school fees).
Note: For government universities, P40,000 for full and P20,000 for half scholars will be awarded annually.
HOW TO APPLY ONLINE
Determine the region where your Senior High School is located.
Click the link of the corresponding CHED Regional Office (CHEDRO)
Follow the regional instructions.
For any questions, you may call directly the CHEDRO.
For queries, click here for the CHEDRO contact details.
CHEDRO Links (Note: To be activated from March 1 to May 31, 2020)
CHEDRO II
CHEDRO III
CHEDRO XI
For Region X online application and more details:
https://forms.gle/XSNWTyGSgoNuCjQn7
You can also visit the following Facebook page: