09 Jun

OSCA-CSWD CDO Encourages Online Application of Senior Citizen ID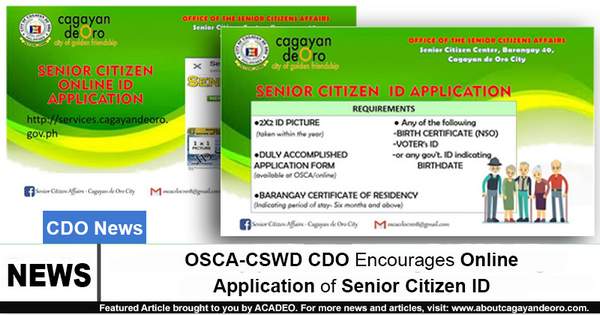 Mga higala! To lessen the risks of Kagay-anons getting infected with the coronavirus disease 2019 (COVID-19), the Office of the Senior Citizens Affair and the City Social Welfare and Development (OSCA-CSWD) of Cagayan de Oro is now urging everyone to limit visiting their office!
Those who want to apply for a Senior Citizen ID card are encouraged to do so with the link below:  http://services.cagayandeoro.gov.ph/scid
With regards to claiming the ID and BOOKLETS (medicine and grocery), an "authorized representative" is allowed.
Here are the requirements:
Birth certificate or any valid ID that indicates your date of birth.
Completed Registration form (available at OSCA and online)
Certificate of Barangay Residency
1×1 or 2×2 ID Picture (should be latest)
For more concerns, follow the format below:
Name: __________
Address: _________
Concern: _________
And send it to the following numbers: 0965-882-5865 or 965-882-5866