22 Aug

Realization of Global Mindanao Through a P39B Mega Harbor Project in Davao City

Mega Harbour Port and Development Corporation Inc., port developer and operator are set to develop the P39 billion mega harbor project in Davao City and has shown optimism on the realization of a "Global Mindanao".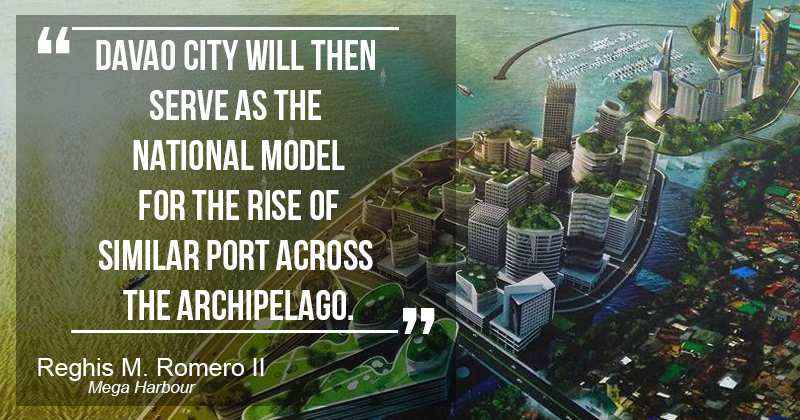 The mega harbor project for Davao City when completed will serve as a major generator of revenues, employment, livelihood, business opportunities and entrepreneurial activities. Reghis M. Romero II, Mega Harbour Chairman said that the project is fully aligned with President Duterte's perception of a federal system of governance in the country.
Romero, addressing to foregone foreign investments and trade opportunities with vast overseas markets which include agriculture and cruise tourism in an essentially archipelagic country like the Philippines said, "In today's era, not having the port of that kind could pose a formidable disincentive and a severe bottleneck to the supply chain, and prevent the entire South from optimizing its great economic potential."
He added, "The P39-billion mega harbor port development project in Davao City will be the key to filling up that huge gap."
With a modern and eco-friendly international port, Davao City can help the Philippines take advantage of its strategic location in the center of Southeast Asia and enable this city to bloom further as the capital of East Asia Growth Area (EAGA), Romero said.
Romero added, "Thus, Davao City will then serve as the national model for the rise of similar port across the archipelago."
On Septemeber 22 to 24, the 18th Davao Agri Trade Expo 2016 (DATE 2016) will be held at SMX Convention Center, SM Lanang Premier, Davao city. During this event, Mega Harbour will present the idea and concept of a "Global Mindanao".
Romero said, "The company has been in the thick of preparations for its corporate and project presentations to the DATE participants and the members and guests of the Davao City Chamber of Commerce and Industry Inc."