03 Oct

Pagpasundayag sa Sinaunang Baybayin: A Melange of Performance This Coming October 7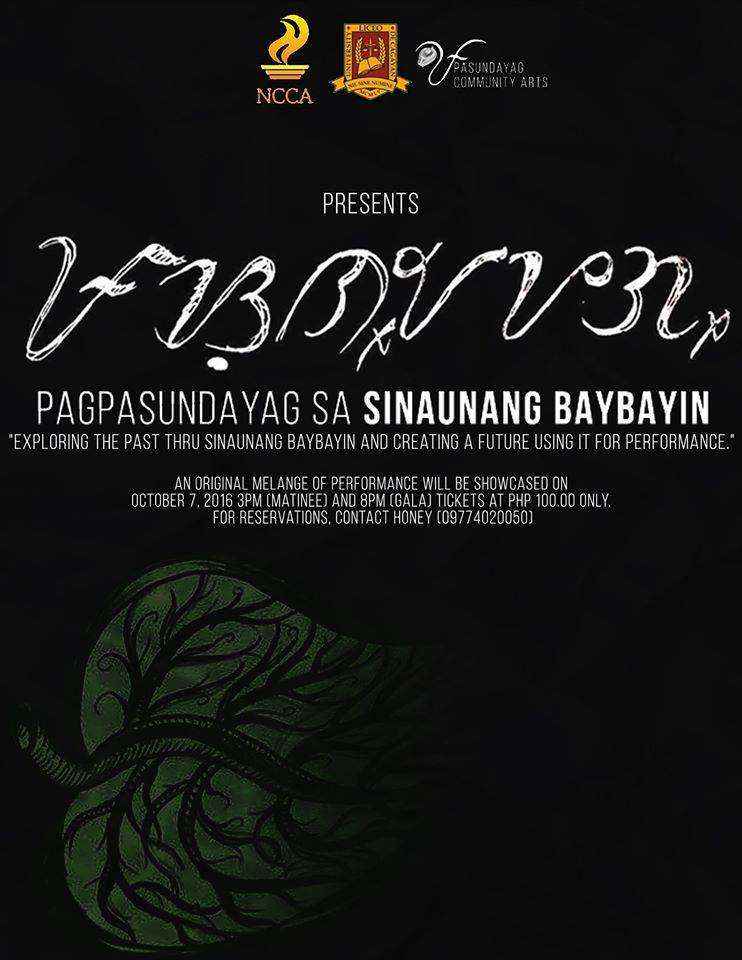 "Pagpasundayag sa Sinaunang Baybayin", a project by the National Commission for Cultrue and the Arts (NCCA) in partnership with Liceo de Cagayan University and Pasundayag Community Arts, is composed of a series of activities given the theme, "Exploring the Past thru Sinaunang Baybayin and Creating a Future Using it for Performance."
The event started off with a workshop on learning the Sinaunang Baybayin or the encient Filipino writing known as Alibata headed by a guest expert from Metro Manila last September 5 to 17 of this year, 2016. Currently happening is the exploration process in multidiscipline for structuring a performance which started since September 17 and will end this coming October 6, 2016. The said event will be concluded with a show performance which will be held at Rodelsa Hall in Liceo de Cagayan University coming October 7, 2016.
Tickets are available for P100 only with schedules 3:00PM (Matinee) and 8:00PM (Gala).
The project will delve into forms, characters, stories, music, etc using the history, curves & lines of the Sinaunang Baybayin. Thus, a new creative process will be discovered and documented out of a juxtaposition of Sinaunang Baybayin and performance.
This is the very first time that such project was held here in Cagayan de Oro.