19 Apr

Things You Need To Consider When Hosting a Kagay-anon Event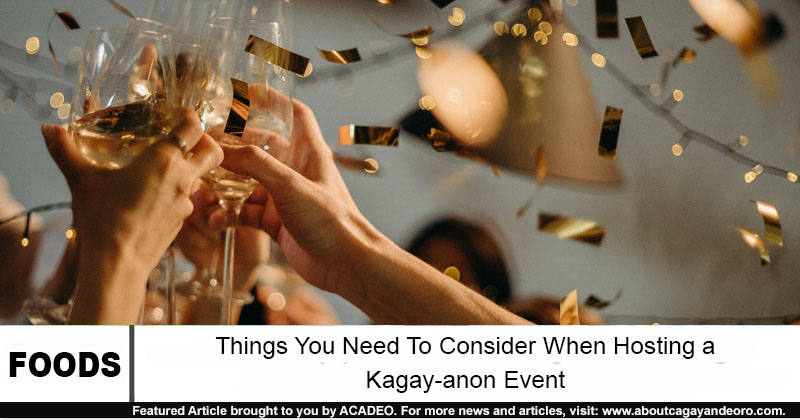 Throwing an event for your family and friends? You are in need of help so you can get things organized before the special day arrives.
There are many factors that should be considered. This includes creating an event timeline and a checklist, to make sure that everything goes the way you planned. Nevertheless, what's the most important thing is that you enjoyed the planning process.
So, here are the things that should be present in your event.
Event venue
First of all, if you are planning to host an event, you need to consider where to have it held. Count how many guests you are inviting so you can start looking for event venues and know their capacity.
Party decors
Parties must be alive, bright, and fun. This can be helped by giving the celebration a theme to follow, may it be retro, vintage, superheroes, and what have you. If you have much time, you can find shops where you can buy balloons, and other party essentials.
Catering
Food will always be present in all kinds of celebrations. To save you time from preparing food, you can find fine catering services in the city that offer party packages that fit your budget.
Lechon
Feasts will not be complete without a tray of lechon baboy on the table. Crispy skin and juicy meat, that's what we all crave for.
Customized cakes
Personalized touches make celebrations extra special. This is very true which can make someone's day. In the city, there are cake shops and home-based pastry chefs that can make your dream cake.
Sweet Desserts
After some savory food, our taste buds look for something that's sweet and fruity. Cheesecakes, mango float, desserts in tin cans or jarred sweets, name it.
Refreshing beverages
Thirst-quenching drinks for everyone! It can be your favorite flavored juice, a fruity cocktail with a punch of alcohol, soda, etc. Have yourself served or go to the buffet table to get one.
Flower arrangements
If you are trying to ace a boho theme or spring-inspired party, you are in need of florists that can help you with flower arrangements.
Souvenirs
If you really think about your guests, give them souvenirs that they can bring to their homes. Souvenirs are perfect giveaways for special events such as christening, debut, weddings, and more.
Event organizer
If you still have the budget, might as well hire an event organizer. They will hugely save you time and at the same time own the stress of planning for you.
If you have noted these down and checked them all, then you are on the right track in making your event successful. Now, start managing your budget! It's the key to finally realize your event.
If you have a business that caters events, get listed on our CDO Listing. Contact us so we can assist you.