01 Oct

Passports To Be Available As Early As 6 Days, Starting October 1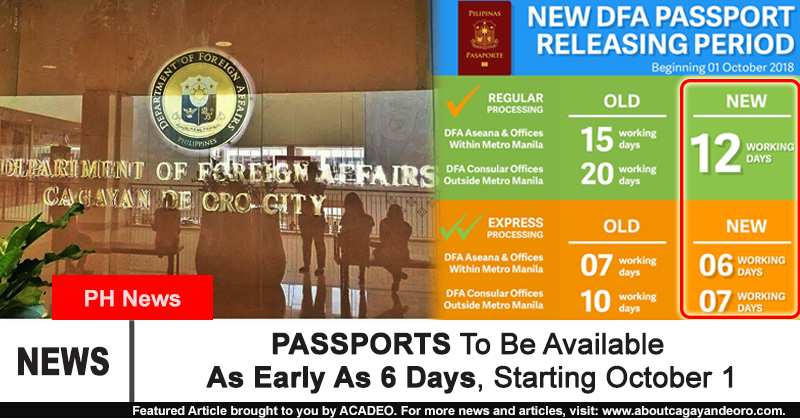 Mga higala! The waiting period for the release of new PASSPORTS will be shortened to as early as 6 working days, by the Department of Foreign Affairs (DFA) starting today, October 1.
According to DFA, applicants at their offices in Metro Manila paying the express processing fee of P1,200 can receive their passports after 6 working days instead of 7, meanwhile, those who pay the regular processing fee of P950 can receive their passports after 12 working days instead of 15 days.
Check out the post below:
THE LONGER WAIT IS OVER. Starting 01 October 2018, passports would be available in as early as six working days as the DFA shortens the releasing periods for passport applicants in the Philippines.

READ: https://t.co/VDTa3zdyAT#PHPassport #DFAinACTION pic.twitter.com/erJluwCATU

— DFA Philippines (@DFAPHL) September 28, 2018
 "We made a promise to the President and to our kababayan that we will work hard to give them fast, efficient, and secure passport services," the DFA said in a statement, citing Foreign Affairs Secretary Alan Peter Cayetano who is currently in New York.
And, aside from reducing the processing time for passport applications, the Secretary said the DFA has also been able to shorten the waiting time of applicants in securing online appointment slots to as early as two weeks to one month compared to as long as two to three months last year.
For more details, please click: