29 Jun

Does Peace in Mindanao on the Top of Duterte's Agenda?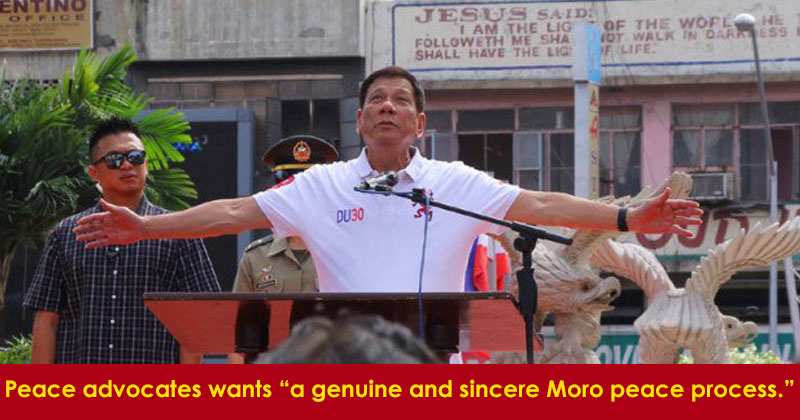 Human rights organizations have urged the incoming president Rodrigo Duterte to make sure that the peace talks in Mindanao should be top of his priorities in his first 100 days in office.
Karapatan, an alliance of human rights organizations and programs, believed that with Duterte manning the highest position in the government, the sought after successful peace talks in Mindanao could be achieved.
Karapatan secretary general Cristina Palabay said in a statement, "We have witnessed a wanton disregard of people's rights and the prevalent climate of impunity and unpeace, especially under the Benigno S. Aquino III presidency. Fulfillment of this human rights and peace agenda for the first 100 days of the Duterte presidency will be a step forward to counter this situation."
Peace advocates also requested the release of political prisoners and removal of criminal charges against political activists and human rights advocates.
Human rights violators in the military and police, who encouraged killings and forced an evacuation of thousands of people, must be sentenced accordingly.
Karapatan stated, "Relatives of victims of human rights violations want Ret. Maj. Gen. Jovito Palparan and former President Gloria Macapagal-Arroyo transferred to civilian detention facilities. Both, they said, are receiving special treatment at the custody of the Philippine Army in Camp Bonifacio and Veterans Memorial Hospital respectively."
Other concerns by the group are the violations of people's social, economic and cultural rights, the land conversion, privatization of hospitals, discrimination against women and commercialization of education.
During the National People's Summit on Wednesday, June 29, Karapatan will present its agenda to the people.