20 Jul

Peace Talks with Communists Date is Set! August 20-27, 2016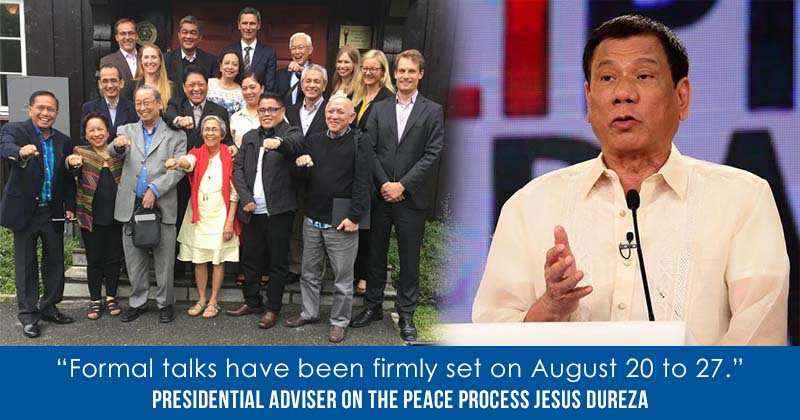 The communists' long wait is over; the date for the peace talks with the Government has just been released yesterday, July 19! On August 20-27, 2016, the Duterte administration is set to have formal peace negotiations with the leaders of the Communist Party of the Philippines (CPP).
Presidential Adviser on the Peace Process Jesus Dureza said, "Formal talks have been firmly set on August 20 to 27… We look forward to engaging with our counterparts on the other side of the table by August 20."
The 11 prisoners that are scheduled to attend the peace talks are set to be released temporarily. "The President had directed yesterday for the different agencies of government to already start working on the temporary release of prisoners who will be participating in the negotiations. But the legal procedures will have to be closely followed," said Dureza.
The peace negotiations will be held in Oslo, Norway, as the Norwegian government has agreed to facilitate the peace talks.
This meeting might be the key in ending Asia's longest insurgency occurrence.
The Government's chair during the meeting is Labor Secretary Silvestre "Bebot" Bello III. While the communists' chair will be Luis Jalandoni, chief negotiator of the National Democratic Front (NDF).
The 5 major points that are to be discussed by both parties are:
Affirmation of previously-signed agreements
Accelerated process for negotiations, including the timeline for the completion of the remaining substantive agenda for the talks: socio-economic reforms; political and economic reforms; and end of hostilities and disposition of forces
Reconstitution of the Joint Agreement on Security and Immunity Guarantees (JASIG) list
Amnesty Proclamation for the release of all detained political prisoners, subject to concurrence by Congress
Mode of interim ceasefire
The President remains very active in his actions regarding the peace negotiations with the communist party since his inauguration.