16 Aug

Peace Talks in Norway Gives Hope to Philippine Rebels

On August 5, Monday, rebels revolutionizing for decades in the Philippines, expressed high hopes for peace as talks will commence in Norway next week, with guerrilla leaders are to be discharged within days.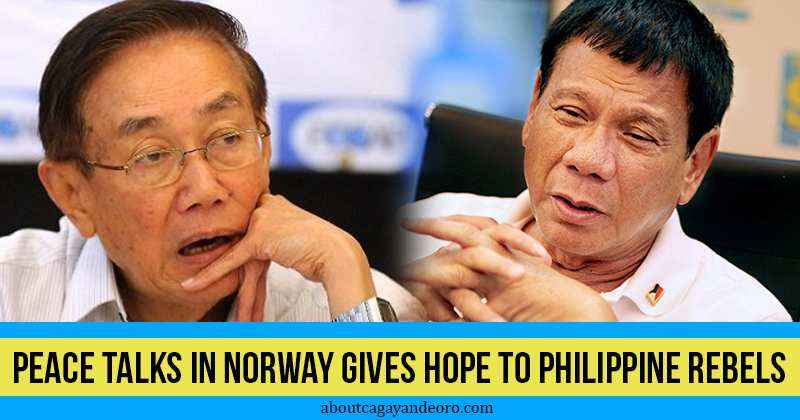 President Duterte and the negotiating arm of the Communist Party of the Philippines, Consultants of the National Democratic Front (NDF) met to discuss the coming Norway talks.
Silvestre 'Bebot' Bello III, GPH panel chair and Labor Secretary said in a press release, "The President instructed the Bureau of Immigration and Deportation (BID) and the Department of Foreign Affairs to assist the NDF consultants who will be travelling to Oslo, Norway over the weekend for the formal talks slated for Monday next week, August 22."
During the meeting, President Duterte said that the fight between him and Jose Maria Sison, CPP founder should not be tackled in the peace talks.
Bello stated, "The president said while he was hurt by the sharp exchanges between him and CPP founding chair Jose Maria Sison who is based in The Netherlands, he gave assurances that he will walk the extra mile for peace."
Executive Secretary Salvador Medialdea and BID Commissioner Jaime Morante, GPH panel members Rene Sarmiento and Angela Librado-Trinidad, former agrarian reform secretary Hernani Braganza and new GPH panel member Antonio Arellano, a retired chief regional state prosecutor in Region 11 and a former human rights lawyer attended the meeting.
NDF representatives are NDF lawyer Edre Olalia and Satur Ocampo, former Bayan Muna Partylist Representative and former NDF chief negotiator (during the failed 1986 peace talks).
President Duterte seeks a political settlement to one of Asia's longest revolution that took thousands of lives since 1969.
Luis Jalandoni, a chief rebel negotiator said, "In general, the relationship between the revolutionary movement and Duterte is excellent… glitches like these can be fixed through peaceful dialogue."
On August 22, Jalandoni is set to meet Philippine government officials for a 5-day talk in Oslo. Both sides are expected to approve and declare a unilateral ceasefire. Norway has offered to be a mediator in the long-running peace attempts.
Rebels calls for discussion of the general amnesty proclamation by President Duterte covering 550 detainees of the Communist Party of the Philippines (CPP) and New People's Army (NPA)
According to the military, in 1980s, there were 26,000 rebel army but lately they are down to 4,000 gunmen. However, these rebels continues to extort money from local businesses in rural areas and kill police officers.
18 detained top guerrilla leaders, including the supposed party chief Benito Tiamzon and wife Wilma Tiamzon were freed as the new administration withdrawn to its constant opposition to guarantee petitions filed in court.
These 18 individuals are to be freed from Manila prisons and fly to Oslo this week. They are obliged to help out in the negotiations as consultants to NDF, a Jalandoni-led alliance of leftist group.
Former president Benigno Aquino, postponed peace talks last 2013 after dismissing the NDF's demand that he free all imprisoned guerrillas.
With ceasefires in place, the two parties could work out on reforms to address the cause of the conflict, Jalandoni said.