22 Apr

Perks of Being A Wallflower: Choosing Between Wallpaper or Paint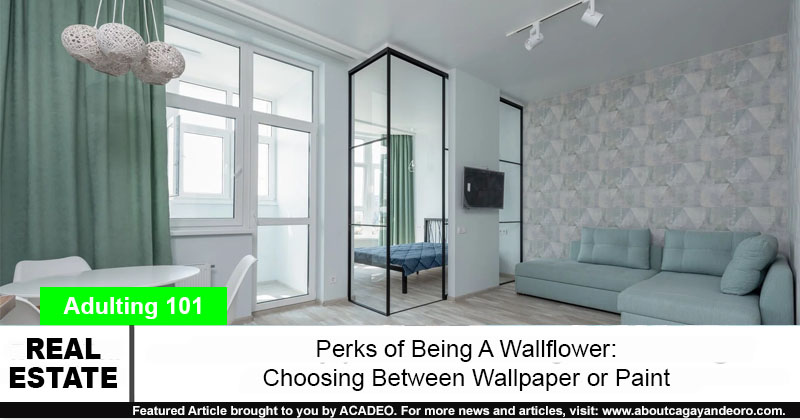 Hi, Acadeo friends!
Summer is almost upon us, which means the real estate renovation season for many a homebody. A popular renovation is repainting or re-papering walls in a home, giving a home a facelift or a much needed update.
When it comes to walls, of course, the popular question is: do I paint the walls, or do I use wallpaper?
Let's talk about the benefits and disadvantages between the two!
THE BASICS
Before proceeding with the pros and cons, let's talk about the basics.
Paint, of course, is a liquid material that is applied to give color to surfaces. They come in many types and labels, like primer, undercoat, water-based acrylic, latex, emulsified, and so on. Some paints are best for indoor surfaces, while some are specifically designed for outdoor surfaces.
Meanwhile, wallpaper is pretty much dedicated to indoor surfaces, with certain exceptions like door or window paneling that is traditional with East Asian architecture. Wallpapers come in different finishes and textures, as well as various lengths, widths, and thickness. Some wallpapers are self-adhesive, while others require a special glue or paste to apply.
CHOOSING PAINT: THE PROS
Once upon a time, wallpaper was the more popular choice of livening up rooms, because paint was pretty expensive and had to be hand-mixed to create the desired colors. With the advent of the Industrial Age, however, many things were automated, leading to mass production of manually crafted products like cans, paper, and paint.
Today, paints are the cheaper furnishing option for many people. Cheap homes often come with bare walls, and to brighten them up, many people paint their own walls. A gallon of paint, if applied correctly, can cover a whole wall. Many paints also dry quickly, and odorless paints are becoming more popular as well. There are also a wide selection of colors to choose from that are pre-mixed, while special shades can be mixed by machine for a small fee.
Paints, therefore, are more convenient and affordable for a homeowner. It also allows for do-it-yourself painting, so you can lessen your expenses by painting the walls on your own.
CHOOSING WALLPAPER: THE PROS
Wallpapers have been around for centuries, dating back to 4000 BC when the Chinese first invented paper. As time went on, the simple paper patterns of early wallpapers became more elaborate, as paper was imported all over the world. Many countries began infusing various patterns and designs to their wallpaper, such as the Rococo design movement during the 17th century, and the Art Deco design movement during the 1920s.
Because of modern developments in paper production, wallpapers have become more expensive per square foot compared to mass-produced paints, but they offer a much more stylish way of decorating walls.
They can be used to decorate specific sections of walls with more ornate designs that you can't do with regular paint, and factory-produced wallpapers provide pattern consistency, making the wallpaper spread consistent.
THE CONS OF PAINT AND WALLPAPER
Both options have great advantages, but they also have their disadvantages.
Paints don't conceal the imperfections of the wall surfaces. In fact, certain paints require special preparation before they can be applied to surfaces; dents and cracks in walls, for example, will need to be spackled or otherwise filled in order to have a smooth and clean painting surface.
Some paints can also leave a sharp, unpleasant odor, even when they're touted as odorless. As well, you need to have a clear understanding of the layers of paint required for your desired surface, or you could end up with mismatched paints that don't look good when dried.
Meanwhile, wallpapers can have a high wastage margin if they're applied incorrectly. Some wallpapers require you to smooth the wall surface, while some require the opposite for better adhesion. Professional wallpaper application services can also be expensive, and depending on your preferred wallpaper design or finish, there may be a limited supply for your desired wallpaper.
IN SUMMARY 
Understanding the pros and cons between paint and wallpaper is important even for seasoned home renovators. Whether you're adding a splash of color to an apartment for rent, or refreshing the looks of an old house, picking the choice best suited for your walls can save you time, expenses, and headaches.
Choose the option that you feel is best for your home, and good luck renovating!