20 May

Pete's Patriots – The Filipino Gastropub Will Be Holding Its Grand Launch on May 21, 2016
May 19, 2016 – Pete's Patriots, The Filipino Gastropub – located at the Rosario Strip, Limketkai Center, will be having its grand opening and launching on Saturday, May 21, 2016, starting at 5:00 in the afternoon.
Although Pete's Patriots has been operating at the Limketkai Center for several months now, it has been operating mainly on a "soft opening" concept. However, during its soft operational months, it has garnered considerable popularity among Kagay-anons and Northern Mindanaoans as a different mix of restaurant or gastropub that served truly delectable American, Filipino, and other fusion cuisine and a wide variety of liquor and non-liquor drinks not found in other establishments in the city.
Its main concept is to be the first ever Filipino Gastropub based on the gastropub concepts of British pubs, but with its own Mindanao or "Kagay-anon" lifestyle concept. Customers who have been to Pete's Patriots will certainly experience unforgettable delicious food, quality service, edgy ambiance, good music, and great drinks.
Pete's Patriots will also hold its Grand Opening Promo on the said date. For a minimum spending of P1,200, you get a 10% discount off your bill. This promo is valid only on grand opening day.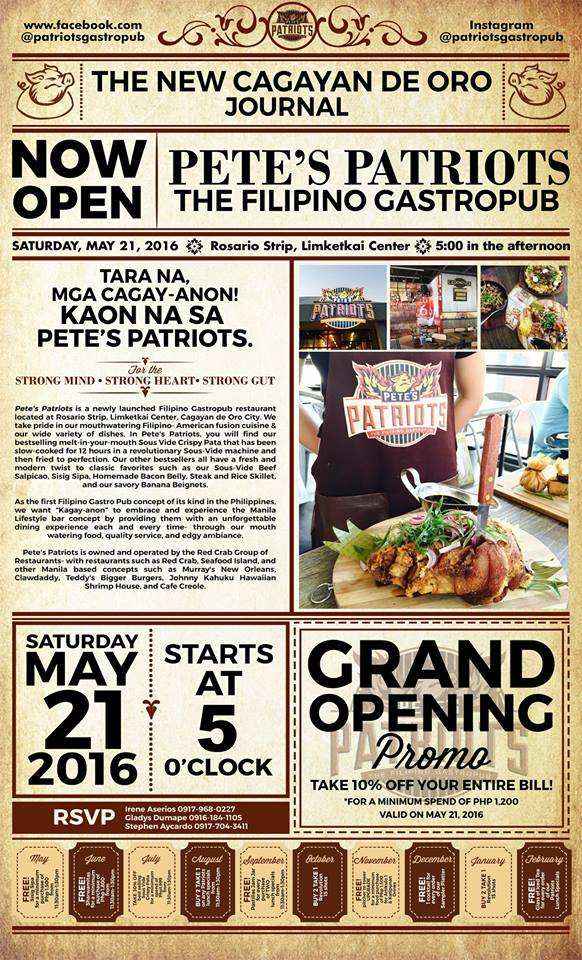 For dinner, there will be a special P399 buffet that will feature gastropub's bestsellers such as the crispy pata, steak and rice skillet, Bulalo, Cajun shrimps, and more. There will also be a raffling of vouchers and discount coupons worth P3,000. The gastropub also promises to showcase its uniquely different alcoholic beverages such as the Revolution 15 Shots: Salute to Our Patriots, the Blue Ocean, and the Patriot Killer.
About Pete's Patriots
Pete's Patriots is owned and operated by the Red Crab Group of Restaurants, such as the Red Crab, Seafood Island, and other Manila based concepts including Murray's New Orleans, Clawdaddy, Teddy's Burgers, Johnny Kahuku Hawaiian Shrimp House, and Café Creole.